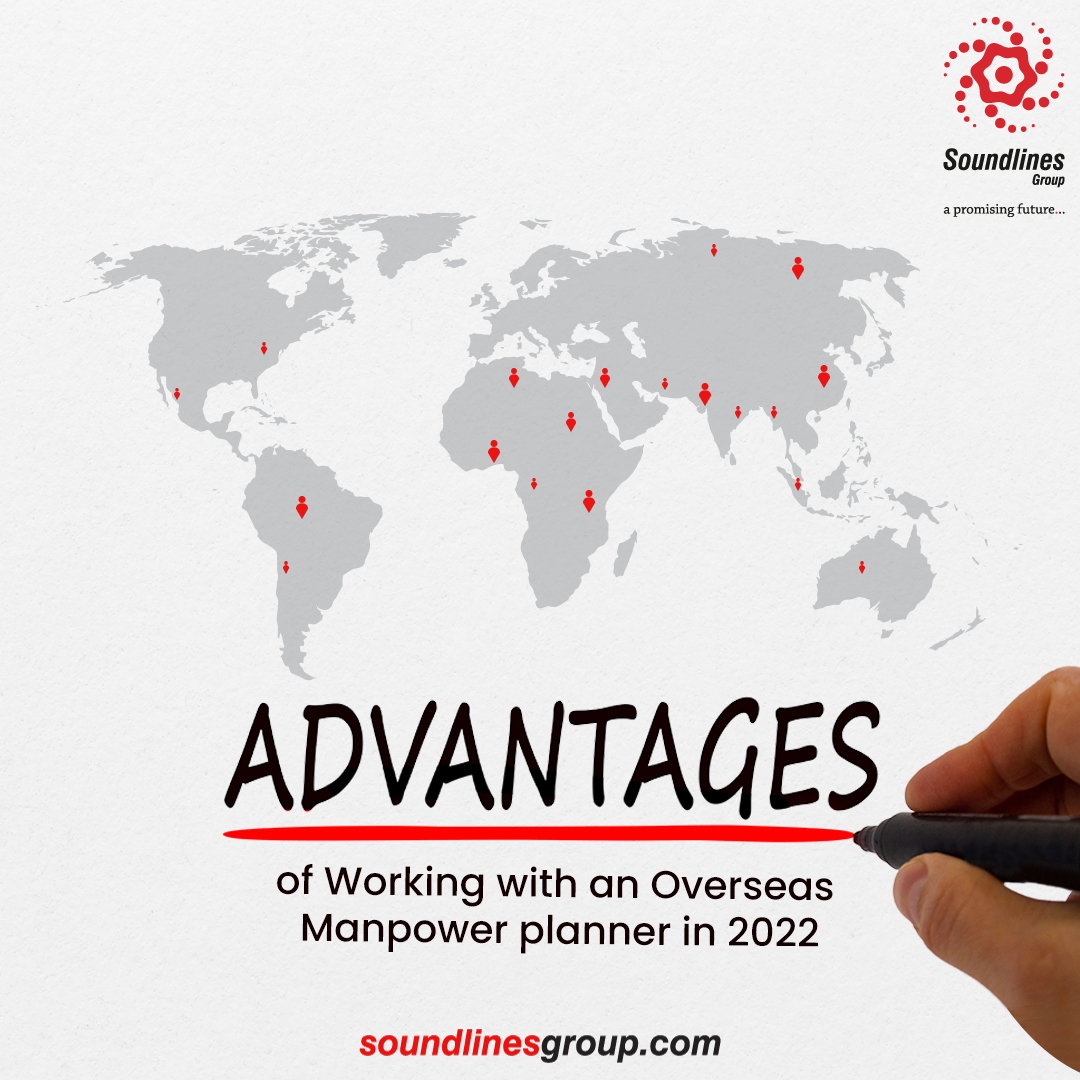 Overseas Manpower Planning is a systematic procedure by which an organisation determines the most effective methods for recruiting, hiring, and retaining employees. You never want to be short-staffed when contributing to a project, completing tasks as quickly as possible, or having enough people to achieve your business goals. So, ensure that your HR plan adequately prepares you for any eventuality! Several businesses incorporate human resources planning into their strategic decisions, such as expansion and contraction. 
To acquire a deeper comprehension of this matter, let's investigate the positive aspects associated with the process of workforce planning: A company will typically have a department called "Human Resources" that is in charge of hiring new employees, managing existing staff, providing training, and overseeing other aspects of labour management. Because this department is in charge of such an important function, it is necessary to have plans to properly direct and guide the entire HR division. This will ensure that every division's goals are met. Let's look at the most significant benefits of using an effective overseas manpower planning service.
Examine the Current Inventory of Human Resources
Before a plan of action can be developed, it is necessary to determine if the company will have sufficient manpower for the project. On average, many businesses underestimate the number of employees required for each task and are reluctant to hire additional employees. In turn, business owners have enormous workloads and too many projects to manage.
Hiring Certified Personnel
The capability of successfully recruiting top talent can significantly influence the path a company chooses to take. Recruiting talent that is well-suited for the position is essential, but ensuring that you receive enough applicants to avoid missing any hidden gems can be equally crucial.
Cost Management for Recruitment and Training
It can be quite challenging to recruit enough qualified individuals to staff your business, but this is not always the case. People who are already competently skilled in a relevant field frequently seek employment with someone who recognises their unique potential and is willing to invest time and resources to help it flourish. Working with an overseas manpower planner, you get access to a unique and diverse pool of talents. 
Increase in Human Resource General Performance
Managers of human resources are responsible for conducting performance reviews at companies. When employees complete tasks that are beneficial to the company, they are frequently rewarded monetarily to encourage further skill development. If they observe inappropriate behaviour, they may also attempt to help a worker stop it. They must provide feedback primarily because employees may be unaware of the causes of problems or the consequences of their actions. When feedback is utilised effectively, it strengthens the relationship between an employee and his employer.
Managing disputes effectively
Due to their neutral position within the organisation, human resources teams are frequently tasked with the responsibility of conflict resolution. Although conflicts cannot be completely avoided, HR departments can assist employees in resolving the majority of disputes by acting as mediators and counsellors. This gives everyone a fair opportunity to communicate their needs and differences, allowing the problem and its solution to be addressed as soon as possible before it becomes unmanageable!
Creating Workforce Training Programs
After comparing the current inventory of products to future projections, employment programmes can be designed, allowing for the recruitment and selection of candidates who would effectively fill assigned positions, as well as placement strategies.
Developing a Strategy to Meet Demand and Supply Predictions:
The best way to determine if your organisation is lacking in any area is to examine the tasks that need to be completed and are typically assigned. Depending on the size of your business and what you have on the docket from month to month, some invoices are due frequently while others are not. For a business project to be successful, however, workforce is required. The best and simplest way to achieve this is by hiring individuals who have demonstrated dependability in previous positions.
Integrating Personnel Strategies with Organizational Objectives:
Human resource management is your primary competitive advantage. Beyond "selling widgets," the strategy explains why you are in business. Human resource management plays a crucial role in the success of small and medium-sized enterprises. Human resources are involved in every aspect of the business, including product development, production, and marketing. When assessing the current HR capacity, it is necessary to communicate the organisation's strategic goals to the leadership team and stakeholders.
Increasing the productivity of labourers:
The Human resource team's proper workforce planning will result in a healthy, satisfied, and productive workforce. We must remember that our employees are not merely cogs in a machine but rather human beings with a choice of employment. When we hire them, we want to ensure that we treat them with dignity and provide them with a safe workplace where they can realise their full potential.
A manager or organisation will be able to evaluate its current and future needs for human resources if they engage in manpower planning. If a company is losing potential employees, it would make sense for the company to train new employees to fill those positions as quickly and efficiently as possible; otherwise, employee turnover rates may increase, as high-demand industries tend to have fewer workers staying for longer periods. It is essential for businesses to maintain stability for growth levels to remain consistent and for goals to be met in a manner that is commensurate with those levels.
Reducing overall Employee Turnover
Eventually, employees will leave an organisation. This is especially true if they are dissatisfied or seeking a change. Exiting employees take valuable experience, knowledge, and connections with them. Although it may be difficult to fill vacancies left by departing employees, businesses can at least attempt to prevent further departures. When employees believe that their talents are consistently being utilised in the workplace, they are more likely to remain satisfied, enthusiastic about their work, and eager to advance within the organisation. The most prosperous companies tend to cultivate employee loyalty by ensuring that their workers' opinions are considered. This can be accomplished in several ways, including providing a distinct career path, delivering consistent and constructive feedback, or even simply providing flexible working hours to enable talented individuals to prioritise their families in addition to their careers.
Improved personnel will help increase both the number of customers and the company's finances.
A good strategy for meeting your contractual obligations is to ensure that your manpower levels are sufficient. Because of this, you will not only be able to keep your buyers and suppliers satisfied, but you will also be able to reduce the risk of violating contracts with other manufacturers or distributors, which typically results in hefty fines and negative press. Inadequate order fulfilment can easily result in clients going elsewhere, resulting in sales and profit losses.
View this post on Instagram
Profit Increase Due to High-Quality Work by Qualified Personnel
Due to the superior quality of the work, an organization's revenue and profits will increase, and a substantial number of new clients will be attracted in a short period. These are some of the benefits of manpower planning, which are some of the reasons why every human resource team ought to implement it to boost the productivity and overall growth of the organisation.
If you wish to hire globally and need a blue-collar or white-collar workforce, an overseas recruitment agency can assist if you choose it with care.
Here are our most important takeaways:
Look for a specialist who will thoroughly comprehend your needs.

Ensure they have the capability and footprint to deliver in the location where the position is being filled.

Ask what other services they offer to ensure your continued compliance.
One of the highly reputed overseas Manpower recruitment agencies 'Soundlines', provides fully integrated international talent resourcing and outsourcing services to clients. Additionally, Soundlines serves for both blue-collar recruitment and white-collar recruitment in varied industries, searching for the best recruit more defined.
'Soundlines' also ensure that a high-quality candidate is hired and demonstrates steady growth. Therefore, it is a good idea to seek out the best international recruitment agency HQ in Mumbai to hire the most qualified overseas candidates for the right position.
'Soundlines' has an office presence across 24+ countries to make the process easier for both employers and candidates. 'Soundlines' provides organisations with access to their global experience while maintaining a local presence, ensuring that it comprehends your brand, culture, needs, and future objectives.
Soundlines has been a leader in the HR recruitment industry for more than two decades, serving clients in the UAE, KSA, Kuwait, Qatar, Bahrain, Poland, Russia and Romania.
With a massive database of over 500,000+ candidates, our clients never lose hope in finding the "right fit," and with the best in-house speciality centres and qualified technical evaluators for every job trade, finding the "ideal candidate" is a breeze with Soundlines. 
If you are an employer looking to hire a workforce internationally, click here to schedule a callback.