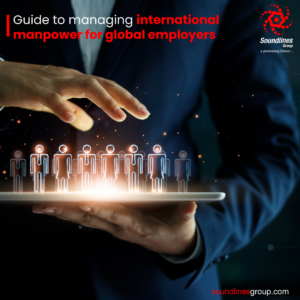 If you are seeking to expand your business into new markets through international expansion, it is often prudent to consider local outsourced workers.
However, there are numerous obstacles to consider when outsourcing employment. 
Cultural differences, communication styles, and the barrage of HR-related intricacies, such as recruitment, payroll, and benefits, can be challenging to negotiate and distract time away from maintaining the pleasure and engagement of your outsourced staff.
However, understanding these potential challenges when considering how to manage outsourced team members is half the battle, there's more to it.
One of the most frequent issues encountered when managing an outsourced global team is scheduling time for team collaboration. Due to the fact that people work in different time zones, determining the optimal time for communication presents some difficulties. In addition to coordinating appropriate conference call times, it is also important to understand the cultural factors that can impact time.
Some cultures, such as Japanese culture, are more sensitive to time management than others.  In other countries, however, such as Mexico, a 9 a.m. start time is flexible and tardiness is socially acceptable. Managers can create clear expectations regarding the significance of punctuality for team meetings, but cultural diversity within a global team requires flexibility.
Managers should also be clear about the number of hours they expect their outsourced team to work during the week, as well as whether or not the team must be available during "off hours."
Keeping track of foreign holidays is also essential. You will need to schedule time off for your devoted team and adjust deadlines to account for local holidays.
Consider the impact of cultural communication differences on team dynamics when working with an international team comprised of diverse members. For example, small talk may be important to American employees in order to build rapport with coworkers, while some Europeans may use humour and Asian employees may need to consult with their business unit or manager before responding to an email.
Email is a good method of initial contact with your virtual team, but it's also beneficial to follow up with a phone or video call to clear up any potential misunderstandings.
As your team grows to include international hires, there are numerous global compliance considerations to keep in mind. Payroll, benefits, and cultural norms can all pose difficulties for your organisation.
Paying employees in various countries present numerous obstacles, including local regulations, tax laws, and banking requirements, among others. To avoid the complexities associated with processing cross-border payments, rapidly expanding businesses often choose to work with a partner that handles this task.
There are numerous aspects of a benefits package to consider, including healthcare coverage, paid time off, and other perks. In new countries, traditional benefits packages do not always translate.
For example, your American sales representatives may enjoy having a company vehicle, whereas professionals in Brazil may view it as a burden. In the United States, employers may offer 401(k) matching contributions as a perk, but in France, local law may mandate contributions to a private pension fund. Moreover, paid time off benefits might vary significantly from country to country. In addition to traditional holiday pay, Brazilian workers are entitled to at least 30 paid vacation days.
Complex cultural expectations necessitate that your interactions with employees conform to the norms. For instance, a local government may mandate that businesses provide four weeks of paid vacation per year. However, upon further investigation, you may discover that the majority of companies offer at least five weeks. How can you assure that your company is competitive in the market without this knowledge of the region? Working with an experienced local partner who already understands these nuances and can quickly bring you up to speed is the simplest approach.
Once you have an understanding of the challenges of managing global outsourced workers, you can develop strategies to overcome them. Here are a few suggestions to get you started.
1. Align your outsourced team with your objectives.
Do you want to ensure that your global team "understands" the goals of your organisation? If so, you must communicate your objectives from the outset. This will help employees understand what they are working toward and what constitutes success.
2. Regardless of where people work, maintain unity.
When people work across different time zones and countries, fostering a sense of team is one of the greatest obstacles. Getting everyone on the same page regarding expectations, deadlines, and how everyone's work is connected is one way to accomplish this. This will foster a sense of unity and ensure that outsourced team members remain aligned with overall objectives.
3. Remain flexible
You may already be aware that your employees are your most valuable asset. The outsourced staff offers business-improving suggestions; all you need to do is apply them. Managers of globally outsourced teams will need to be flexible in order to accommodate diverse work styles and communication preferences.
4. Reward and appreciate work
All employees, including those who are outsourced, must feel valued and fulfilled in their work. It is essential to express appreciation for a job well done when working with an overseas outsourcing team. This ensure that they feel connected to the team.
5.Find a competent local HR outsourcing partner
Managing the details of an outsourced team is complex and fraught with potential obstacles. An experienced local HR partner, such as an employer of record (EOR), can assist you in navigating the intricacies of global hiring, including payroll compliance and cultural expectations. 
With an (Employer of Record) EOR, you can relax about global HR compliance and focus on maintaining the happiness and engagement of your outsourced team.
What does an Employer of record do?
An

Employer of Record (EOR)

can help your organisation start employing in a new country. 

They supervise payroll, personnel screening, benefits rollout, new hire training, and more. All while ensuring local regulations are met.

By using their local cultural experience, organisations can learn how to manage foreign employees' expectations while respecting their social norms and cultural customs.

Long-term employee engagement requires balancing these characteristics with new ideas and concepts.
These services are offered by Global Employment Companies (GEC). Here are the key benefits of outsourcing your Human Resource Requirements globally?
The outsourcing of your employment needs, to a global employment company (GEC), will result in numerous operational efficiencies.
Enter new markets rapidly
By partnering with an internationally diversified Global Employment Outsourcing (GEO) company, you can enter new markets rapidly without establishing local entities.
Multinational operations can be overwhelming for expanding businesses. Your ability to focus on a long-term talent strategy is hindered by compliance, tax implications, and frequent immigration changes.
Partnering with a global employment company that has a thorough understanding of compliance will allow you to focus on expanding your business in the new market.
Cost-effective and streamlined human resources
International employment and compliance issues are exacerbated when your costs increase as a result of managing multiple suppliers or recruiting HR professionals overseas.
Outsourcing international manpower requirements eliminates the need to maintain an expensive in-house team while allowing you to work with a single entity.
Enhanced efficiency and communication
A global employer organization that is outsourced can provide a single point of contact for all inquiries.This improves efficiency and expedites the resolution of issues while reducing the need to involve multiple stakeholders.
Maintain compliance and reduce risk
Not only must an international workforce be mobilised quickly, but also legally. It is essential for the success of a global company to remain abreast of new legislation.
A GEO specialist with vast local expertise ensures that your international workforce is managed compliantly no matter where in the world you decide to function.
Reliable and accurate payroll
Maintaining in-house finance and international payroll teams can be expensive and difficult for clients without a permanent presence in the country.
A GEO company can manage local/national income tax and social security payments on behalf of each employee. Additionally, they should ensure that this amount is deducted from their pay and paid directly to the tax authorities.
One of the highly reputed Global Employment companies 'Soundlines', provides fully integrated international talent resourcing and outsourcing services to clients. Additionally, Soundlines serves both blue-collar recruitment and white-collar recruitment in varied industries, doing the search for the best recruit more defined and successful every time.
Soundlines has offices in 24+ countries to facilitate the recruitment process for both employers and candidates. We offer organisations, access to our global experience. Soundlines maintaining a local presence, ensuring that it understands your brand, culture, needs, and future goals.
Soundlines has served clients in the UAE, Saudi Arabia, Kuwait, Qatar, Bahrain, Poland, Russia, and Romania as a leader in the international HR recruitment industry for over two decades.