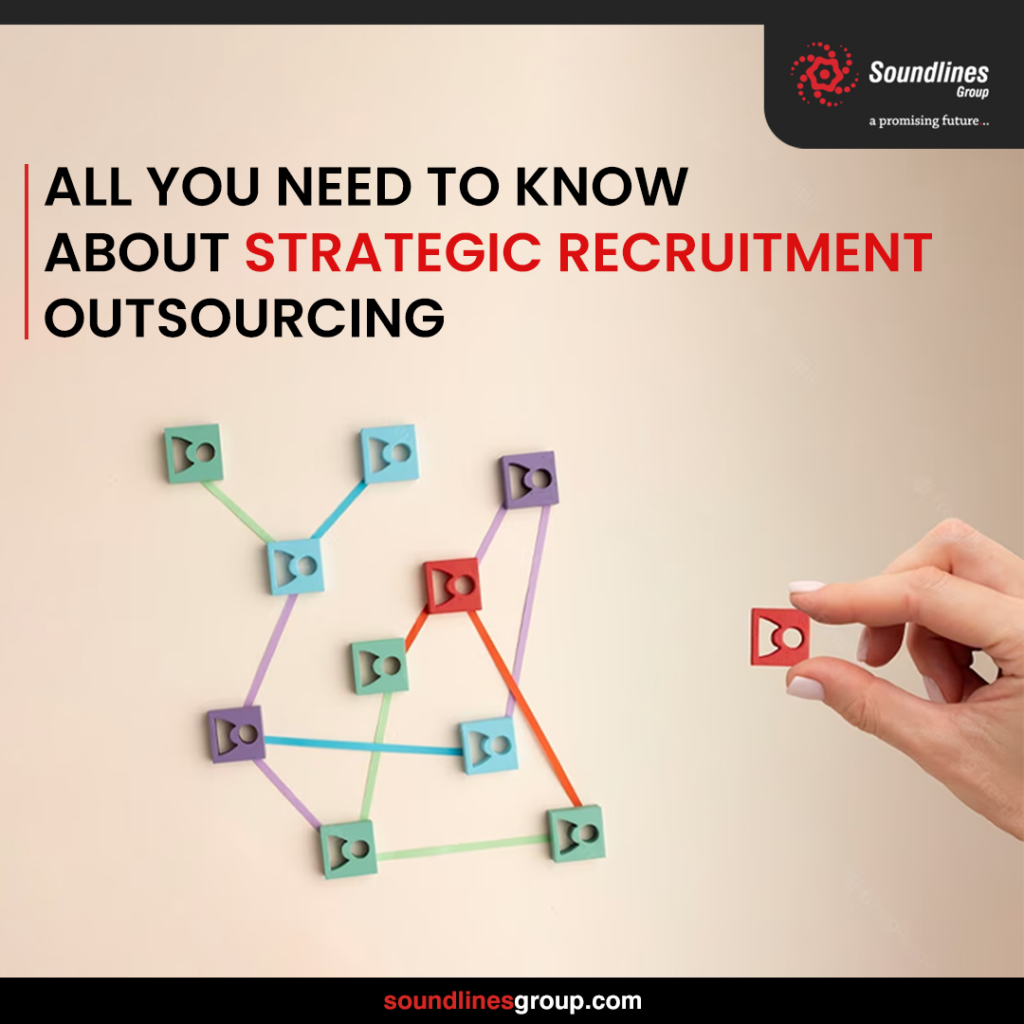 Recruitment Process Outsourcing 
What Does Strategic Outsourcing Entail?
Strategic outsourcing refers to the delegation of a business's operations to a third-party contractor for management. This technique is often connected with businesses that need more capacity to handle all duties on their own. In addition to small and medium-sized enterprises, large corporations are also frequent users of outsourcing. Using strategic outsourcing, organizations in numerous industries may use a partner's years of expertise and research. Consequently, a corporation may strengthen its business in several areas.
The major objective of strategic outsourcing is to optimize the use of external resources by using the most recent technology, industry trends, and a high degree of knowledge to increase the company's productivity and competitiveness.
The outcome of complete outsourcing tasks or teams is the creation of a value chain in which all phases of internal business operations are supplied with the greatest level of quality and accuracy at the lowest possible cost.
In addition, it is essential to develop your strategic stance to recognize the necessity to outsource certain value chain components.
The strategic approach to outsourcing and project management is the application of the five essential concepts of strategic positioning:
Firm image

 Products and services' viability

Technical attributes of the organization

Monetary well-being.

Sales potential
When outsourcing activities to a third party, a business may take advantage of the following strategic advantages:
Reduced Expenses
The need to reduce expenses is one of the primary motivations for strategic outsourcing. Rather than recruiting specialized employees, you may entirely depend on a partner's expertise and experience. Automation and optimization often accompany outsourcing, helping organizations to save operating expenses.
More time spent on essential company operations. Outsourcing helps businesses eliminate a variety of mundane and repetitive duties, allowing them more time to focus on their core competencies and business difficulties that demand human involvement and discretion.
Better Risk Mitigation
When attempting to handle problems without the necessary experience, you are prone to make expensive errors. Even endeavors to gain said skills might be futile. You may have hired the incorrect individual, or there may not be enough continuous work to keep this individual on staff full-time. However, when you contract the labor to specialists, you may more effectively control risks throughout your whole firm.
Obtain a Competitive Edge
The aforementioned benefits lead us to the primary benefit provided by strategic outsourcing services. Every company aspires to be the greatest in its industry and to have a competitive edge over its rivals. Transformation across a variety of business sectors can help you become more adaptable, generate growth, control expenses, and remain competitive.
Access to a worldwide database of knowledge. You cannot be a master in all fields. When working with numerous service providers, however, you may easily avail a pool of knowledge and resources. Specialized suppliers of outsourced services commit time and money to connect you with the industry's finest experts, allowing you to benefit from their expertise. Because, like you, companies want to preserve a competitive advantage and provide the best services at the most affordable prices.
Problems with Outsourced Services
Despite its benefits, outsourcing may carry some risks:
Loss of Command
Numerous businesses fear losing authority over the tasks they have opted to outsource. However, a reliable service provider will keep in contact with your team in order to supply customers with up-to-date data and let you retain a healthy degree of control over the procedure.
Hidden Costs
Costs associated with outsourcing vary between activities. You may pay for integration before realizing you require someone to manage the new system. To prevent unanticipated expenditures, be careful to assess all potential costs with your outsourcing partner.
Low Standard
This is perhaps one of the greatest fears many businesses have with outsourcing. Even though they may not have the internal resources and experience to tackle current issues, they continue to assume that the majority of outsourcing businesses give subpar services. If you do research and assign your work to a reputable service provider with specialized abilities and the capacity for ongoing quality monitoring, you are more likely to get superior outcomes.
Even if the hazards outlined above are real, they are directly dependent on the service operators you choose and the efficiency of your interactions with them. As soon as you work with trustworthy professionals who have earned a certain degree of market confidence, you may avoid these hazards.
Find your global recruitment process outsourcing (RPO) partner.
You can gain access to a wealth of knowledge and experience by partnering with a global RPO provider in the process of developing a global recruitment strategy. This is because global RPO providers gain this knowledge and experience by working in a variety of business sectors all over the world. When looking for a partner, it's important to make sure they've worked in the parts of the world where you want to hire people.
Any global sourcing program will come with its fair share of compliance and cultural challenges; your partner should assist you in navigating these obstacles. It is important to keep in mind that even though some local labor laws deal with issues that occur after the hiring process, those laws can still have implications for the hiring process itself. Before you post a job or make an offer, working with a provider of RPO services can help you get ready for many of the challenges you may face. Additionally, a partner with years of experience can help you anticipate any communication and training issues, which enables you to tackle the issues head-on. This is an advantage of working with an experienced partner. Because of this, you will be able to provide superior service to your clients.
If you are thinking about constructing a global recruitment strategy, you should learn more about the global RPO solutions that we offer at Soundlines.
 Can outsourcing your global employment needs benefit your company?
 One of the highly reputed global employment companies, "Soundlines," provides fully integrated international talent resourcing and outsourcing services to clients. Soundlines also help with both blue-collar and white-collar recruitment in many different industries. This searches the best candidate clearer and more successfully every time.
 Soundlines has offices in 24+ countries to facilitate the recruitment process for both employers and candidates. Soundlines gives organizations access to their global experience while keeping a local presence. This makes sure that it understands your brand, culture, needs, and goals for the future.
 Soundlines has been a leader in the international HR recruitment industry for over 20 years, working with clients in the UAE, Saudi Arabia, Kuwait, Qatar, Bahrain, Poland, Russia, and Romania, Iraq & Israel.
Click here to schedule a callback from one of our international recruitment experts.