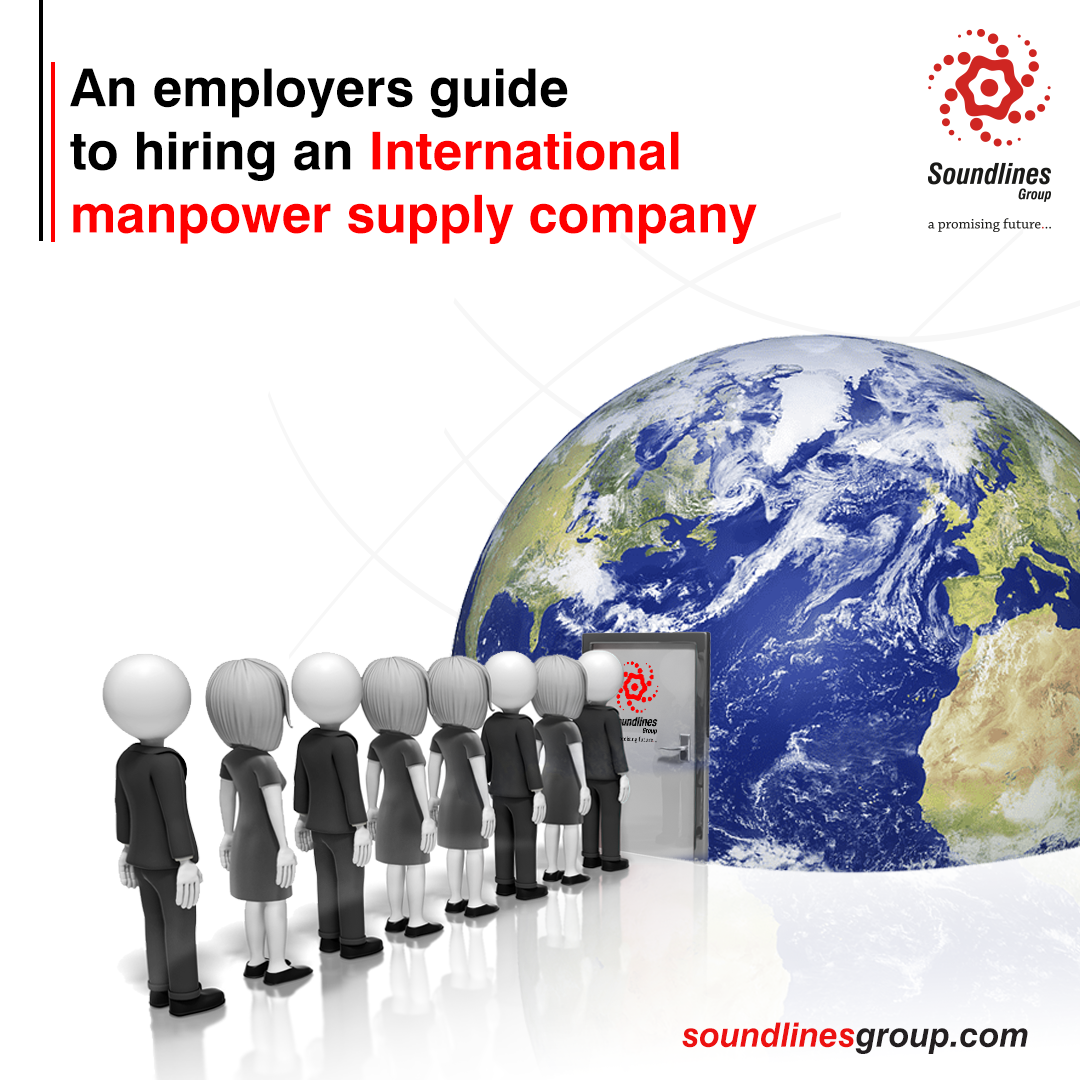 Soundlines is the ideal platform that provides solutions for all types of staffing-related concerns, as the demand for manpower has started to increase. This is because Soundlines was founded to provide staffing support of the highest possible quality. To ensure that your organisation can grow in a place like the UAE, where there is a massive labour force available for all types of positions, it is crucial to select the right manpower supply company. Numerous benefits accrue from outsourcing this task to a team of specialists, which ultimately contribute to the growth of an enterprise as a whole. Let us first comprehend the significance of employing a staffing agency. In addition, we will discuss the factors that should be taken into account when selecting a manpower supply company and the hiring procedure that should be followed.
Any business organisation can find itself in a living nightmare if there is an insufficient supply of available manpower. However, finding the appropriate workforce can become a time-consuming and difficult task. Unfavourable conditions can arise as a result of a lack of expertise in the process of hiring personnel, which may ultimately result in frustration within the organisation. The amount of time that should be devoted to business operations is diminished when the current workforce is devoted to recruiting. 
It will be possible to accomplish the goal in a shorter amount of time if this work is contracted out to an international manpower supply company that has a great deal of relevant experience. It is a waste of resources to put time and money into candidates who do not have the required knowledge and abilities, so avoiding doing so is important. When these resources are directed appropriately by utilising the services of an agency, the outcomes have the potential to be more favourable.
Soundlines has more than 20 years of experience and strives to assist its clients in finding qualified personnel. Irrespective of whether you need to instantly hire an expert or hire a whole group of workers for a project, the team of experts at Soundlines provide the perfect manpower supply solutions while considering your needs.
When looking to hire a manpower supply company, there are a few factors to take into consideration.
It is very important to choose the right outsourcing agency if you want to take advantage of the benefits that agreeing with a manpower supply agency to meet your manpower needs. In addition to the candidate's level of experience, several other aspects must be evaluated before selecting the most suitable alternative from those that are on offer.
Among them are the following:
Good Reputation –
Before hiring an agency, the very first thing that needs to be confirmed is whether or not they have an impeccable reputation for being able to provide the very best service in the area. We have earned a reputation for fostering increased agility in the working environments of our customers, which is in line with our mission to provide services of the highest possible quality.
Versatility –
Because the character of the work changes at different stages in a business organisation, it is of the utmost importance that the services that are being offered must be as versatile as possible. We believe that our client deserves the best services, and that includes everything from labour supply to staffing on demand.
Transparency –
Undisclosed policies and costs can cause confusion and conflict between you and the organisation. Consequently, maintaining a transparent process has assisted Soundlines in maintaining its work standards and integrity when dealing with clients.
Adaptability –
Flexibility is crucial to ensuring that any manpower requirement that materialises urgently can be handled successfully. We make sure that our policies are flexible enough to cover such emergencies on a priority basis while simultaneously maintaining the high quality of the manpower supply services which we provide.
Inclusion –
Even if you hire a manpower supply agency, every organisation requires participation in the staffing process. Therefore, Soundlines ensures that its clients are always in the loop by keeping them informed at every stage of the process.
As the need for employees arises frequently in business organisations, agencies that believe in cultivating their client relationships are preferred. To ensure long-term client satisfaction, we place a premium on establishing solid customer relationships.
Advantages and disadvantages of the UAE's Human Resource Supply
Step-by-Step Procedure for Employing a Staffing Agency
The following steps must be taken when selecting the ideal agency for sourcing human resources:
Step 1 – Overlook what you need.
Based on the industry in which you operate, the first step is to determine whether you wish to hire for manpower supply, contract staffing, or on-demand staffing.
Step 2: Search for the top agency.
Based on your needs, you should seek out the best regional provider of manpower. Soundlines offers a variety of staffing services; hiring such an agency can be advantageous in the long run.
Step 3 – Set clear objectives and inform the company of them
Before beginning to work with a staffing agency, it is crucial to establish clear objectives and to discuss them openly with the agency. By informing them of your requirements, they will be able to develop an effective action plan that is suitable for your organisation.
Step 4 – Relax while the company performs its duties.
After discussing your needs with the staffing agency, allow them to initiate the process of recruiting the best talent for your organisation. By outsourcing this task, you can prevent overburdening your current team and allow them to focus on core business operations.
View this post on Instagram
Conclusion
Undoubtedly, a business cannot function without human capital. The era of intense market competition has necessitated the adoption of effective policies to distinguish oneself from competitors. This has indeed led to an increase in labour demand. Therefore, you must select the best candidate for your organisation. 
By employing Soundlines intelligently, you can easily meet your manpower needs. We are the ideal partner for your human resource needs, and we can help you ensure that your company will not experience any personnel shortages in the future. Due to the vast experience and exceptionally high qualifications of the team of human resource professionals that we employ, we are exceptionally good at what we do and have been able to sustain long-term relationships with our clientele.