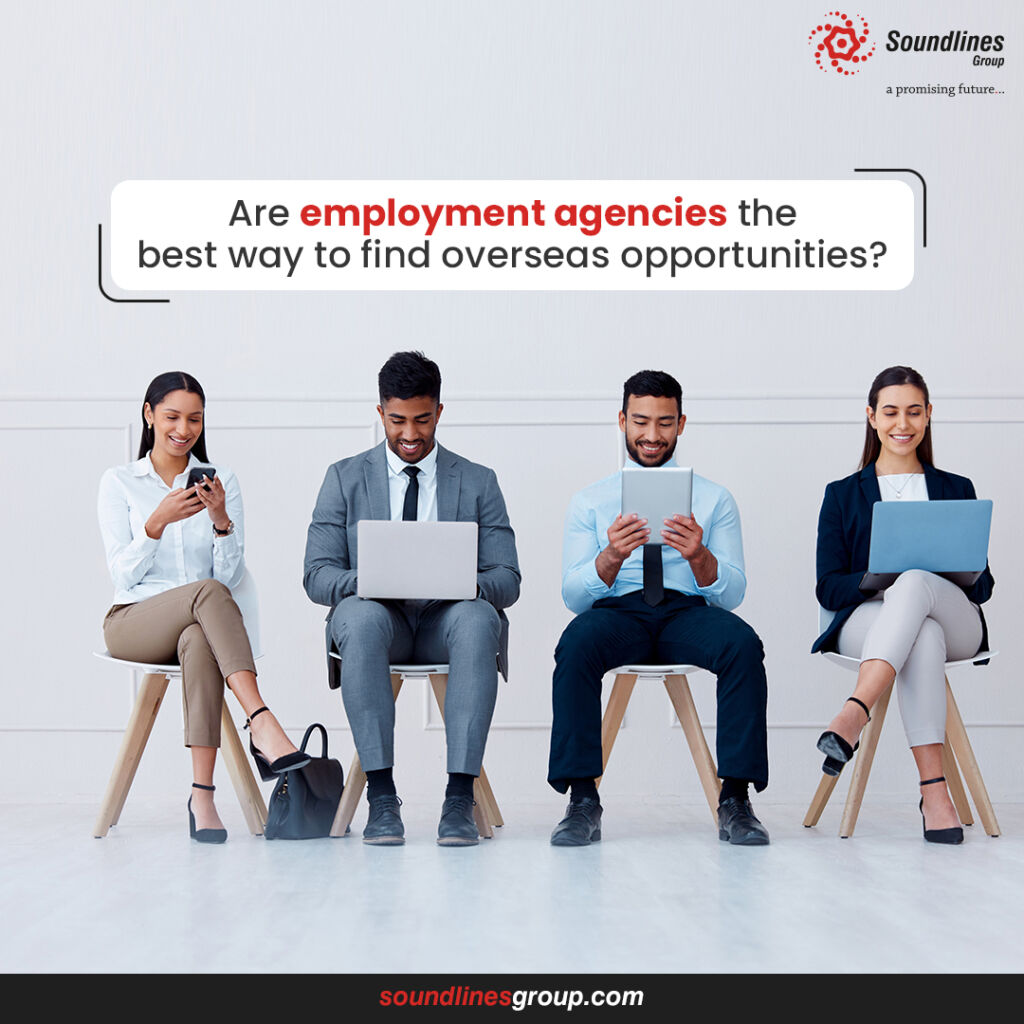 Someone may have advised you that if you join an "overseas employment agency," your prospects of finding a suitable position are likely to be greater than if you registered directly with foreign companies. These agencies, also referred to as international hiring agencies or overseas placement services, typically serve as a liaison between foreign job-seekers and companies seeking to engage them.Both job seekers and companies rely on the expertise of these agencies to locate employment opportunities outside their native countries. However, the crucial issue is how useful these agencies are for job applicants.
Should a job applicant who desires to work in a foreign country register with an international employment agency?
What are the potential benefits of doing so?
And can these agencies assist you in finding your ideal job?
In this piece, we will try to respond to these concerns by discussing the benefits and drawbacks of utilizing an international employment agency. We will additionally provide some tips on how to recognize and avoid unscrupulous organizations.
How can an international employment agency benefit your international career?
You may reach overseas recruitment agencies via their website's job board, email, or by contacting them directly if you are seeking employment abroad. The agency will review your resume and approach you if they believe you are qualified for the position. Ensure you include your contact information to facilitate communication.
Here are some advantages of utilizing an international employment agency:
You're receiving support for free: Recruitment agencies are hired by their clients (employers) and compensated by them if they can locate qualified candidates to fill vacant positions. Therefore, candidates are not required to pay to utilize their services.
Due to their extensive network, they can find jobs that may not be explicitly visible to employment-seekers (on job sites, forums, LinkedIn, social media, etc.). Employment agencies are frequently the first to learn of available positions. As a result, they can place you in contact with clients and initiatives that may interest you, thereby assisting you in finding the perfect position overseas.
They are familiar with the labor market and employment needs in the desired country: Overseas recruitment agencies frequently specialise in particular industries and countries, so they recognise where opportunities exist for someone with your skills and experience. In addition, candidates who conduct their job searches frequently find the process to be extremely competitive and rarely fruitful. Lastly, a recruitment firm will be able to assist you in establishing realistic objectives and expectations, both of which are essential for an effective job search.
They enjoy a well-known status:

Some businesses prefer to engage (and even conduct interviews with) international candidates who have only been referred by a reputable recruitment agency. This is because companies frequently work with the same recruitment firm for years and, as a result, trust what they have to say regarding the interview candidates they refer.

They eliminate uncertainty from the application process:

Because a recruitment agency is only compensated if the client employs their candidate, they have an ownership stake in advancing your application if you meet the job profile requirements. Therefore, they will monitor your application and 'hold your hand' until you get denied or employed. Additionally, they may assist you with composing your resume and cover letter and conduct simulated interviews with you. If you are granted the position, they can discuss your salary and employment terms with the recruiting organization.
Are there any disadvantages to registering with an international employment agency?
If you are a job-seeker seeking career possibilities abroad and have registered with an international recruitment agency, you may have a negative experience for a variety of reasons. Here are some potential disadvantages for which you should be prepared:
Their top priority is their client company, not you:

Since the employing company compensates recruitment agencies, their primary concern will be on finding the best candidate for the company, not necessarily the best job for you.

They may be uninterested in developing a long-term relationship with you and maybe impersonal or inattentive:

Again, they may view candidates as a means to a conclusion, i.e., additional client revenue. They may also recommend other candidates for the same position, thereby boosting competition and lowering your likelihood of being employed.

Their methods may be obscure:

Some agencies intentionally conceal the application status from applicants. And they may not provide the candidate with comprehensive information to assist them in investigating the recruiting company or job profile. In some instances, agencies claim to have sent some candidates' resumes when they have not.

They might not accept you if you alter careers:

Frequently, employment agencies operate within specific industries or job characteristics. Therefore, if your experience and skill set correspond to an open position in their database, they may encourage you to apply, even if your primary objective is to change professions and find an entirely distinct kind of job.

They may raise candidates' standards and then fall short of fulfilling those expectations:

It is possible that the agency's claim that it works with numerous employers and has access to numerous job openings is not entirely accurate. They may also vow to provide comprehensive support during your job search, but this may not be the case. In either case, you may waste time and feel disappointed if you do not achieve the desired results.

It is possible that they cannot assist you with your visa:

Visa advisory agencies are required to adhere to a distinct (national and/or cross-boundary) set of rules and regulations, which prevents the majority of agencies from providing this service. Even if they locate you a job and you take the offer, they might not be able to assist you with relocating; you may be solely responsible.
TAKEAWAY 
Soundlines has an office presence in 23+ countries to facilitate the international recruitment process for both businesses and applicants. Soundlines offers organizations access to its global experience while keeping a local presence, ensuring that it understands your brand, culture, needs, and future goals.
Soundlines has served clients in the UAE, Saudi Arabia, Kuwait, Qatar, Bahrain, Poland, Russia, and Romania as a pioneer in the HR recruitment business for over two decades.
With a vast database of over 500,000 individuals, our clients never lose faith in finding the "perfect match," With the greatest in-house specialized centers and skilled technical assessors for every job trade, Soundlines makes it easy to locate the "ideal candidate."
Click here to book a callback if you are an employer seeking to hire international workers.