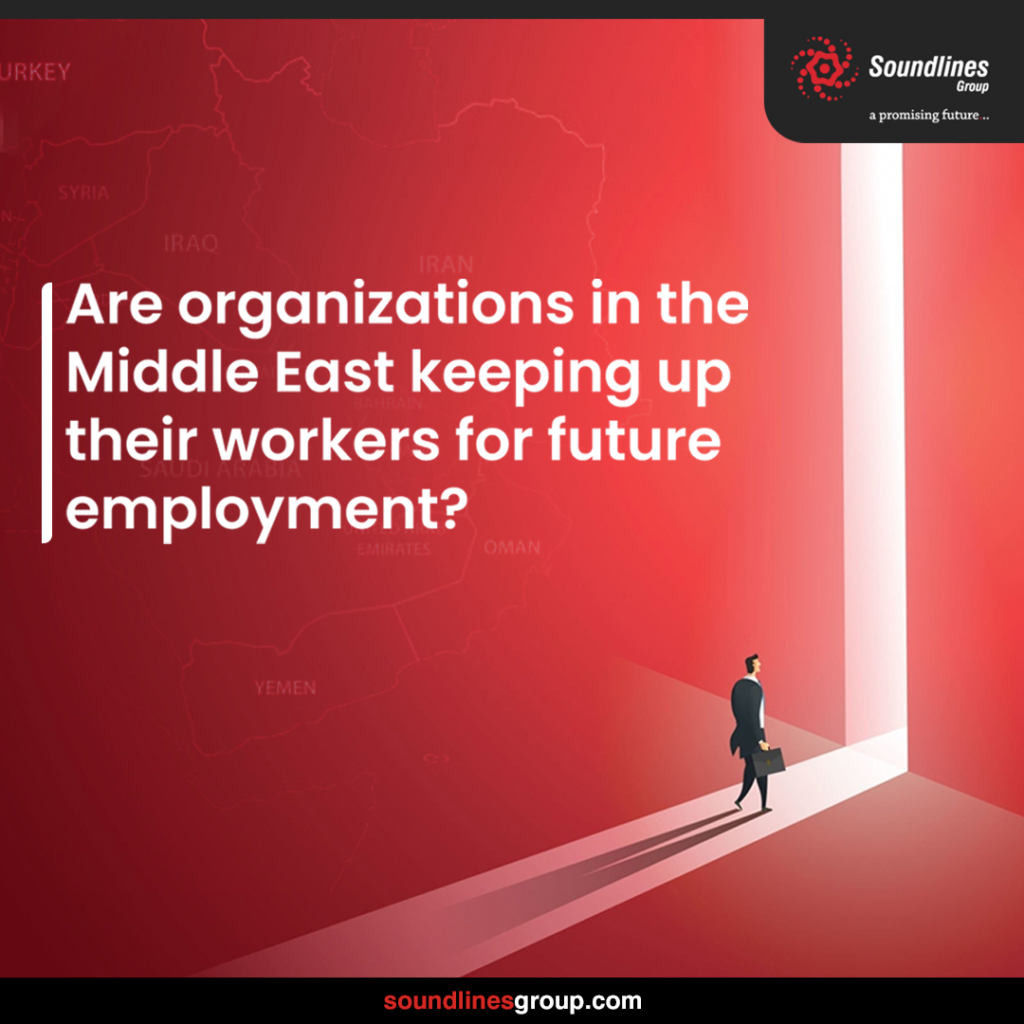 The day may soon come when robots will complement or perhaps replace humans. Projections show that employees might lose 400-800 million jobs to robots by 2030. Tesla recently introduced Optimus, a new robot that the firm believes could one day start picking up people's groceries.
As automation progresses fast, no employment is future-proof. The impact of digitalization on the workplace is alarming for both companies and workers.
According to a recent poll, more than sixty percent of Middle Eastern respondents believe their jobs need specialist training. According to a PwC survey, most employees in Kuwait, Qatar, Saudi Arabia, and the UAE think their country needs more competent specialists.
According to experts, the time has come to develop a workforce prepared for the future and prioritize Learning and Development (L&D) in the office. Maya Anandakumar Sreekumary, the chief human capital officer of One Global Group, states that the escalating impact of digital disruptions has profoundly affected the management of various corporate functions. Building a staff prepared for the future is essential to the sustainability of any business in an always-evolving market.
EDUCATION IS A UNIQUE EMPLOYER OFFERING
Businesses that lack – skilling and re-skilling programs may experience substantial employee turnover. "When Covid-19 hit, people began working from home; the corporate world transformed overnight. Despite being aware of how digitalization would affect our professions in the future, the sudden technological transition confused many of us. 
Abbud Ali, a data analyst based in Abu Dhabi, adds, "We knew it was time to modernize."
L&D (Learning and Development) has become an employee priority. Ali adds, "Many of my colleagues quit their employment due to a lack of learning chances."
The growth of the chief learning officer shows the increasing importance of learning-centered objectives. Nearly three-quarters of L&D executives feel that L&D's relevance has increased during the last year.
"When digital innovation becomes commonplace, the Learning and Development business will be inundated with new technologies and tools. Learning is the new currency in the world of talent, says Zaur Shiraliyev, group director of learning and development at Chalhoub Group.
"In the post-pandemic era, just as we see changes in customer behavior from a retail standpoint, we observe massive shifts in staff preferences and decisions. Well-being, purpose, and learning have increasingly become employers' most important differentiating factors. We view learning as a distinct employer selling point for our business to recruit talent. "However, ongoing investment in personnel and expanding skills ensures their commitment to the firm," Shiraliyev continues.
CREATING AN EXCELLENT L&D STRATEGY
Since learning is more crucial than ever, what does an effective L&D strategy look like? Shereen Tawiq, CEO of Blanca, states, "L&D should serve as the GPS, and people should be the fuel."
"Companies prosper since their culture is founded on sharing information and valuing diversity. Information sharing is the fertile ground required for any L&D plan to succeed, according to Tawfiq. "A corporation must have crystal-clear objectives and guarantee that all team members completely comprehend them."
Most businesses in the Middle East have already started to put a premium on upgrading and retraining. For example, retail titans Chalhoub is engaging in technology to deliver learning while retaining scalability and catering to a large team in many areas with variable English or Arabic language preferences.
Keeping learning and development as a topmost issue, Chalhoub University will provide learning opportunities to meet the three primary needs of employees: behavioral offer to assist employees in becoming a part of and contributing to the company's culture; functional learning to assist employees in acquiring the best professional knowledge; and leadership learning.
Shiraliyev said, "We are working with internal and external subject matter specialists to supply us with the best in class information and resources to assist us in staying ahead of the competition and future-proof our firm."
SOLVE TALENT CRISIS BY CLOSING SKILL DEFICIT
Several variables, including automated processes, have contributed to the current skills gap faced by enterprises. "Closing potential skill gaps should be a top priority for any organization," says Sreekumary. He also adds, "Creating training opportunities with cross-functional collaborations/engagement is a great way to expose employees to different skill sets within the organization and develop their knowledge in specific training-needing areas."
Practical L&D activities enable organizations to preserve a competitive advantage, improve employee morale, and generate financial advantages. Learning can resolve the region's talent shortfall by creating interesting training programs, supporting workers in uncovering development possibilities, unleashing employee potential, and assisting the workforce in self-transformation.
"Employees constantly want an expanded development profile inside the organizational environment, and a superb L&D plan that closes present and future skill shortages will fix the talent dilemma," Sreekumary explains.
Recruiting fresh talent is just one side of the talent challenge; retaining existing employees is equally crucial. Therefore, experts emphasize quality over the number and feel that investing in superior training that encourages participants to use their knowledge is better than investing in multiple inferior training programs.
Nevertheless, getting employees away from their workstations incurs a cost. Therefore, Tawfiq advises, "Calculate all training expenditures and compare them to the investment you are making."
Tawfiq adds that if you want to keep your workers, you should urge them to explain how they intend to use what they've learned in their everyday life and require them to walk the walk. "Also, emphasize the superstars whose acquired knowledge had a significant influence. This may motivate other staff to follow suit."
Are you prepared to collaborate with a Professional Employer Organization (PEO)?
Contact our employment outsourcing specialists as the next step.
Soundlines can assist you in…
Swiftly enter new markets.

Streamline HR operations

Enhance productivity and effectiveness

Maintain compliance and mitigate risk

Ensure your payroll accuracy at all times
View this post on Instagram

If you are an employer looking to outsource your global employment, click here to schedule a callback from one of our experts.