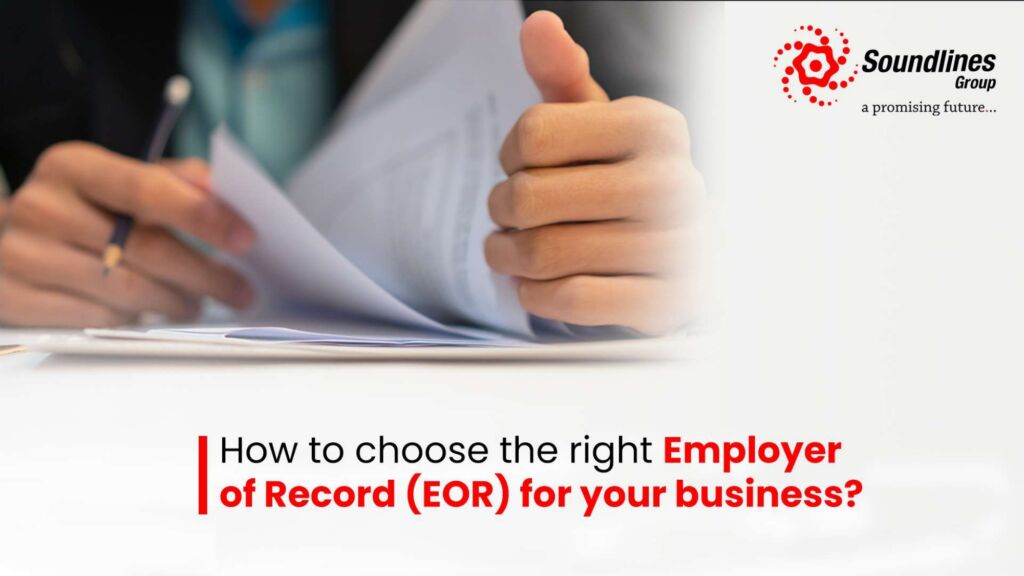 Consider using an Employer of Record (EOR) service provider to outsource some or all of your Human Resources responsibilities.
Outsourcing can help many small and medium-sized businesses scale their operations during times of business expansion. Particularly if you plan to establish a business in a foreign country.
As with any product or service on the market, selecting the appropriate solutions is essential to your success.
Read our article on questions to ask when choosing an Employer of Record to learn more about what an Employer of Record is and how to determine if it's right for your business.
How then do you select your 'Employer of Record' service provider?
In reality, much will depend on your specific circumstances. To choose a partner who best meets your needs, you must thoroughly investigate a few common factors.
Here are five considerations when evaluating Employer of Record service providers:
Reputation

Geographical knowledge

Employee benefits provision

Innovation 

Service model
How trustworthy is the EOR?
Priorities come first. How established is the business?
Investigate how long they've been in business and what their current clientele looks like. An EOR is responsible for a variety of administrative tasks within your organisation. These may include local payroll processing, presenting yourself as a legal employer in your host country, sponsorship applications, compliance with international labour laws, and administration of benefits for your international employees.
To ensure workplace safety, avoid compliance risks, and give you peace of mind that your business is in good hands, you must confirm that they have extensive experience with the aforementioned.
Does the EOR have experience with international employment in your region?
Calculating tax withholdings, insurance deductions, wage garnishments, as well as sick and leave accrual is a complex aspect of payroll service for employees.
Ensure that the EOR you choose has a track record of success in the region where your international business activity is being conducted. Local tax laws and regulations vary by nation, state, and municipality. Such violations frequently carry the risk of civil penalties and fines.
In addition, labour laws can vary by location, so you'll need an EOR familiar with international employment laws to ensure regulatory compliance.
What benefits does the EOR offer its employees?
One of the greatest advantages of working with an EOR is the availability of their benefit systems.
Due to their large client base, EOR firms have greater purchasing power in the benefits market. This means that even the owner of a small business can provide international employees with the types of benefit packages typically associated with larger organisations. Thus, you must ensure that the EOR you select provides benefits that your workforce would not otherwise have access to.
Do they provide additional benefits beyond the standard employment contract? 
Among other employee benefits, many EORs offer life insurance, training and development, and employee performance programmes to both permanent employees and independent contractors.
What technologies do they employ?
Technology is integral to working with an EOR service, as it is utilised for international employee onboarding, recording hours for payroll and tax processing, and ensuring compliance.
You should ideally have access to a system that easily integrates with your organization's software and enables you to manage the employee lifecycle without interruption. Request a demonstration so you can determine how the user experience will function.
As you will be transmitting large amounts of sensitive data that you have a legal obligation to protect, you will also need to evaluate the security infrastructures of their software to ensure the safety of your organization's data.
What is the model for servicing?
Consider the provider's servicing model when determining which could be the best partner for your business.
Is it a one-size-fits-all approach, or do they tailor their model to the specific requirements of each client? Do they primarily communicate via an online portal, or will you be assigned a single point of contact to whom you can escalate issues and direct questions?
Another factor to consider is whether or not the service you wish to acquire is central to their business. In an ideal situation, you would receive the care and attention you expect and deserve.
What does an Employer of record do?
An

Employer of Record (EOR)

can help your organisation start employing in a new country. No physical entity is needed.

They supervise payroll, personnel screening, benefits rollout, new hire training, and more. All while ensuring local regulations are met.

By using their local cultural experience, organisations can learn how to manage foreign employees' expectations while respecting their social norms and cultural customs.

Long-term employee engagement requires balancing these characteristics with new ideas and concepts.
These services are offered by Global Employment Companies (GEC). Here are the key benefits of outsourcing your Human Resource Requirements globally?
The outsourcing of your employment needs, to a global employment company (GEC), will result in numerous operational efficiencies.
What are the advantages of outsourcing global manpower employment?
Enter new markets rapidly
By partnering with an internationally diversified Global Employment Outsourcing (GEO) company, you can enter new markets rapidly without establishing local entities.
Multinational operations can be overwhelming for expanding businesses. Your ability to focus on a long-term talent strategy is hindered by compliance, tax implications, and frequent immigration changes.
Partnering with a global employment company that has a thorough understanding of compliance will allow you to focus on expanding your business in the new market.
Cost-effective and streamlined human resources
International employment and compliance issues are exacerbated when your costs increase as a result of managing multiple suppliers or recruiting HR professionals overseas.
Outsourcing international manpower requirements eliminates the need to maintain an expensive in-house team while allowing you to work with a single entity.
Enhanced efficiency and communication
A global employer organization that is outsourced can provide a single point of contact for all inquiries.
This improves efficiency and expedites the resolution of issues while reducing the need to involve multiple stakeholders.
Maintain compliance and reduce risk
Not only must an international workforce be mobilised quickly, but also legally. It is essential for the success of a global company to remain abreast of new legislation.
A GEO specialist with vast local expertise ensures that your international workforce is managed compliantly no matter where in the world you decide to function.
Reliable and accurate payroll
Maintaining in-house finance and international payroll teams can be expensive and difficult for clients without a permanent presence in the country.
A GEO company can manage local/national income tax and social security payments on behalf of each employee. Additionally, they should ensure that this amount is deducted from their pay and paid directly to the tax authorities.
Can outsourcing your global employment needs benefit your company? 
One of the highly reputed Global Employment companies 'Soundlines', provides fully integrated international talent resourcing and outsourcing services to clients. Additionally, Soundlines serves both blue-collar recruitment and white-collar recruitment in varied industries, doing the search for the best recruit more defined and successful every time.
Soundlines has offices in 24+ countries to facilitate the recruitment process for both employers and candidates. Soundlines offers organisations, access to its global experience while maintaining a local presence, ensuring that it understands your brand, culture, needs, and future goals.
Soundlines has served clients in the UAE, Saudi Arabia, Kuwait, Qatar, Bahrain, Poland, Russia, and Romania as a leader in the international HR recruitment industry for over two decades.