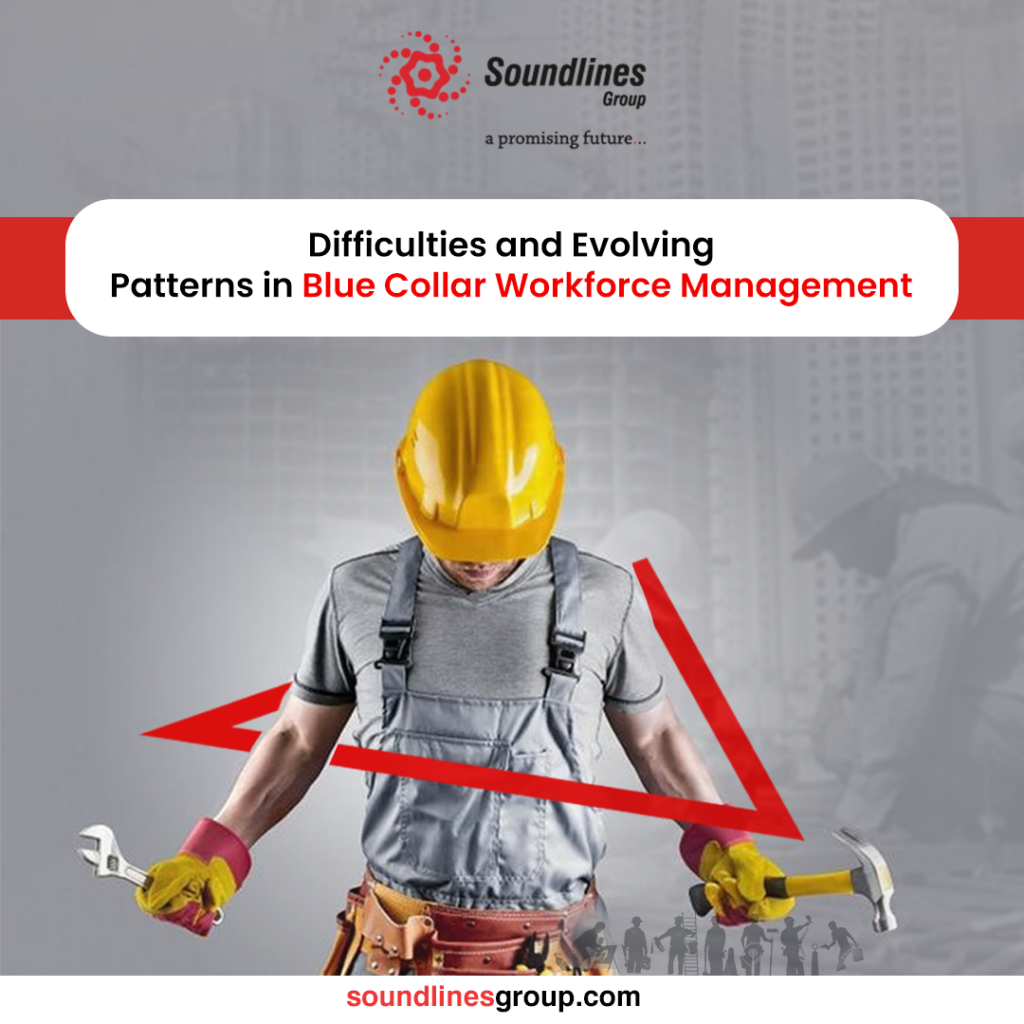 Without question, the second wave of COVID-19 has been a catastrophe. This circumstance might have an equally long-lasting effect on India's labor market, particularly for blue-collar employees. As the economy rises from its limitations, economic activity will restart, and there will likely be an increase in demand for this portion of the labor force. Businesses need to plan and identify strategies to recruit, manage, and retain blue-collar personnel. Becoming aware of difficulties and new trends is the best way to be prepared.
Limitations of Blue-Collar Management
Attendance and Flexible Scheduling Administration
While bigger organizations often engage in web-based HR management systems to monitor the attendance and achievements of white-collar executives, the majority of blue-collar employees lack a reliable and consistent method. The majority of Indian businesses continue to use antiquated, paper-based systems for controlling attendance. These destabilized systems are susceptible to mistakes and manipulation. Data inconsistencies in shift schedules might result in absenteeism during shift hours, improper attendance monitoring, and incorrect worker compensation. Furthermore, controlling these processes becomes simpler as the scope of activities increases.
The time supervisors spend managing schedules and engaging with employees might have been allocated for recruitment, skills training, and evaluations. Standard personnel management systems lack the features necessary to facilitate the administration of dispersed individuals with significantly diverse skill sets. Language is a further hurdle since many systems lack multilingual capability.
High Probability of Inadequate Background Checks 
According to jaw-dropping research released by The Economic Times, fifty percent of all job seekers disclose incorrect information on their applications. This emphasizes the necessity for extensive background checks. This is essential since the conduct of workers with malevolent intent or a criminal past may have significant legal repercussions and/or cause irreparable harm to the company's brand. 
Blue-collar employees face an entirely new set of obstacles:
 They are dispersed across India's regions and villages. There is no centralized data repository to verify a candidate's criminal past, financial standing, work history, educational background, or family history. There are numerous distinct spoken languages and dialects. This makes background checks a monumental undertaking. In certain towns and villages, the connection may be weak, making verification more time-consuming and incorrect. These obstacles lead businesses to make concessions in their employment practices. 
Latest Trends in Blue-Collar Administration
In a commendable gesture, the Ministry of Labour and Employment of the Indian government created the National Database of Unorganized Workers (NDUW). This effort intends to build a database of informal laborers in India. The 2019 Economic Survey stated that about 93% of India's entire employment was informal. This program, which will be seeded with Aadhar, aims to enable workers to exchange information about their talents, making it simpler for firms to locate candidates who meet their requirements. For this to help blue-collar employees, businesses will need to synchronize their procedures.
 Increased technology adoption
Companies are seeking rapid technological solutions for the effective administration of blue-collar employees. The growing use of cell phones and Internet access by this sector is driving this development. As of September 2019, China had the biggest population of internet MAUs (monthly active users), while India had the second-largest number. India will overtake the United States as the world's second-largest smartphone market by January 2020.
The shutdown hastened the expansion of the internet in cities and rural regions throughout the nation. People in these locations use their mobile devices to access YouTube, Facebook, and WhatsApp. Therefore, blue-collar employees already use their smartphones to interact, study, and discover information for their personal lives. Companies see this growing trend as an opportunity to keep in touch with and manage their remote workers.
Allowing customers to connect to the firm on a device with which they are already familiar cuts the training burden considerably. All that is needed is a strong platform that can be changed to fit the needs of the company and has an easy-to-understand and use interface.
With minimal training costs, technology-driven solutions make it possible for businesses to achieve uniformity across industries and geographies. With consistent processes and real-time data at their fingertips, these technologies may expedite activities, enhance quality, cut costs, and increase the value of organizations.
What is a Manpower Supply Company? Do you require one?
Challenges encountered when employing personnel
Everyone from laborers to expatriates of diverse backgrounds is migrating to the UAE in search of better employment opportunities. As a result of the nation's robust economic growth, there is an increase in the number of people migrating to find employment. This is exacerbated by the rising unemployment rate in other regions of the world and economic issues. However, industries face certain obstacles when recruiting personnel.
Strict UAE Employment Laws
The UAE Labour Laws apply to all employees working in the UAE, both UAE nationals and foreign nationals. To avoid employment issues, it is essential to be familiar with the labour laws applicable to your organization's location. Soundlines can assist you in avoiding this circumstance. Our team of experts can assist you in comprehending the compliance provisions. 
Difficulties in the Immigration process
One of the difficulties organizations in the UAE face is Immigration. Primarily because, to hire people, an organization must adhere to specific procedures. We can streamline these processes by compiling all documents required to comply with immigration procedures.
Procedure for Employing Personnel in the UAE
Observing the stringent labor laws of the UAE is essential. After your organization has performed its due diligence to locate and interview a qualified applicant, it must adhere to the proper procedure. Employers must adhere to specific legal requirements regarding their responsibilities.
Step 1 – Select the ideal candidate
Selecting the most qualified candidates from the available pool is the initial step in the hiring process. As the screening process can be lengthy, employing a staffing agency can facilitate the procedure. Book Personnel with the Leading Manpower Supplier in UAE
Step 2 – Guaranteeing Appropriate Documentation
As previously mentioned, the UAE has strict employment laws. Therefore, the recruiting company must provide an employment contract. In addition, the law governing employment stipulates the maximum number of hours that can be worked in a given week, the amount of vacation time that an employee is eligible for, and whether or not the employee is eligible for additional benefits such as maternity or sick leave. Soundlines can assist you in ensuring that all requirements are met. This can simplify the documentation process.
About Soundlines and the benefits of outsourcing your human resources supply needs to Soundlines?
As an employer in the UAE, you may feel frightened upon realizing all the potential problems you may face. Complying is challenging because you need an HR department that is constantly focused on keeping up with the latest legislation. Therefore, you can rely on Soundlines to help you hire the necessary employees for your business. With the assistance of an outsourcing company, you won't need to worry about tedious procedures. You only need to entrust us to help you find the right people and manage the paperwork. One of the benefits of employing the best manpower supply company, such as Soundlines, is that you can devote more time and energy to your core business operations.
This will ultimately increase the efficiency of your organization. You will be required to devote your time solely to expansion and improvement.
View this post on Instagram
Contact us immediately for your staffing needs.