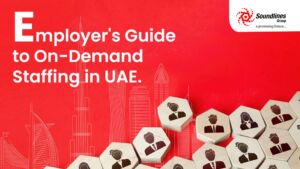 A devoted team is one of the primary factors contributing to an organization's success. Therefore, a lack of expertise can be extremely detrimental, as it can hurt an organization's overall operations. Numerous organisations are experiencing a lack of human capital at present. Additionally, the absence of an existing workforce for longer durations can exacerbate problems. In such situations, our on-demand contracting services can save the day by providing hiring flexibility. In addition, a substantial proportion of UAE employees prefer working as on-demand staff. As part of our dedication to meeting the needs of our clients, Soundlines assigns the finest personnel to the right tasks within the allotted time. We can assist you in filling the immediate workforce gaps in your existing positions so that the workload can be evenly distributed without overburdening the permanent staff.
How does Staffing on Demand work?
In the past few years, organisations in the UAE have become increasingly interested in the on-demand hiring model. This shift toward on-demand staffing is primarily driven by changes in technology and peoples' attitude towards work. By hiring personnel on an as-needed basis, urgent and short-term demands can be easily met. It also facilitates access to a vast network of seasoned professionals and technical specialists. Immediate workforce supply by manpower supply companies such as Soundlines has proven to be of great assistance in maintaining the productivity of business operations without sacrificing work quality.
When should you go for Staffing on-demand?
Although hiring permanent employees on a full-time basis is the generally accepted method because it fosters a commitment to the organisation, there are times when businesses should employ a strategic approach and hire on-demand staff.
No Permanent Staff
There is always a possibility that a member of your permanent staff will be unable to fulfil his responsibilities for a specific period of time due to an unexpected medical condition or one of the many other possible factors. As you do not want to replace them, you can hire someone who can fill the void in manpower for the desired period of time.
Peak Seasons for Business
When the peak of the work arrives each year, businesses face an increase in labour demand. Due to the short duration of demand, organisations cannot afford to hire permanent staff, as doing so would increase their financial liability. To effectively and efficiently fill these vacancies, the on-demand staffing method enters the picture. Because it does not place a burden on the organisation to make commitments for the foreseeable future, hiring a temporary worker is the best and quickest solution in dealing with such circumstances.
You need Expertise in Technology 
The shift in employee preferences has also proven advantageous, as labour can now be recruited an on-demand for nearly all job categories. The need for technical expertise for specific tasks can also be met through on-demand staffing as opposed to the permanent employment of such experts.
What is Contract Staffing? How is it different from On-Demand Staffing?
On-demand staffing is preferred for short-term assignments, whereas contract staffing is preferred for long-term needs, which are typically defined as six months or more. As employees hired on an on-demand basis are associated with the company for a shorter period of time, the organisation is not required to provide them with the statutory benefits stipulated by the UAE's labour laws.
What are the benefits of overseas On-Demand Staffing?
Some of the many benefits that on-demand staffing can bring to your organisation are as follows:
The quick and painless application process

A strategy that minimises costs

Productivity increases with enhanced technical knowledge and experience

Aids in achieving assignment deadlines

Without the weight of a commitment to long-term financial liability

You get access to hundreds of talent databases
In addition to the aforementioned advantages, one of the greatest benefits is that temporary employees can be hired, and if the organisation is pleased with their performance, permanent positions can be offered. This will not only improve the organization's efficiency but will also help avoid making hiring mistakes.
What is Soundlines? What services do they provide?
More than two decades ago, Soundlines began providing overseas workforce by deploying candidates for numerous mega projects across the Middle East, Far East and African regions. Our proficiency and adaptability in providing a vast array of services has proven to be of great benefit to our clients. Staffing on demand is one of the services we provide with the utmost commitment. We put the needs of our customers first and always place their greatest objectives when it comes to providing services.
Process international workforce recruitments rapidly
Due to the dynamic nature of the business environment, an immediate need for labour has emerged. With an effective hiring process that is quick, we ensure to meet the deadlines in providing appropriate overseas workforce supply services. The lengthy procedures were avoided to ensure rapid gap filling in accordance with our client's needs.
Economical services
The services are offered at very affordable and reasonable prices, with consideration for the client's needs. At Soundlines, we place a high value on the satisfaction of our customers and believe that it is important to provide a strong labour force.
A Methodology that is dynamic
As nothing is constant in this era of rapid change, we employ a very dynamic strategy. By streamlining the process of hiring qualified professionals on an as-needed basis, we efficiently manage all phases of the hiring procedure while keeping the clients informed. 
Takeaway
In addition to contract staffing and permanent hiring, on-demand staffing is yet another form of employment that is gaining increasing acceptance among business organisations. On-demand staffing is also known as contingent staffing. The urgent workforce requirement for a shorter duration of time can be fulfilled by adopting the method of on-demand staffing because it brings in a variety of benefits for the organisations that use it.
At Soundlines, we have a qualified team of experts on hand who are able to analyse your requirements and provide you with the kind of manpower that you are looking for. If you have any questions or would like more information, please feel free to contact us. Our team ensures that the process is easy to understand and uncomplicated for our customers by handling all of the process's complexities on their behalf.
If you need services related to the manpower supply, you can rest assured that we have everything taken care of for you at Soundlines.