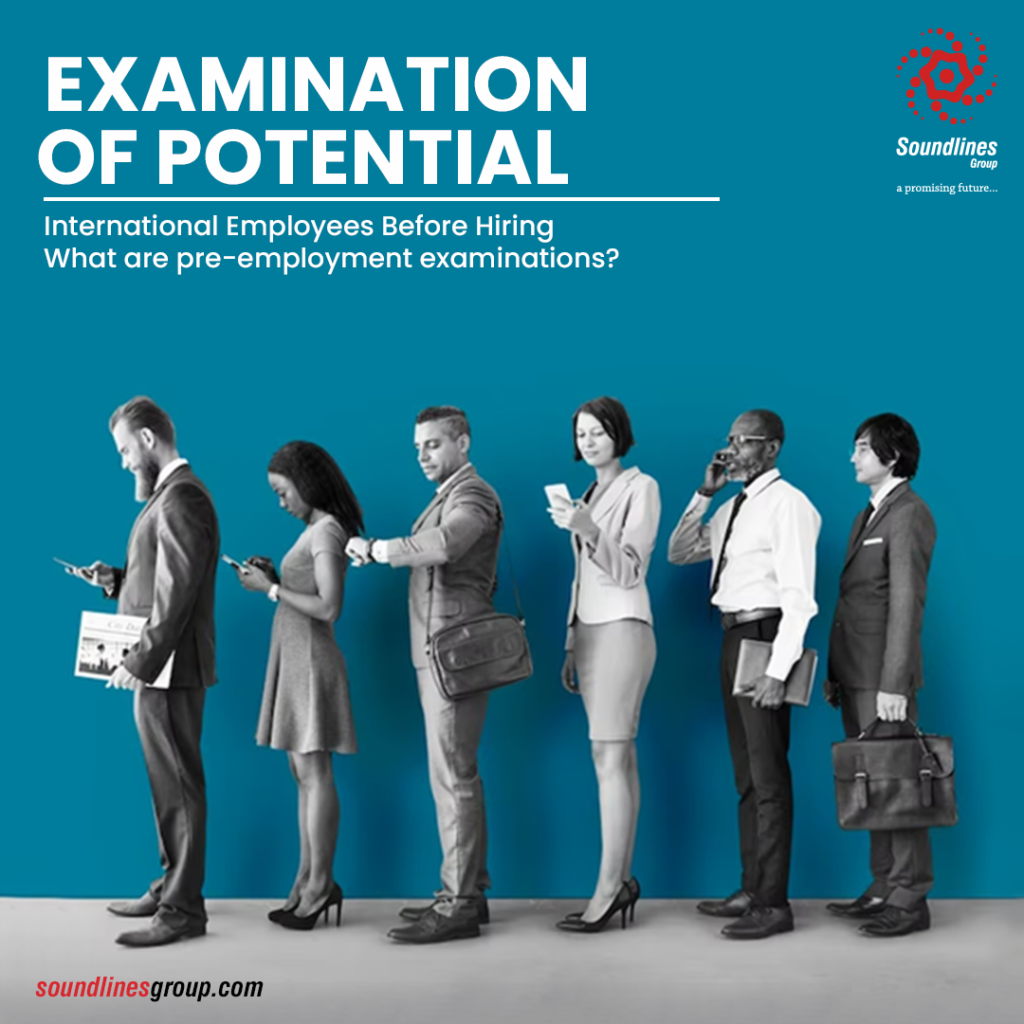 What are pre-employment examinations?
During the recruiting process, pre-employment screening is a centralised mechanism for collecting and documenting information about you. Several assessments and screenings might reveal how well one may do responsibilities on the job. Some businesses request a pre-employment test before scheduling an interview.
Why should you conduct pre-employment exams?
Employers use pre-employment testing for several purposes, including:
To speed up the hiring procedure
Companies may use these exams to swiftly exclude unqualified candidates, particularly when they have many resumes to look through.
To evaluate an applicant's abilities
Employers administer pre-employment examinations to see if a candidate's abilities match those outlined in the job title. If an employer hires somebody who passes a skills exam, the company's turnover rate may reduce since the test demonstrates the applicant's ability to apply their skill.
To improve the effectiveness of interviews
Employers may utilize the exam results to ask you particular questions about your skills and job experience, provided they collect enough data on candidates.
Importance of background checks while hiring
Why do businesses conduct background checks?
Globalization has had a profound effect on the workforce of today. Companies are expanding internationally at an unprecedented rate and forging cross-border alliances to maximize their growth.
This rapid movement toward borderless trade also enables businesses to connect with a virtually limitless international talent pool. In such circumstances, background checks can help companies evaluate and hire candidates from a rapidly expanding and changing workforce.
Before hiring employees, it is crucial to conduct extensive background checks for the following reasons:
i) Verify employment qualifications
A comprehensive pre-employment screening enables employers to determine whether or not the information provided by a candidate is accurate.Upto 78% of job applicants overstate their abilities during the hiring process. 
Among the most frequent ones are:
Claiming expertise in seldomly done activities 

Working in an organisation longer than they actually have

Possessing or earning a degree from a prestigious academic institution

Overstated GPA by more than half of a point

Earning more than they actually did 

Overstate their position in their previous company
Candidates often exaggerate their abilities in these areas during the interview process.
ii) A compliance screening procedure will safeguard your organization.
Your company will be able to evaluate candidates consistently and fairly if you maintain a compliance background screening policy.As employee confidentiality and safety regulations expand and adapt, so must your screening policy.
Working with a third-party provider of workforce solutions, such as Soundlines, will allow businesses to leverage our knowledge when building a complete screening programme and expedite the hiring process.
Too much to do? 
Leave it to the international manpower recruitment company.
If hiring blue-collar workers internationally seem like a daunting task, you can make the process much simpler by outsourcing your international manpower needs. 
Why do companies outsource human resource operations?
When a company's growth exceeds the capacity of its current infrastructure, it will typically seek to outsource its human resources (HR) operations. Or they may be preparing to enter a market in which they have never before participated.
Many businesses find that outsourcing human resources is more cost-effective than developing an in-house unit.
What are the advantages of outsourcing human resources?
HR outsourcing helps businesses reduce expenses.
By outsourcing HR functions, a business can realise substantial savings in terms of both overheads and time.
SHRM reports that companies with internal HR departments spend an average of $3000 per employee per year. According to research, companies that outsource some or all of their human resources tasks can save up to $450.00 per employee.
Managing things such as employee leave dates, expense claims, and benefits administration can be difficult and time-consuming for businesses unfamiliar with the standard procedure. Outsourcing these tasks to HR service providers can not only expedite the process but also free up your time and energy for business expansion.
It assists in mitigating risks.
Processing payroll, administering benefits, and other employee relations-related tasks can be laborious. In addition, a high level of attention to detail is required. In the hands of an inexperienced human resources department, this can result in numerous processing errors. Placing these responsibilities in the hands of seasoned overseas HR payroll experts can help to reduce errors and ensure that all processes run smoothly and on schedule.
It provides businesses with enhanced data security.
Data protection is crucial when dealing with sensitive information belonging to business partners and employees. A reputable HR outsourcing firm like Soundlines, will have the sophisticated systems and software encryption required to protect sensitive data.
It guarantees regulatory conformity.
Expansion into a new international market or territory necessitates compliance with location-specific federal, state, and local laws. They also undergo frequent evolution. For businesses that are expanding in a foreign country, navigating this in addition to potential language barriers can be particularly challenging.
Outsourcing these responsibilities to a team of dedicated global recruitment experts who will monitor changes in various regulations and update your company's policies and procedures can assist businesses in maintaining overseas HR compliance and avoiding potential lawsuits and reputational harm.
It provides businesses with access to superior HR technology.
Not all businesses have the necessary infrastructure and resources to manage their HR functions internally. Multiple processes, including the management of sensitive payroll data, the processing of employee PTO requests, and the oversight of training information, require a great deal of cutting-edge technology to be centralised and accessible.
The vast majority of reputable third-party HR firms are outfitted with these technologies, granting you access to their advanced and secure technology stacks.
Soundlines, one of the most reputable overseas manpower recruitment agencies, provides clients with fully integrated international talent resourcing and HR outsourcing services. Moreover, Soundlines serves both white-collar and blue-collar recruitment in a variety of industries in KSA while having a localized presence and reach. 
Soundlines specializes in international workforce recruitment in the Kingdom of Saudi Arabia, across numerous industries:
For more than two decades, Soundlines has assisted its clients in the Middle East and Europe in the recruitment of qualified candidates for permanent, temporary, and contract positions in major industries, such as Construction, Oil & Gas, Hospitality, Retail, FMCG, MEP, Healthcare, Security etc.
Some of the industries that Soundlines has served for two decades are: 
Building Construction


For 20+ years Soundlines has assisted building construction companies in the Middle East and Europe in

recruiting skilled workers

, machine operators, scaffolders, electricians and equipment repairmen, among many others.

Road Construction Projects


We are experts in staffing road construction projects. We have assisted companies in

hiring skilled labourers internationally

, drivers, and machine operators for global road construction projects.

Oil and Gas


We aid Oil & Gas companies in recruiting qualified candidates from all over the world. We have assisted Oil and gas firms in recruiting tens of thousands of entry-level and mid-level employees.

Facility Management


Whether the facility management

staffing requirements

are large or small, we are adept at meeting them. On a permanent, temporary, or contractual basis, we help businesses find the ideal candidate globally.

Security


As security is currently one of the greatest concerns, we assist businesses in

recruiting the ideal candidate internationally

. Some of the recruitments done by us includes watchmen, guards, security personnels etc.

MEP (MECHANICAL, ELECTRICAL, AND PLUMBING)


We have assisted companies in recruiting thousands of skilled workers for entry-level and supervisory positions in the Mechanical, Electrical, and Plumbing departments over the past two decade
Hospitality
We have been screening and recruiting the best talents including butchers, multi-cuisine chefs, delivery crew, baristas and many more positions in the middle east for years. 
Looking for an overseas manpower recruitment agency?
Click here to schedule a callback from our overseas recruitment experts.