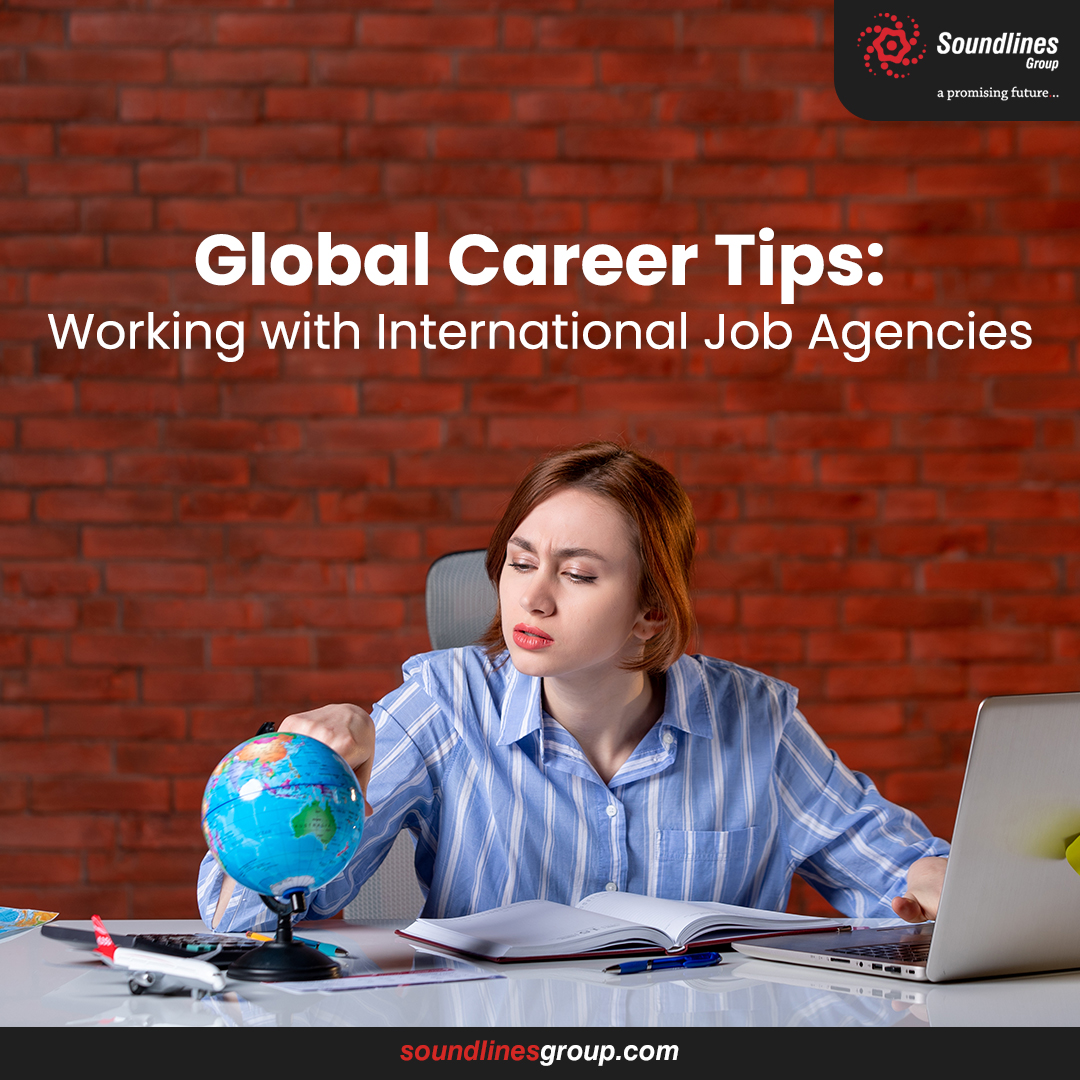 Embracing a global career path can be an exciting endeavor, offering new horizons, diverse cultures, and professional growth. However, navigating the complexities of international job searches and placements can be daunting without expert guidance. This is where international job agencies come into play, offering a wealth of opportunities for individuals seeking overseas career prospects. 
From identifying suitable job openings to handling immigration processes and cultural integration, international job agencies serve as valuable partners in making your global career aspirations a reality. 
In this article, we will delve into essential tips and considerations to keep in mind if you decide to sign up with an international job agency. These insights will empower you to maximize the benefits of their services and embark on a successful and fulfilling international career journey. 
Let's embark on this exciting global exploration together!
    Are you required to pay cash or provide sensitive financial information?
        The majority of recruitment agencies generate income from the businesses that employ their candidates rather than from the applicants themselves. Despite their promises, reputation, or track record of success, you shouldn't enter into a contract with an agency that requires you to pay for their services.
         In addition to being fraudulent, a company that requests confidential data such as credit card or bank account information is likely conducting an unlawful scheme.
        Also, if the recruitment firm requests excessive inquiries about your previous coworkers and companies to which you have already applied, it is possible that you are being used to generate "leads" for other candidates. This increases competition and diminishes your odds of being hired.
What does Google say regarding the organization and the company it purports to have 'found' for you?
         Perform a fast Internet search for the organization and assess the results. Do you encounter malfunctioning connections or absent content on the agency's website? When you click on a specific link, are you redirected to an unexpected or strange-looking website? Do you find negative comments, social media conversations, or press releases that criticize the organization's management, values, actions, or ethics?
         Worse yet, is there virtually no sign of the organization on the Internet? A reputable agency with a firm reputation will have an informative website that is accessible to the public. This would consist of:
The industries in which they compete

Their portfolio of solutions

Contact information (including an address)

An up-to-date employment directory
A legitimate firm will also have a strong presence on LinkedIn and Glassdoor. The Internet makes it extremely difficult for businesses to conceal, so if your agency looks to be a "ghost" on the Internet, it is likely a phony.
Similarly, investigate the company with which the agency has matched you. It should also have a web presence, beginning with a well-designed, professional website and a social media presence.
 If the Internet does not yield a lot of helpful data about the agency or employing company, you may need to consult offline sources of information, such as the Better Business Bureau, a government ministry, the chamber of commerce bureau of your city, your professional/personal network, etc. If there is no pertinent information available, the organization and/or business may be fraudulent. And if they appear on official "scam" lists, such as on a government advisory, then alarm sirens should sound because the organizations are fraudulent.
Are the agency's recruitment consultants using a free email account to communicate?
         Virtually all legitimate businesses have a business email account. If your agency corresponds with you via a free Yahoo, Gmail, or Hotmail email account, or if it matches you with a company that does, one or both of the companies are likely to be fraudulent. Pay particular attention to email addresses and email signatures, and you may be able to distinguish between authentic and fraudulent emails.
Does the agency offer insufficient details or make promises that seem too good to be true?
         For the majority of people, relocating to a foreign country for employment is a life-altering decision that raises many questions and concerns about the recruiting company, job profile, orientation and training procedures, management, etc. Your agency ought to be able to provide this information or place you in contact with the appropriate company representative. If it can't or won't, you'd be more successful signing up with a different agency.
         In addition, it is extremely uncommon for an organization to employ individuals solely based on an 'impressive' resume and without conducting interviews and/or checks on the background. If your employment agency says that you have been engaged with no interview, the 'job offer' is likely bogus. Furthermore, if you are promised a salary that seems excessive relative to your qualifications, skills, or expertise, the offer is likely fraudulent. Remember that only the employing company can make hiring decisions, not a recruitment agency, if they sound overly confident about your prospects.
Almost certainly, if a promise appears too appealing to be true, it is!
Does the company urge you to lie or at least "pad" the truth to employers?
         An agency that encourages you to deceive regarding your professional or personal history on your resume or during an interview is unethical while urging you to be unethical as well. Employers will eventually discover such unethical behavior, which could have long-term consequences for your career. Short-term, it may diminish your possibility of achieving your ambition of working abroad.
Avoid such agencies and tell the truth on your resume and in interviews.
         Now that you are aware of the benefits and drawbacks of registering with an international employment agency, you will be able to make an educated choice about how to proceed.
         Additional advice to enhance your overall encounter with an international employment agency
Consider the following suggestions when collaborating with an overseas agency:
Conduct research: Before you hire an agency, find out more about their track record, working methods, success rates, and clientele.
Don't ever give them money: Do not sign up with a company that requests money for 'operational expenses' and makes justifications for not providing a formal receipt.
Develop a lasting relationship: Once you have determined that the agency is legitimate, you should establish a relationship based on confidence, honesty, and respect.
Keep a flexible mind: Based on your resume and career objectives, an experienced, competent, and well-informed agency ought to be able to find you several suitable positions and companies.
Recognise that individuals have their own needs: Comprehend their priorities and you'll be able to create a mutually-beneficial working relationship, and you'll likely also achieve improved career results.
Be patient: A fantastic new position might not tumble into your hands within the initial week of registering. Maintain contact with the agency (but don't pester them), and be patient, proactive, and explicit about your needs and objectives.
If the agency you have signed up with is not working out for you, don't be reluctant to sign up with another agency. Guarantee that you select this choice rationally and logically, and not emotionally.
TAKEAWAY
Soundlines specializes in Global Human Resource Management and can manage the intricacies of essential procedures that usually absorb the time and attention of leaders, enabling you to devote your energy and funds toward long-term objectives and, most significantly, your employees.
If you are interested in learning more about how your company can join the global hiring trend in your industry, we invite you to contact us for more information about hiring team members internationally through a global employment company.
Wish to know how human resource outsourcing with Soundlines can benefit your company? Click here to schedule a call back from one of our overseas manpower experts.