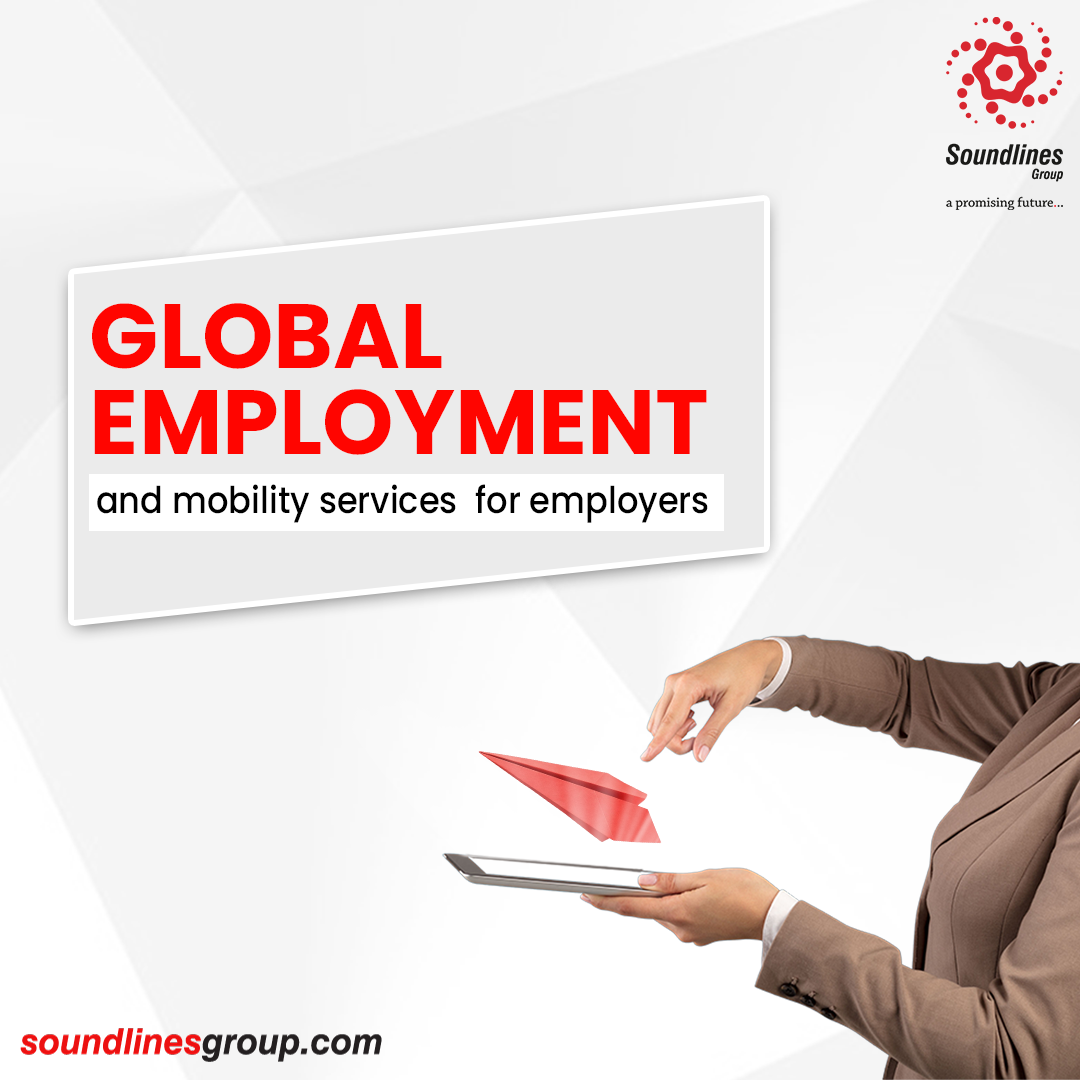 Global employment  is the capacity of a worldwide organization to relocate its employees to offices in other countries. It includes everything that must be done behind the scenes for the talent to move without problems.
Some companies don't recognise their employees as flexible. However, the majority of businesses today do hire mobile workers. Mobile employees can be transferred to different countries for long-term or short-term assignments.
To achieve global mobility, businesses can navigate through the following factors of international recruitment:
The company should train international employees about local business processes and social behaviours.
The company should know about all contracts, allocation letters, and local law requirements that apply and follow them.
The company's effective strategy for keeping employees and helping them grow, encourages top people to join the vast network.
The organization needs to efficiently handle worldwide payroll that carries all the taxes, pensions, and other benefits provided to the employees.
 What Is a Roadmap for Global Mobility?
 By building global mobility strategies into the core structures of your organization, it will be easy for employees to move and work abroad.
Your strategy should be refined and set up according to international standards for mobilization. It should be closely integrated with your company plan, the vision of the company, and workplace standards. To develop an effective global mobility plan, you must consider the following:
Take suggestions and opinions from experts in the relevant field.

Thoroughly examine all the critical factors involved.

Creating a detailed workflow for the manpower 
 A challenging aspect of global mobility plans is that no two methods will appear identical. Since the plan ultimately relies on your company's philosophy and office culture, you cannot just utilize a set pattern for a global mobility strategy. You must develop your own.
 The Significance of a Framework for Global Mobility
Developing an effective global mobility plan will require substantial effort and time. In particular, businesses may question why they should devote so much time and resources to a strategy that impacts just one area of their operations. 
However, there is a significant issue with circumventing a worldwide mobility plan. Globalisation is on the upswing, and firms that intend to continue expanding will have to deploy personnel overseas. As businesses continue to grow and migrate throughout the globe, it is advantageous to develop a thorough strategy for locating and supervising their foreign employees. 
So, your organization can use a global workforce if it has a complete global mobility plan.
Whether you run a small business or a multinational corporation, deploying your employees as quickly and smoothly as possible will help your company achieve milestones.
 An Expert Team for Devising a Global Mobility Roadmap
When your organization develops a global mobility model, you should engage all prospective stakeholders. To build a plan successfully, your squad will have to include:
 A Global Mobility Specialist
You should have a global mobility specialist on your strategy team. A person who is an expert in global mobility could be a one-stop shop for all information about global mobility.
Influential and expert thinkers
A worldwide mobility plan is intrinsically tied to your enterprise's mission. When developing a global mobility program, you will evaluate factors such as the reasons for your company's international development and how much you want to grow over the next few years. You'll want to invite at least one or two high-level professionals for these big-picture viewpoints.
Throughout the whole process of creating your global mobility plan, the legal department will play a crucial role. They may give essential guidance about domestic taxation while the staff is overseas and collaborate with specialists on overseas tax and immigration issues.
At some point, administrative personnel will likely be engaged in the worldwide deployment process. It might be helpful to have administrators there when talking about how to keep track of daily global mobility needs, like the flow of paperwork.
Your HR department will likely oversee some ground-level implementations of your global mobility strategy or cooperate with your global expansion team. In this instance, they must provide feedback on employee-related procedures. In addition, they may provide information on the workers you should target for your mobility initiatives and talent engagement and development plans.
 Too much to do? Outsource your global employment needs to Soundlines 
One of the highly reputed Global Employment companies 'Soundlines', provides fully integrated international talent resourcing and outsourcing services to clients. Additionally, Soundlines serves both blue-collar recruitment and white-collar recruitment in varied industries, searching for the best recruit more defined and successful every time.
Soundlines has offices in 24+ countries to facilitate the recruitment process for both employers and candidates. Soundlines offers organisations, access to its global experience while maintaining a local presence, ensuring that it understands your brand, culture, needs, and future goals.
Soundlines has served clients in the UAE, Saudi Arabia, Kuwait, Qatar, Bahrain, Poland, Russia, and Romania as a global HR recruitment industry leader for over two decades. 
Manpower Recruitment
Screening

Sourcing

Onboarding

Employment Contracts
Employee Management
Payroll

Banking/ Salaries

Govt Ids

GOSI

Medical Insurance

Driving License
HR Administration
HR policies

Employee Termination

Employee Guidance

Employee Planning

Maintaining Employee Database
HR services
HR Advisory and Consulting

Government Regulation

Change Management
If you are an employer looking to outsource your global employment, click here to schedule a callback from one of our experts.