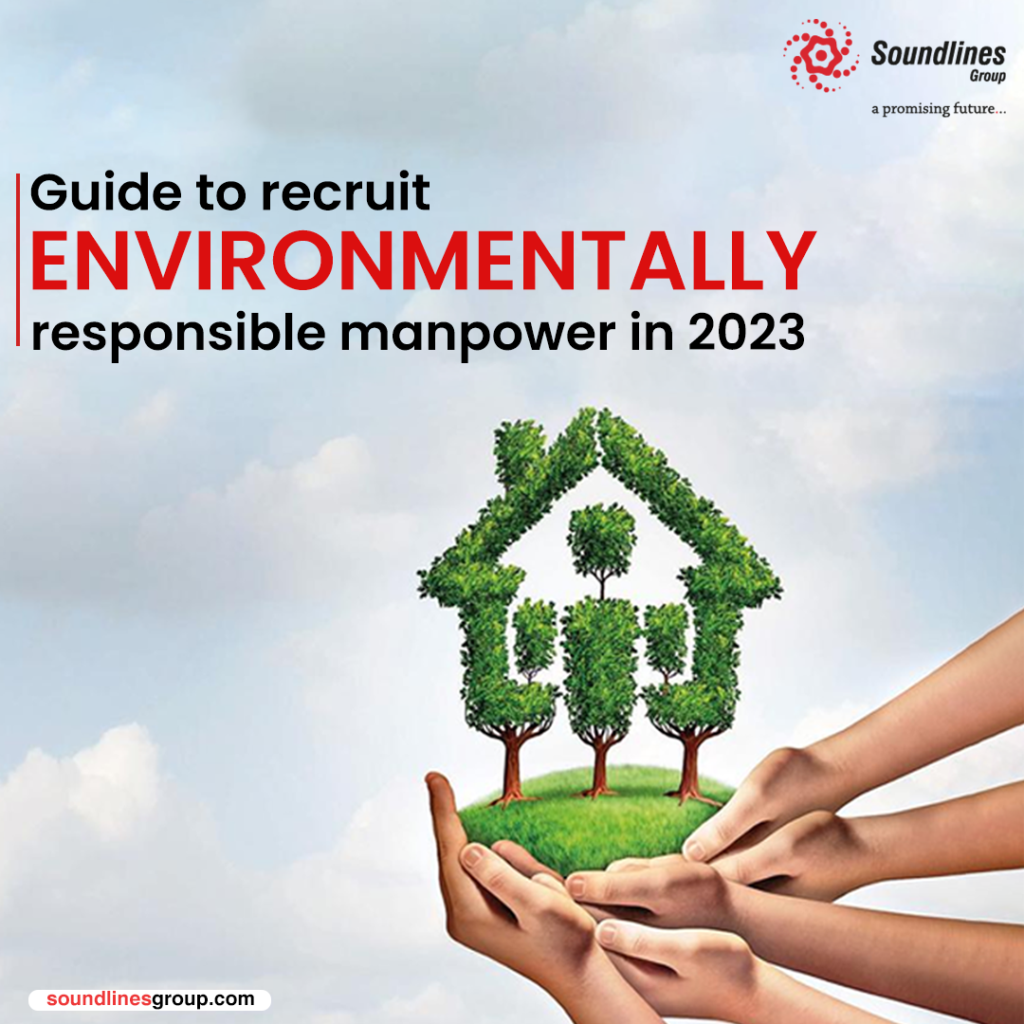 Increasing numbers of individuals want employment with companies that actively contribute to environmental improvement. Numerous individuals recognize that the ecological awareness of businesses is crucial for a green economy. Consequently, potential workers are motivated to seek employers that share their environment friendly and sustainable objectives.
Latest surveys show that workers are attracted to businesses that actively pursue environmental sustainability. To attract an environmentally-aware workforce, you must cultivate a company culture that promotes and maintains healthy environmental standards and practices.
Here's how to recruit environmentally conscientious employees:
Encourage recycling at your workplace
Recycling is ecologically beneficial since the resources required in this process are minimal. The initial step is to go paperless as much as you can. Start switching to digital documents as and when required. You can even use recycled paper instead of normal sheets.

At times, while printing a document only one side of the paper is utilized. To avoid that you can enable the double-side printing feature. This will save a lot of paper and give a sense of responsibility to the employees.
Support energy efficiency
Energy conservation within and outside of the workplace is a crucial component of being environmentally conscious. The less energy your business consumes, the less energy demand it will generate nationally and internationally.

Establish policies and guidelines that assist your employees in comprehending why energy conservation is essential to sustaining environmental standards. Once they comprehend the benefits, such as a sustainable future and a clean environment, they will engage in individual energy conservation efforts.
Consider redesigning your office according to eco-friendly principles. Sustainable improvements are an excellent starting point. Upgrade your workplace's insulation and windows to save more energy. Buildings with adequate insulation will need less heating and cooling, and will consequently spend less energy.
Creating an environmentally responsible workplace will attract environment-oriented employees.
Integrate eco-consciousness into the structure of your organization.
Engage in the necessary actions that encourage workers to consider environment-friendly practices in the workplace. Employees need to be involved in developing the sustainable vision and goals of the organization.
Actively engage your staff members to provide ideas that make your organization greener and more socially sustainable. This makes them feel like an integral part of the goal and motivates them to work actively to attain the objectives.
Additionally, you might use staff incentive programs to promote environmentally friendly business practices.
Integrate green incentives and remuneration
Great talent would be eager to work for a firm that compensates its workers for being environmentally friendly. Human resources may curate a system that provides workers with monetary and non-monetary awards for their environmental conservation efforts. This will lure environment-conscious employees to your organization. Here are some successful approaches to do this:

Give your employees monthly or weekly tasks. Ask them how much they have worked on tasks.

Reward exceptional workers that are eco-conscious with gift cards and other perks.

Promote them to cycle to the office than using any other fuel-driven vehicle.

Promote office plants. Employees can keep their small personal plants on their desks.

Do brainstorming activities with the employees. 

Provide reusable containers, cups, spoons, dishes, and silverware in the workplace kitchen wherever practical. If you cannot keep dishware in the workplace kitchen, try biodegradable or recyclable dishware and silverware.

In addition, you may urge your staff to bring their dishware and travel mugs from home. In addition, portable mugs are excellent staff welcome gifts.
Companies can outsource recruitment to an RPO (Recruitment Process Outsourcing) service provider where they can easily recruit employees who match the profile required.
Soundlines has served clients in the UAE, Saudi Arabia, Kuwait, Qatar, Oman, Bahrain, Poland, Russia, and Romania as a leader in the HR recruitment industry for over two decades to be the best overseas manpower recruitment company.
With a massive database of over 500,000 candidates, our clients never lose hope in finding the "right fit," With the best in-house specialty centers and qualified technical evaluators for every job trade, Soundlines makes it easy to find the "ideal candidate." 
What Soundlines can help you with?
Screening

Sourcing

Onboarding

Employment Contracts
Payroll

Banking/ Salaries

Govt Ids

GOSI

Medical Insurance

Driving License
HR Administration
HR policies

Employee Termination

Employee Guidance

Employee Planning

Maintaining Employee Database
HR Advisory and Consulting

Government Regulation

Change Management
If you are an employer looking to outsource your global employment, click here to schedule a callback from one of our experts.