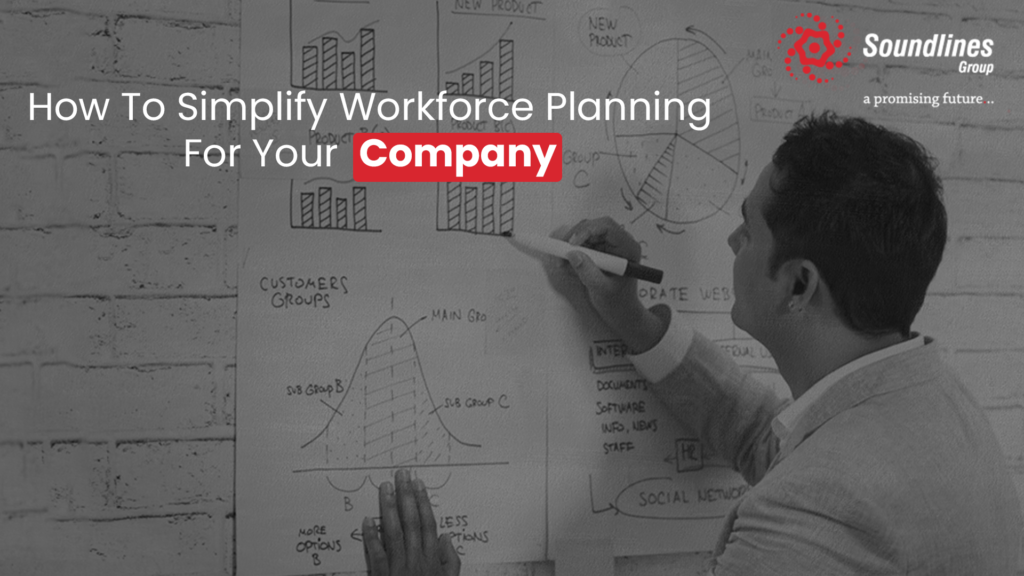 HOW DOES WORKFORCE PLANNING WORK?
Global workforce employment agency Workforce planning is the process of determining an organization's human resource needs and making strategies to meet those needs. Simply expressed, it ensures that the appropriate people with the correct knowledge, skills, and talents are in the right occupations at the right time, in the correct numbers, and in the right quantities. 
Workforce planning is a systematic procedure for:
Recognizing the number of personnel with the necessary skill sets to fulfill your goals and strategic objectives

Determining the skill sets needed to achieve your objectives and strategic goals 

Developing a strategy to ensure qualified personnel's availability to provide excellent services
Objectives of Workforce Planning
Demonstrate comprehension of the competency-based approach to human resource management.

Utilize techniques for determining existing staff capabilities and gaps concerning to the organization's objectives and goals.

Exhibit proficiency in undertaking training needs analysis.

Formulate strategies for meeting identified training requirements, create and construct training modules, and produce curriculum and cost estimates for training courses.

Demonstrate understanding of using appropriate planning analytical tools.

Explain the connection between the strategic plan of the company and the effective human resource development planning process.

 Perform a comparative analysis of the present planning procedure for human resource development.
Workforce planning is based on:
Strategic plans that include information on the expansion, modernization, diversification of the company, new projects to be commissioned, estimated dates of commissioning, and information on staffing needs.
Separation of information accessible in business records. Separations due to future resignations, transfers, terminations, and voluntary retirements may be predicted based on prior experience and the company's policies.
Utilization of labor, grades provided, etc., at comparable factories elsewhere. These may provide general requirements recommendations. The rules may be amended to accommodate the process, layout, local circumstances, and other considerations such as the degree of mechanization, climatic conditions, legal requirements, social systems, etc.
The manager's expertise is based on a firsthand and intimate understanding of the operation of comparable businesses. This may be used as a guide for determining the required workforce. Nonetheless, the ad hoc workforce determined on this basis should be subjected to 'work study' and 'activity sampling' procedures for containment, correction of imbalances, and manpower demand.
Job analysis and understanding of work and historical data (if available) to evaluate personnel needs, skills, job holder tasks, position type, etc. Time studies are used to establish standard timings, which aid in determining workforce-required standards.
What are the advantages of outsourcing to a global workforce employment agency?
Explore diverse markets
By partnering with an internationally diversified Global Employment Outsourcing (GEO) company, you can enter new markets rapidly without establishing local entities.Multinational operations can be overwhelming for expanding businesses. Your ability to focus on a long-term talent strategy is hindered by compliance, tax implications, and frequent immigration changes.Partnering with a global employment company that has a thorough understanding of compliance will allow you to focus on expanding your business in the new market.
Cost-effective and streamlined human resources
International employment and compliance issues are exacerbated when your costs increase due to managing multiple suppliers or recruiting HR professionals overseas. Outsourcings international manpower requirements eliminates the need to maintain an expensive in-house team while allowing you to work with a single entity.
Enhanced efficiency and communication
A global employer organization that is outsourced can provide a single point of contact for all inquiries.This improves efficiency and expedites the resolution of issues while reducing the need to involve multiple stakeholders.
Maintain compliance and reduce risk
Not only must an international workforce be mobilized quickly, but also legally. It is essential for the success of a global company to remain abreast of new legislation.A GEO specialist with vast local expertise ensures that your international workforce is managed completely no matter where you decide to function.
Reliable and accurate payroll
Maintaining in-house finance and international payroll teams can be expensive and difficult for clients without a permanent presence in the country.A GEO company can manage local/national income tax and social security payments on behalf of each employee. Additionally, they should ensure that this amount is deducted from their pay and paid directly to the tax authorities.
Can outsourcing your global employment needs benefit your company? 
One of the highly reputed Global Employment companies 'Soundlines', provides fully integrated international talent resourcing and outsourcing services to clients. Additionally, Soundlines serves both blue-collar recruitment and white-collar recruitment in varied industries, searching for the best recruit more defined and successful every time.
Soundlines has offices in 24+ countries to facilitate the recruitment process for both employers and candidates. Soundlines offers organizations access to its global experience while maintaining a local presence, ensuring that it understands your brand, culture, needs, and future goals.
Soundlines has served clients in the UAE, Saudi Arabia, Kuwait, Qatar, Bahrain, Poland, Russia, and Romania as a global HR recruitment industry leader for over two decades. 
View this post on Instagram

Click here to schedule a callback from our HR experts.