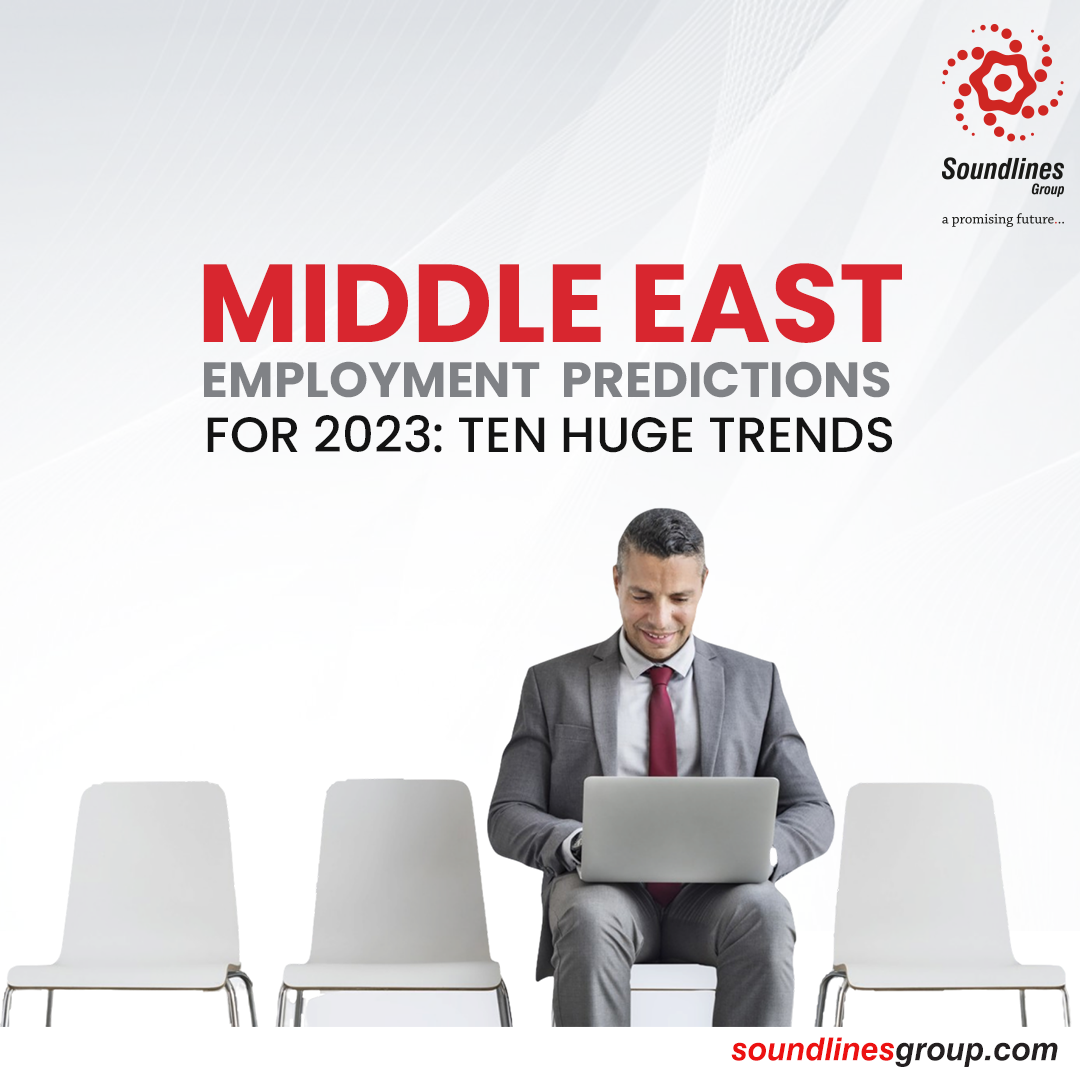 Middle East employment trendsWhat does the future hold for those in the job market or human resources?
For anyone looking for work in the Middle East or working in human resources and recruitment in the region, the following trends may be instructive:
Improving the Application/User
Positivity in the applicant experience is now required. In reality, it is a crucial need with far-reaching consequences. If a company wants to wow potential new hires, they need to do the following:
i) Improve employer branding
s a company, you need a better employer brand to attract and retain top people. Businesses that want to grow and expand their workforce need to carefully plot out their next steps to strengthen their reputation as a great place to work. According to studies, applicants are more likely to apply if they have a positive impression of the company's brand or reputation. They will keep trying for a job until they get one, regardless of the outcome.
ii) Transparent and effective communication
Keep applicants updated on the recruiting process as it progresses by maintaining open lines of communication. In addition, mobile recruitment provides an additional avenue for reaching out to qualified workers locally.
The hybrid form of employment is here to stay.
Seventy percent of UAE businesses reportedly use a hybrid workplace approach today, as Khaleej Times reported. As more and more individuals have received the vaccine for COVID-19, businesses have moved up their preparations to bring back their workforce. On the other hand, HR experts are certain that the hybrid model has become the standard in the UAE. The hybrid model in the United Arab Emirates is more popular since it allows for more remote work freedom.
The advantages of the hybrid work paradigm are as follows. This expression translates to:
Success in boosting morale among staff

Earnings Rise Dramatically

Freedom of movement improved

Leaders in the Middle East and African business communities embrace the hybrid work sty
Moving quickly toward AI-based fixes
The last ten years have seen a radical shift in how talent is acquired due to digitalisation.
Using a resume parser, search and match engine, and taxonomy, all of which are examples of cutting-edge HRTech solutions, you can streamline and automate the recruiting process and spend less time on it overall.
Parser for Curriculum Vitae
The unique resume parsing technology aids in the organisation and storage of applicant data. 
Here are some ways it might help your business:
Improve the application process by allowing people to apply with only one click.

Millions of resumes may be imported in a single night.

In under two seconds, you can extract resume information from your email.
Matchmaking and Search Engine
You may search for and find the perfect match between people and positions with the help of the refined search and matching features. Using a search and matching engine may aid in:
The applicant or recruiter's experience might be improved during the search process by displaying a list of suggested talents and job titles.

Utilise a variety of filters and facets to narrow your results.

Use a geographical search to locate a suitable candidate in your area.
Taxonomy 
A taxonomy provides a thorough catalogue of occupational profiles, skill sets, and other relevant data. The advantages of taxonomy for your company include:
Link up your mapping efforts with the local government's information resources.

Keyword suggestions based on shared interests and professional experiences may greatly improve search engine results.
Data-driven hiring
Data-driven recruitment is an approach to the hiring process that relies on statistical evidence for choosing whom to hire and how to do so. It's more probable that data-driven HR departments will be effective than those that don't. 
How can HR benefit from data-centric recruiting practices? 
Data-driven recruitment is beneficial in several ways, including improving the quality of hires made by:
Spending money wisely on multiple recruitment avenues

Hire new employees more quickly.

Encourage fair hiring practices

Compare your current staffing levels to industry norms and project future demands.
Leveraging Already Existing Internal Resources
"Internal talent mobility" describes workers shifting across departments inside a company for skill advancement. When looking for fresh talent, many companies forget their employees' ability to move around inside the company.
What are the benefits of internal talent mobility programs? 
A well-executed talent mobility program is advantageous for managers and staff alike. 
It has several positive effects, including increased productivity, lower recruiting costs, and higher staff retention rates.
Affirming and promoting diversity and inclusion
Diversity and inclusion should be a top priority for every business that values talent acquisition, customer satisfaction, and bottom-line growth. More and more businesses are bolstering their diversity and inclusion efforts, making them better equipped to keep their workforces diverse.
Forbes found that companies with a culture of diversity were 1.7% more creative than those without.
There are several upsides to embracing diversity and inclusion.
Using a wider pool of applicants

Inspire originality within your staff.

It aids in making wiser choices.
The employee experience is at the centre of employer branding.
Is workplace branding something you're familiar with? 
A positive experience for candidates is possible if this is done well. 
Branding efforts that emphasise the company's efforts to help its workers, customers, and communities during times of crisis are more likely to attract qualified applicants.
To go forward, you need people with potential for leadership roles, and the best approach to attract them is to advertise your company's culture and provide them with some background information. The wage and perks offered, the room for advancement and the weekly happy hours are just a few examples of how the corporate culture and treatment of workers may affect the impression you present to prospective employees.
Which industries have expanded as a result of global hiring?
While 2020 was a challenging year for many industries, it is reported that industries' global hiring rates increased from the beginning of 2020 to the middle of 2022.
Almost every industry has turned to global hiring because it provides a viable solution to workforce scarcity and high hiring costs.
Although the value of building a global workforce is not a secret, the process is not without its difficulties, particularly during economic downturns. The good news is that you can implement a global hiring strategy to reduce costs, diversify your teams, and advance your company's growth goals. 
While hiring team members from other countries who offer numerous benefits, the process requires greater care than hiring within the country. If you comprehensively understand local regulatory requirements, such as payroll policies and employee classification, you can efficiently expand your operations internationally by avoiding fines and other penalties.
Since employee regulations can vary from country to country, here are the four most common mistakes to avoid when hiring internationally.
Employee misclassification as independent contractors

Ignoring statutory benefits and leave time

Ignoring flexitime policies

Irregular payment processing
Employing internationally via a global employment partner
Too much to do? A global employment partner is an answer to global hiring challenges. 
A leading platform provider will combine fully compliant technology with in-country legal, financial, and HR expertise to streamline and support global hiring payroll, taxes, benefits, and all HR processes.
A global employment platform can be advantageous for your business if you want to:
Reduce your hiring fees

Accelerate your market launch

No entity is required to hire talent anywhere in the world quickly and easily.

Reduce risks associated with non-compliance
Global Human Resource Management experts at Soundlines handle the complexities of key processes that frequently consume the time and attention of leaders, allowing you to direct your energy and resources toward long-term goals and, most importantly, your people.
If you are interested in learning more about how your company can join the global hiring trend in your industry, we invite you to contact us for more information about hiring team members internationally through a global employment company.