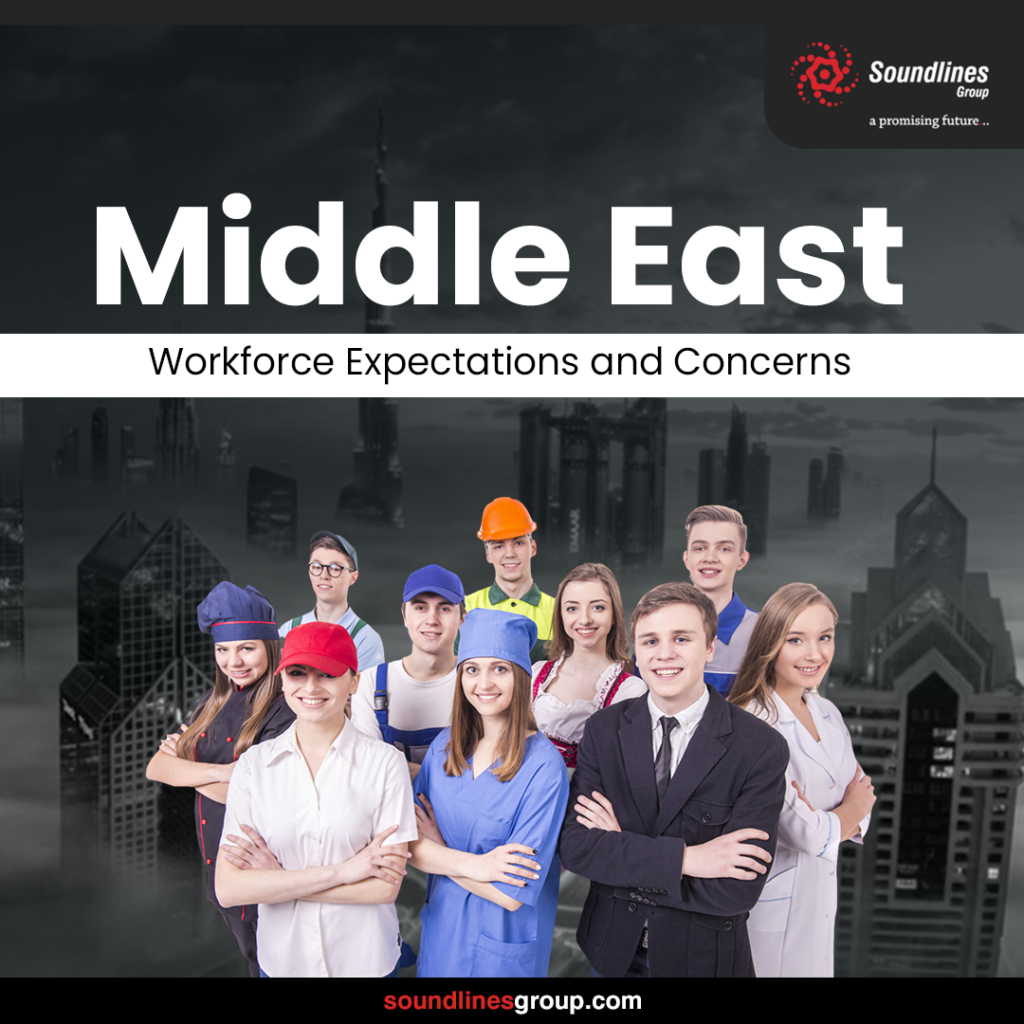 Workforce Recruitment in the Middle East 
To expand, businesses need a robust and skilled staff. This entails increasing organizational transparency, strengthening worker skills, boosting productivity, and taking measures to retain outstanding people. In response to the skills gap, businesses are enhancing their workers' abilities and taking better care of their physical and mental well-being. Recognizing that the nature of work and people's expectations of the workplace has fundamentally changed, employers are exploring novel approaches to foster employee loyalty and establish trust. 
Below listed are some of the company practices to encourage employee loyalty:
Promoting Transparent Communication at Work
Employees should feel comfortable discussing timely and cultural concerns.
In accordance with their global counterparts, Middle Eastern employees had periodic conversations with other employees on social and contemporary issues, allowing them to better understand their colleagues and promote a more open and welcoming work environment.
Establishing credibility and openness is crucial.
Employers are more candid about safety in the workplace, inclusiveness, and economic and ecological consequences.
Middle East said that their organizations were more truthful in regard to occupational health and safety, inclusiveness, and the environment and economic ramifications, compared to 50% of corporations in the United States.
Even more regional respondents than worldwide respondents stressed the significance of employers' honesty on these topics. 
Practical insights and recommendations for top executives
Employers in the Middle East are impacted by the global workforce trends highlighted in our study, including the development of hybrid working, requests for higher upskilling, increasing employee empowerment, and the need to establish trust via greater transparency and purpose. Employers must delve deeply into their personnel data and pay careful attention to the desires and anxieties of their staff to formulate a plan that will benefit both workers and employers. Companies must also be cognizant of the fact that they are working with a new group of young people who are willing and able to transfer professions if they perceive that other businesses offer them more rewarding prospects.
 In light of the study results, Middle Eastern businesses should adopt the following actions:
Identify the top staff turnover and retention drivers.

Utilize data to develop workplace strategy and cater to various employee groups.

Align the company's strategic objectives with employee requirements for more purpose and trust.

Create a workplace where workers are encouraged to share their opinions freely.

commit to wage transparency and strengthen diversity and inclusion.

Increase support for hybrid working arrangements.

Engage more in developing skills to overcome the skills gap.

Employers may create the best working environment to guarantee that their most important asset, the workforce, is fully engaged, motivated, and able to fulfill their full potential, now and in the future, by addressing the aspirations and concerns of their workers.
Why choose Soundlines for your workforce requirements?
Soundlines is a global recruitment agency that specializes in assisting energy companies in gaining access to certified talent. We can do this thanks to our expertise in establishing strategic recruitment relationships with HR departments.
 Soundlines is one of the most reputable worldwide employment agencies, offering clients fully integrated international labor resourcing and outsourcing services. Moreover, Soundlines offers international blue-collar and white-collar recruitment in a variety of industries, making each search for the appropriate individual more precise and fruitful.
Soundlines facilitates the recruitment process for both businesses and candidates in over twenty-four nations. Soundlines gives enterprises access to their global experience while maintaining a local presence, assuring familiarity with their brand, culture, needs, and future goals.
 Soundlines, a leader in the international HR recruitment industry, has served clients in the UAE, Saudi Arabia, Kuwait, Qatar, Bahrain, Poland, Russia, and Romania for over two decades.
The following industries have been served by Soundlines throughout the Middle East, Far East, Europe, and Africa for the past two decades:
Manpower for construction projects
Soundlines has served building construction projects in the Middle East and Europe for over two decades by recruiting professional laborers, machine operators, scaffolders, electricians, MEPs, and equipment repairmen, among many other professions.
Construction of Highways
We are professionals in staffing initiatives for road construction. We have aided businesses in the international recruitment of professional laborers, drivers, and machine operators for global road-building projects.
Oil and Gas
We assist oil and gas companies in recruiting qualified candidates from all over the world. We have assisted O&G firms in recruiting thousands of entry-level and mid-level employees.
Facility Administration
Regardless of the size of the facility management personnel requirements, we are capable of meeting them. On a permanent, temporary, or contractual basis, we assist organizations worldwide in locating the right talent.
Security
Security is currently one of the most pressing concerns, so we assist organizations with international candidate recruitment. Our recruitment portfolio for the security industry includes watchmen, security guards, etc.
MEP (mechanical, electrical, and plumbing)
Over the past two decades, we have supported businesses in recruiting thousands of qualified candidates for entry-level and supervisory roles in the mechanical, electrical, and plumbing departments.
Hospitality
In the Middle East, we have screened and recruited the top candidates for years, including butchers, QSR service staff, multi-cuisine chefs, delivery crew, baristas, and many more industry professionals.
How can human resource outsourcing with Soundlines benefit your company?
Click here to schedule a callback from one of our overseas manpower experts.