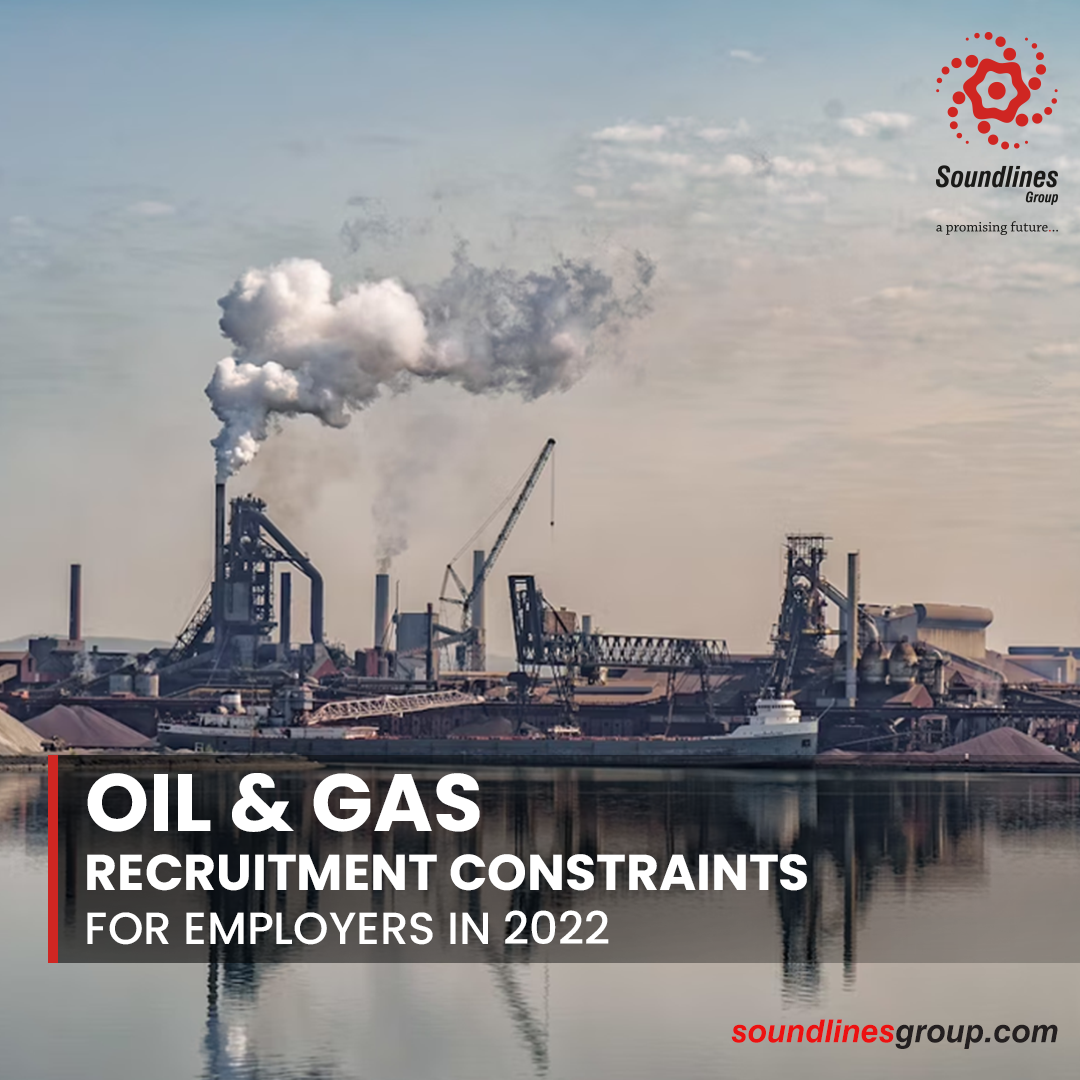 The global financial crisis of 2008 dealt a terrible blow to the oil and gas sector, which was a defining characteristic of the year. The unpredictable price of oil products impacted the whole industry due to an oversupply and a significant transition towards renewable energy. This subsequently led to considerable corporate streamlining and layoffs. 
Fortunately, the sector has regained momentum, and as a result, its recruiting rate has increased. According to data from an article titled "Shaping the Workforce Today, Tomorrow" on API.Org, the oil and gas industry would need at least 1.9 million workers to fill various job openings and titles. The forecast predicts that this business will demand a variety of skill sets for positions ranging from administration to unskilled labour.
Despite the increased need for labour, the human resources departments of oil and gas businesses continue to face obstacles that restrict their recruiting and staffing capabilities. 
The challenges consist of:
Business Reputation
Accidents resulting in past fatalities and unsafe working conditions dissuade qualified persons from entering this sector. Currently, most businesses are modifying their procedures and implementing safety requirements to safeguard the well-being of their employees. 
The reforms being implemented across the majority of the sector include giving intensive personnel training on the risks associated with their jobs, the necessary course of action in the event of accidents, and the correct usage of equipment. Introducing these improvements has significantly reduced the number of incidents involving personal harm in the oil and gas sector. 
Outdated recruitment practices
Even though recruiting techniques continue to improve, there are still several oil and gas organisations that depend on antiquated methods. This results in restricted applicant access. 
For improved outcomes, these organisations must adopt contemporary recruiting practices. Today, the human resource teams may combine many recruiting channels into their existing system. Modern methods such as social media platforms, recruiting websites, and headhunters' knowledge may expedite the recruitment process significantly. 
Distinct and sustainable cash flows
The third obstacle for oil and gas firms is demonstrating distinct and sustainable cash flows. A significant number of investors have fled the oil and gas industry. In the past, several oil and gas corporations exceeded their cash flows in pursuit of expansion. No longer is this the case for the great majority of businesses. Still, trust among investors has not yet returned. 
Energy businesses must demonstrate capital discipline and a sustained commitment to shareholder returns. This trend has already started, but the COVID-19 epidemic and its effect on decreasing demand have delayed the beneficial effects of the oil and gas industry's efforts to keep costs down, spend within their means, and reward shareholders with consistent and predictable profits. As the globe recovers from the epidemic, the returns reported by the industry will demonstrate its excellence.
Compliance is essential for mitigating the effects of recruitment for oil and gas projects.
Non-compliance can hurt the reputations of energy companies, lead to hefty fines, and have disastrous effects.
In addition, it can affect the broader recruitment and onboarding procedures, limit the flexibility and mobility of talented personnel, and make it more challenging to retain the finest talent. It might also offer significant advantages in locating and acquiring the most talented individuals.
Effects of international non-compliance: 
Punitive damages

Detainment 

Breach of Agreement

Reputational damage

Revocation of licenses
Due to our global reach, 'Soundlines' can better comprehend and stay current with local labour and immigration laws. 
This information is essential if you want to build a reliable workforce pipeline while following the local employment laws and ensuring the projects are as successful as possible in a time of high competition.
Our systematic, meticulous, and global approach saves energy companies mone and is significantly more effective than conventional methods. We aid in promoting your brand in the regions where you are looking for talent; and, most importantly, focuses specifically on the manpower who will prove to be an instant fit for your particular business.
Why choose Soundlines as your international workforce recruitment partner?
Soundlines is a global recruitment agency assisting energy industries in finding the best personnel. We are known for our expertise in building strong, strategic partnerships with organisations. As a result of this relationship, robust worldwide talent pipelines are created.
Our international workforce recruitment solutions are tailored to meet industry and client-specific needs. Soundlines employs a stringent and meticulous selection procedure and training to hand-select the ideal manpower for your organisation.
Are you looking to build and manage an international talent pipeline for your business? 
View this post on Instagram
Click here to schedule a callback from our HR management experts.