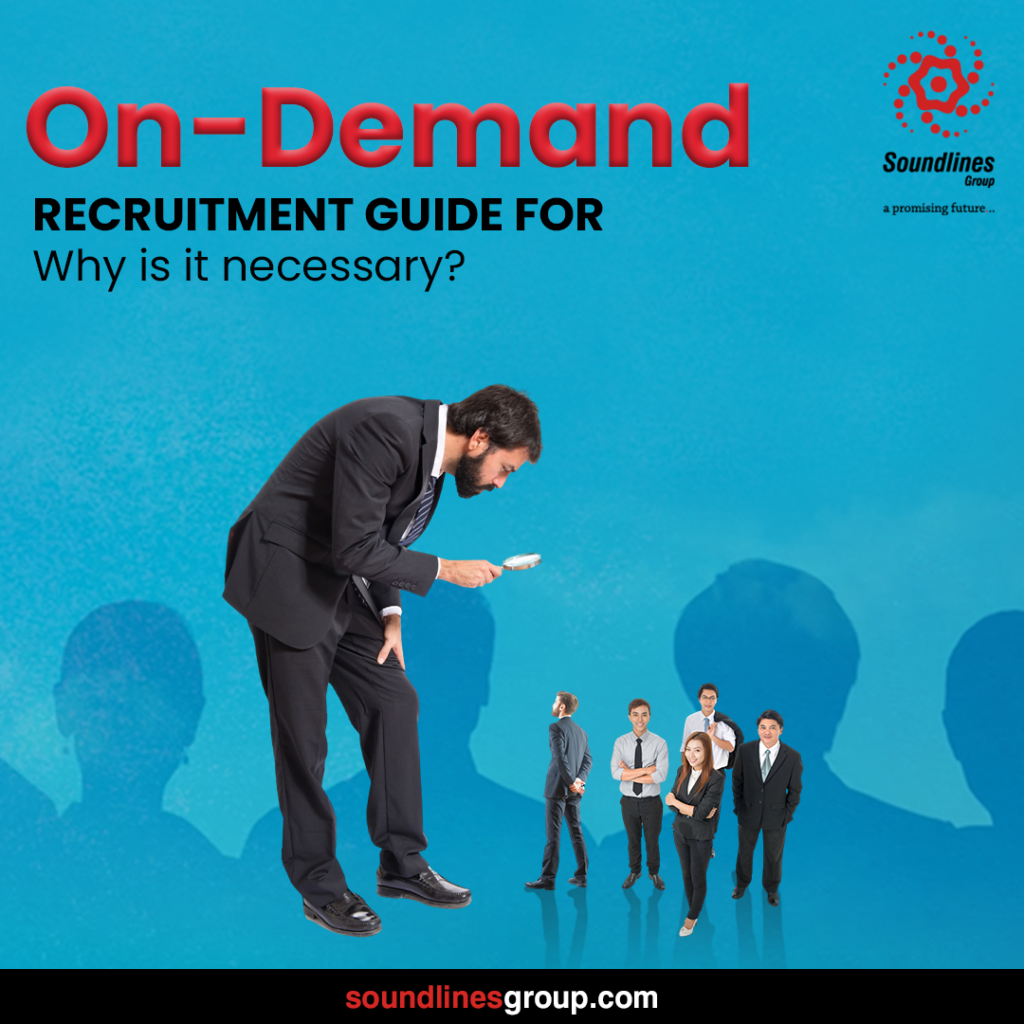 international HR recruitmentA devoted team is one of the primary factors contributing to an organization's success. Therefore, a lack of competence may be very detrimental, since it can hurt an organization's operations. Numerous firms are experiencing a lack of human capital now. Additionally, the absence of established labor for extended periods might exacerbate problems. In such situations, our on-demand contracting services might save the day by giving employment flexibility. In addition, a substantial proportion of UAE workers prefer working as on-demand labor.
With Soundlines, you can have your contract staffing or on-demand staffing completed most accurately and professionally possible.
How does recruitment on request work?
In the last several years, enterprises in the UAE have been more interested in the on-demand recruiting concept. This move towards on-demand staffing is mostly driven by changes regarding technology and people's perceptions regarding employment. By recruiting personnel on a demand basis, immediate and short-term demands can be readily handled. It also facilitates enterprises' access to a vast network of experienced workers and technical specialists. Immediate labor procurement by workforce supply firms such as Soundlines has shown to be of significant value in retaining the effectiveness of corporate operations without sacrificing job quality.
When should urgent hiring be preferred?
While recruiting the regular staff is the generally acknowledged method since it encourages loyalty to the firm, there are circumstances when companies should make a savvy decision and hire on demand.
Lack of permanent manpower
There may be times when a member of your regular staff is unable to fulfill his tasks due to a medical emergency or other circumstances. Instead of replacing them, you can hire someone who can fill the void in manpower for the desired period.
Optimum Times for Business
When the pinnacle of the business year arrives each year, firms experience a spike in labor demand. Due to the brief length of the market, firms cannot afford to recruit permanent workers, since doing so would raise their financial obligation. To quickly and economically fill these vacancies, on-demand employment comes into play. Temporary employment is the finest and quickest answer for such circumstances since it does not place a strain on the organization's long-term obligations.
Need for Technical Skills
The shift in employee preferences has also been advantageous since labor can now be recruited on demand for almost all job categories. The need for technical competence for certain activities may also be met via on-demand staffing instead of using permanent employment for special purposes.
Distinction Between Contractual and On-Demand Employment
Contract staffing is favored for satisfying long-term needs, often lasting six months or more, while on-demand staffing is for performing short-term tasks. As employees recruited on a demand basis are affiliated with the firm for a shorter term, the organization is not required by UAE labor law to provide them with statutory benefits.
Advantages Of On-Demand Recruitment
Some of the numerous advantages of on-demand staffing for your firm are as follows:
The streamlined recruiting procedure

Budget-friendly method

Enhanced efficiency attributable to technical proficiency

Helps in fulfilling project deadlines

There is no long-term financial obligation.

Workers adapted to the requirements of the moment.

Access to talented employees
In addition to the above advantages, one of the best aspects is that temporary staff may be employed, and if the firm is pleased with their performance, permanent roles can be granted. This will not only improve the employee's work performance but will also assist it to avoid making hiring blunders.
Why choose Soundlines?
Soundlines specializes in international workforce recruitment in the Kingdom of Saudi Arabia, across numerous industries:
For more than two decades, Soundlines has assisted its clients in the Middle East and Europe in the recruitment of qualified candidates for permanent, temporary, and contract positions in major industries, such as Construction, Oil & Gas, Hospitality, Retail, FMCG, MEP, Healthcare, Security, etc. 
On-demand recruitment is one of the services we provide with the highest commitment.   We emphasize the best interests of our customers and tailor our services to meet their needs.
In addition, Soundlines serves international blue-collar and white-collar recruitment in various industries, searching for the ideal candidate more precise and fruitful each time.
Soundlines has offices in more than twenty-four countries to facilitate the recruitment process for both employers and candidates. Soundlines provides organizations with access to their global experience while maintaining a local presence, ensuring that it is familiar with your brand, culture, needs, and future objectives.
Soundlines, a leader in the international HR recruitment industry, has served clients in UAE, Saudi Arabia, Kuwait, Qatar, Bahrain, Poland, Russia, Israel, Iraq and Romania for over two decades.
Are you looking for an overseas manpower recruitment agency?
Click here to schedule a callback from our overseas recruitment experts.