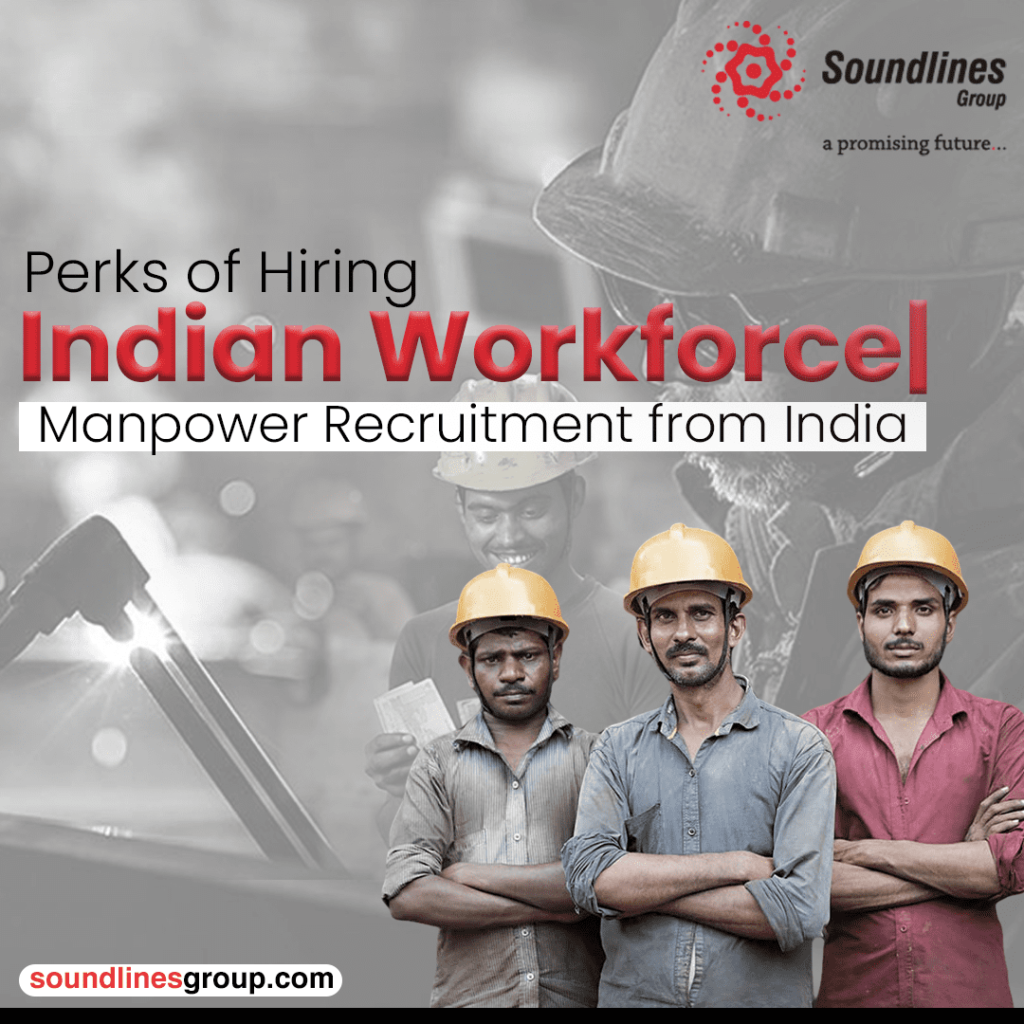 Indian Manpower Recruitment
According to the research, India was the greatest source of foreign migrants in 2019, with 17.5 million Indians settling in various regions of the globe. The Indian population is dispersed around the globe.
A significant portion of the Indian migrant population consists of Indians employed in companies in different regions of the globe. 
During the last 3 decades of the twentieth century, the underpopulated Gulf nations actively recruited Indian blue-collar laborers to undertake largely menial occupations. The need for Indian white-collar employees is increasing, and not only in the Persian Gulf. Numerous nations with an aging population or a shortage of skilled workers in certain fields are eager to recruit talented Indians.
Why do foreign nations employ Indian workers?
These are some plausible explanations for the preference for Indians:
India's education system is solid and produces people with high-level talents.

Some Indian institutions are listed among the best universities worldwide.

Indians are a solid supply of talent for information technology, software development, and other positions requiring sophisticated technical abilities.

Countries who are eager to employ Indian talent do so owing to a scarcity of local people with the required degree of expertise. Countries with rapidly expanding economies, such as Canada, have a "skills gap" in which not enough local employees possess the necessary skills.

Even though these nations can afford to acquire talent from other nations, there is a clear preference for Indians. This is because the Indian school system develops talent that matches the requirements of western companies.
It is a truth that the cost of hiring, managing, and finishing a project in a developing nation will be much lower and more economical. A recent Duke University research indicated that while around 70.000 engineers qualified in the United States, 6,000,000 engineers graduated in China and 3.50.000 engineers graduated in India. Each year over 23,000 engineers graduate in the United Kingdom. However, India produces 8 times as many. Foreign companies that base their projects in India can reduce their operational expenses by between 40 and 50 percent on an average. This is likely the reason why hundreds of corporations are relocating their headquarters to India:
Not that these advantages are unidirectional or exclusive to businesses. Indian job seekers also gain greatly. Every year there are thousands of fresh engineering graduates, the majority of whom struggle to find jobs. In addition to providing work, these MNCs and IT behemoths bring with them a plethora of perks, such as guaranteed health insurance, education fees, improved technology, and respectable or excellent incomes. They facilitate contact with the international IT community and its new processes and procedures. Ultimately, only those with a genuine desire to do so would join a firm, so naturally, it must help them in some little way.
Why choose Soundlines as your Global HR Solutions partner?
Soundlines is a global provider of workforce solutions to the energy, process, and construction sectors. Soundlines is backed by over 20 years of experience serving the energy industry and providing staffing solutions and recruitment services to some of the world's largest corporations. 
We do serve a variety of industries, such as oil and gas, construction, renewables, hotels, power, fabrication, and more. 
Undoubtedly, international recruitment allows employers to address the current labor shortage. Reputed overseas workforce recruitment companies like Soundlines will aid mega overseas worker recruitment from screening to immigration and further integration. 
The following industries have been served by Soundlines throughout the Middle East, Far East, Europe, and Africa for the past two decades:
Manpower for construction projects
Soundlines has served building construction projects in the Middle East and Europe for over two decades by recruiting professional laborers, machine operators, scaffolders, electricians, and equipment repairmen, among many other professions.
Construction of Highways
We are professionals in staffing initiatives for road construction. We have aided businesses in the international recruitment of professional laborers, drivers, and machine operators for global road-building projects.
Oil & Gas
We assist Oil & Gas companies in recruiting qualified candidates from all over the world. We have assisted O&G firms in recruiting thousands of entry-level and mid-level employees.
Facility Administration
Regardless of the size of the facility management personnel requirements, we are capable of meeting them. On a permanent, temporary, or contractual basis, we assist organizations worldwide in locating the right talent.
Security
Security is currently one of the most pressing concerns, so we assist organizations with international candidate recruitment. Our recruitment portfolio for the security industry includes watchmen, security guards, etc.
MEP (MECHANICAL, ELECTRICAL, AND PLUMBING) 
Over the past two decades, we have supported businesses in recruiting thousands of qualified candidates for entry-level and supervisory roles in the Mechanical, Electrical, and Plumbing departments.
Hospitality
In the middle east, we have screened and recruited the top candidates for years, including butchers,  QSR service staff, multi-cuisine chefs, delivery crew, baristas, and many more industry professionals.
Wish to know how human resource outsourcing with Soundlines can benefit your company? Click here to schedule a call back from one of our overseas manpower experts.