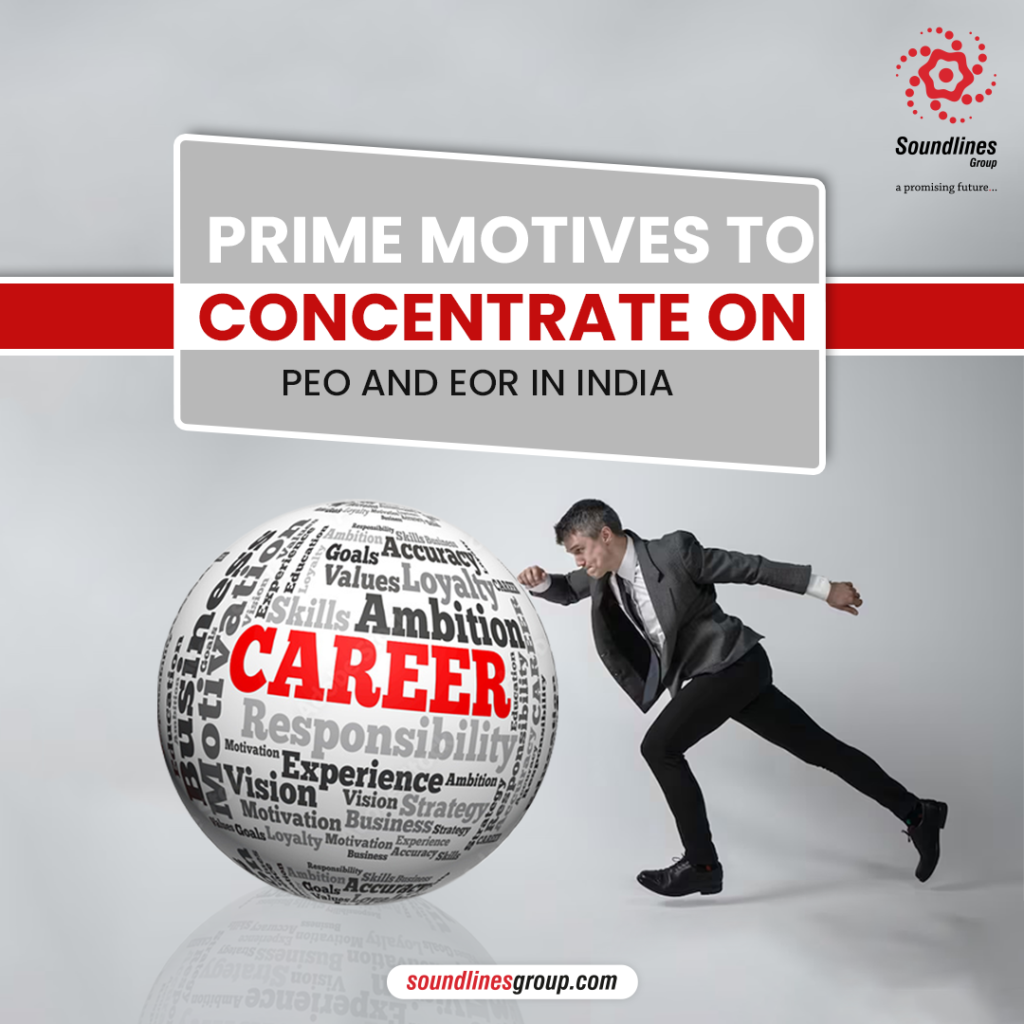 The PEO and EOR services are a lifesaver for international businesses seeking Indian talent. 
Then why not? Whether your business is in Oil and gas, FnB, Construction, Security, MEP, or any other field, it is simple to discover the appropriate workforce in India. However, if you are not an Indian business, employing an Indian employee may be challenging. You must first establish a distinct legal organisation or a subsidiary. Then, you must comprehend the complex labor regulations to avoid incurring fines or legal action.
Employer of record (EOR) and professional employment organisations (PEO) enable you to swiftly recruit overseas workers without worrying about legal and regulatory difficulties. They manage personnel from the time they join until they leave, allowing you to concentrate on expanding your firm.Let's understand this in-depth: 
What is a PEO (Professional Employer Organization)?
A PEO is a company that manages employee-related tasks and liabilities on behalf of your workers. This indicates that PEO services in India enable you to outsource human resource tasks like screening, recruitment, payments, worker benefits, compensation, taxation, and compliance.
 When Should PEO Services Be Used?
PEOs provide your workers with better and more practical benefits, creating a win-win scenario for you and your employees. Also, they make sure you understand and follow Indian labour rules so you don't get fined.
Consequently, you should use a PEO when:
You do not want to spend months learning the intricate labour regulations.

You lack specialists that guarantee compliance with applicable legislation.

You want to concentrate only on expanding your company and avoid dealing with government officials. 

To figure out how to navigate a new market, you need a specialist (in human resources and related laws) and a specialist (in human resources and associated laws).
What Is an Employer of Records (EOR)?
An EOR is a third-party company that handles all human resource tasks, from recruiting to dismissing employees. The primary distinction between a Professional Employer Organization and an Employer of Records is that the PEO needs to establish a legal organization in the operating nation. However, the company may recruit personnel globally without establishing a foreign corporation with an Employer of Records.
Another distinction between a PEO and an EOR is that company does not form a co-employment relationship with the latter. Instead, the EOR is the authorized employer for the employee, removing any potential employment hazards for your business.
What benefits does the EOR offer its employees?
One of the greatest advantages of working with an EOR is the availability of their benefit systems.Due to their large client base, EOR firms have greater purchasing power in the benefits market. This means that even a small business owner can provide international employees with the types of benefit packages typically associated with larger organizations. Thus, you must ensure that the EOR you select provides benefits your workforce would not otherwise have access to.
Does EOR provide additional benefits beyond the standard employment contract? 
Among other employee benefits, many EORs offer life insurance, training and development, and employee performance programs to both permanent employees and independent contractors.
What Can PEO and EOR Offer Your Organization?
Even though you already understand what a Professional Employer Organization and Employee of Records can accomplish for your company, here's a fast review.
Find and recruit qualified individuals in India for your firm.

Ensure that their contract conforms to Indian rules and regulations.

Manage benefits and remuneration for employees.

Make payments to your workers promptly.

Address the HR requirements of your staff.

Deductions and filing of taxes

All that remains is to oversee your personnel and handle their daily activities. Here are some additional benefits of outsourcing HR services to India.
Can outsourcing your global employment needs benefit your company? 
One of the highly reputed Global Employment companies 'Soundlines', provides fully integrated international talent resourcing and outsourcing services to clients. Additionally, Soundlines serves both blue-collar and white-collar recruitment in varied industries, searching for the best recruit that is more defined and successful every time.
Soundlines has offices in 24+ countries to facilitate the recruitment process for both employers and candidates. Soundlines offers organizations, access to its global experience while maintaining a local presence, ensuring that it understands your brand, culture, needs, and future goals.
Soundlines has served clients in the UAE, Saudi Arabia, Kuwait, Qatar, Bahrain, Poland, Russia, and Romania as a global HR recruitment industry leader for over two decades. 
Click here to schedule a callback from one of our HR experts.