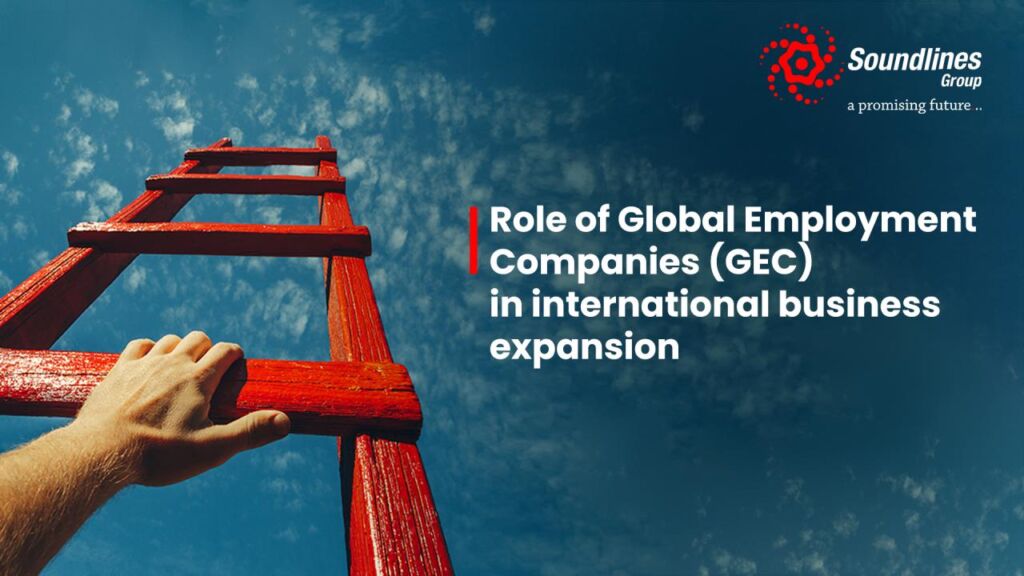 Deploying international employees can provide companies with recruitment options beyond their current reach, allowing them to expand their businesses in novel ways. International expansion presents a plethora of opportunities, but there are also challenges to consider.
In the face of global business operations, the objective of every business leader is to guarantee employee governance runs smoothly as the firm pursues its worldwide expansion objectives.
In many of these situations, a global employment corporation (GEC) may assist firms in achieving their diverse objectives.
What is a Global Employment Organization? What are its functions?

A GEC, also known as a global employment organization (GEO), is a distinct legal corporation created to deliver a variety of employment-related services to a client firm for a charge. These services frequently include salary, taxes, perks, and immigration issues.
Frequently, the GEC will be the legal employer of record (EOR) for international mobile workers (IMEs) of clients who are relocating to the client's foreign subsidiaries or companies. Among the ways a GEC can work are the following:
International talent resourcing and mobilizing

Appearing as the legal employer of record for IMEs

Serving as the payroll provider for IMEs

Assuming the position of temporary legal employer for IMEs

As the administrative hub for worldwide assignments
A GEC can also be used to recruit employees in a country where the client company has no legal presence and deploy them to a third country. For instance, a global employment company in KSA can be engaged to hire Asian workers and send them on an assignment to KSA.
These services are offered by international employment agencies that can serve as the legal employer of record (EOR) and assist you in navigating HR problems while:
Working in a nation in which your business may not be registered

New legal organizational establishment

Complying with local labour laws and tax rules
Employer of Record (EOR) refers to the entity legally responsible for labour compliance. This is especially significant when your company operates in a nation without an established employee structure.
An Employer of Record can do these for you:
Employee Payroll and managing tax

Benefit for your Employees

Foreign exchange and domestic money circulation.

Contracts of Candidate Employment

Employee Insurance

Understanding regulations and local laws

Processing of immigration or visa/work permit
The outsourcing of your employment needs, to a global employment company (GEC), will result in numerous operational efficiencies.
What are the advantages of outsourcing global manpower employment?
Enter new markets rapidly
By partnering with an internationally diversified Global Employment Outsourcing (GEO) company, you can enter new markets rapidly without establishing local entities.
Multinational operations can be overwhelming for expanding businesses. Your ability to focus on a long-term talent strategy is hindered by compliance, tax implications, and frequent immigration changes.Partnering with a global employment company that has a thorough understanding of compliance will allow you to focus on expanding your business in the new market.
Cost-effective and streamlined human resources
International employment and compliance issues are exacerbated when your costs increase as a result of managing multiple suppliers or recruiting HR professionals overseas.Outsourcing international manpower requirements eliminates the need to maintain an expensive in-house team while allowing you to work with a single entity.
Enhanced efficiency and communication
A global employer organization that is outsourced can provide a single point of contact for all inquiries.This improves efficiency and expedites the resolution of issues while reducing the need to involve multiple stakeholders.
Maintain compliance and reduce risk
Not only must an international workforce be mobilised quickly, but also legally. It is essential for the success of a global company to remain abreast of new legislation.A GEO specialist with vast local expertise ensures that your international workforce is managed compliantly no matter where in the world you decide to function.
Reliable and accurate payroll
Maintaining in-house finance and international payroll teams can be expensive and difficult for clients without a permanent presence in the country.
A GEO company can manage local/national income tax and social security payments on behalf of each employee. Additionally, they should ensure that this amount is deducted from their pay and paid directly to the tax authorities.
Can outsourcing your global employment needs benefit your company? 
One of the highly reputed Global Employment companies 'Soundlines', provides fully integrated international talent resourcing and outsourcing services to clients. Additionally, Soundlines serves both blue-collar recruitment and white-collar recruitment in varied industries, doing the search for the best recruit more defined and successful every time.
Soundlines has offices in 24+ countries to facilitate the recruitment process for both employers and candidates. Soundlines offers organisations, access to its global experience while maintaining a local presence, ensuring that it understands your brand, culture, needs, and future goals.
Soundlines has served clients in the UAE, Saudi Arabia, Kuwait, Qatar, Bahrain, Poland, Russia, and Romania as a leader in the international HR recruitment industry for over two decades. 
Manpower Recruitment
Screening

Sourcing

Onboarding

Employment Contracts
Employee Management
Payroll

Banking/ Salaries

Govt Ids

GOSI

Medical Insurance

Driving License
HR Administration
HR policies

Employee Termination

Employee Guidance

Employee Planning

Maintaining Employee Database
HR services
HR Advisory and Consulting

Government Regulation

Change Management
If you are an employer looking to outsource your global employment, click here to schedule a callback from one of our experts.