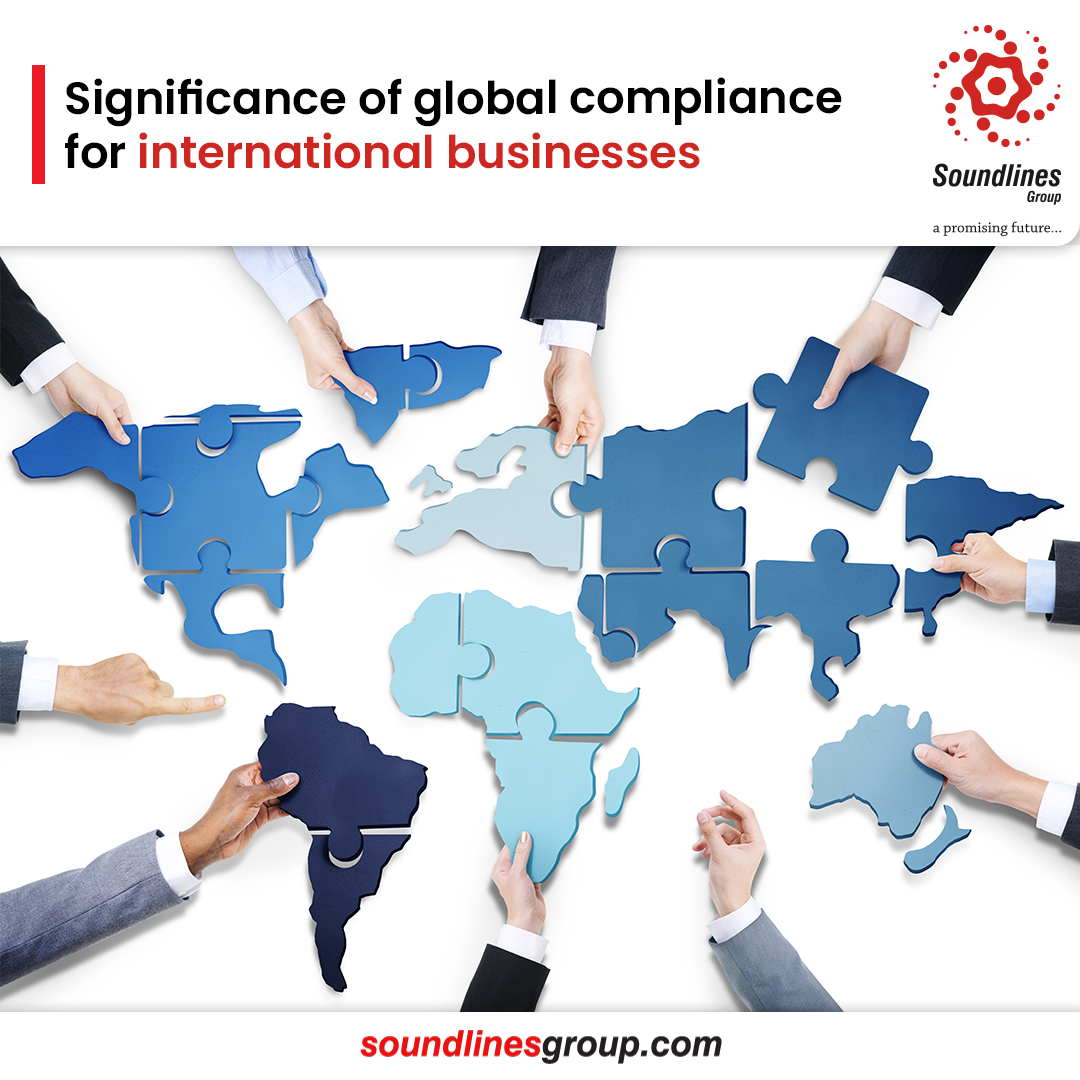 well-managed global compliance programme is crucial to ensure successful international business operations.
Global compliance is a significant factor that international businesses must consider to ensure efficient business operations.
This article explains what it entails, why it is significant, and how businesses can manage it to ensure accuracy and accountability for all global operations.
What is global compliance?
Global conformity is the act of an organisation complying with all local laws and rules governing the nation in which it conducts business.
What are the most frequently encountered global compliance regulations?
Observance of tax and social security laws
Most jurisdictions impose tax and social security withholding requirements on employees.

It can become even more complicated when organisations have dispersed international employees who may be subject to the tax withholding requirements of both their home and host countries.
In some instances, the organisation may lack the resources to manage payroll in some jurisdictions, for example, if it has not established a local entity.
These are utilised to enforce regulations regarding the time employees are permitted to reside and conduct business in the host country.
A work permit must be sponsored by a local legal entity following local immigration laws for employees who must remain in the host country for an extended period.
Companies may be deemed in violation of immigration laws if, for instance, they:
The employee stays longer than permitted in the host country.

The host nation has no official legal organisation that sponsors work visas.

The employee works for an extended period in the host nation without a work permit. 
Employment law
Typically, employee protection laws include a list of minimum employee rights, such as annual leave, maternity or paternity leave, benefits, equal opportunity laws, termination procedures to prevent unfair dismissal, and minimum wage.
Rudimentary legislative expertise
Mastering the laws of a new jurisdiction is a significant obstacle for businesses entering new markets. Companies frequently overlook the differences in legal systems between nations, which is more challenging when you are unfamiliar with your new location's language, culture, and business practices.
Inefficient information systems
Geographically separated teams frequently store their data in different systems and work independently of one another. Internal system inconsistencies and a higher risk of noncompliance for the business can result from a lack of transparency and integration. 
Changing regulatory standards
One of the most complex parts of maintaining compliance is keeping up with the speed at which various laws and regulations are updated. It can be particularly difficult for global compliance for businesses having entities in multiple countries.
The company's decision-makers, compliance officers, and HR leaders must stay abreast of the most recent legal developments and update their policies accordingly or face charges for noncompliance.
Constrained assets
It is common for companies just beginning their international expansion journey to have in-house teams that are under-resourced and lack the necessary expertise to manage the various aspects of global compliance.
Effects of international non-compliance
The right tools to manage global compliance is one of the most crucial components. 
Consider for a moment the repercussions businesses may face if they fail to comply.
Punitive damages
Intentional or otherwise, noncompliance can result in hefty fines, especially when combined with the additional legal fees that may result in more severe cases.
According to a study by BDO, numerous businesses in Serbia misinterpret tax regulations and end up paying penalties.
In many instances, taxpayers overpay in areas where they have no liability to avoid the risks associated with failing to comply with regulations.
Detainment
In the United Kingdom, companies are required by common law to provide a safe workplace for their employees, as failing to comply with health and safety laws is a criminal offence.
Infractions of this law are punishable by fines of up to £20,000, whereas actions that endanger human lives can result in unlimited fines or imprisonment.
Breach of Agreement
Compliance Often forms part of contractual agreements, and failure to comply with this provision may constitute a breach of contract. The severity of the repercussions varies, and in the worst-case scenario, the offender may incur a significant monetary loss. Court reformation of the contract or contract termination could be additional consequences.
Reputational damage
Noncompliance can also harm a company's reputation and ability to retain customers and develop other business relationships.
As it is becoming increasingly commonplace for businesses to investigate the safety and track record of potential foreign business partners, it is essential for business decision-makers to conduct their due diligence to avoid reputational harm caused by non-compliance.
Revocation of licences
Failure to comply with regulations and standards can result in the revocation of a company's operating licence in a foreign territory.
How to develop an effective global compliance programme
Successful compliance programme
Compliance management can be challenging, requiring a constant focus on even the most minute details because regulatory systems are dynamic. In the context of global compliance, this is exacerbated by the fact that different jurisdictions take different and sometimes contradictory approaches to regulatory standards.
Existing standards and principles can be utilised to ensure the accuracy of global compliance management, despite the fact that there is no one-size-fits-all solution.
Ensure openness in the dissemination of compliance procedures
Many multinational corporations have diverse internal structures. These can vary between departments and even offices located in different cities. Business leaders must take all necessary steps to ensure that compliance practices and messages are effectively communicated.
For instance, conduct regular compliance training to ensure that all employers receive the most recent information regarding compliance risks and policies. Compliance training can provide the relevancy of these sessions by tailoring them to local offices in various regions.
Periodic surveys are an effective method for gaining insight into an employee's knowledge of compliance issues that affect them and for conveying the message that the company is interested in assisting the employee in navigating any potential issues.
Acquire knowledge about the local standards that govern each jurisdiction
Effective global compliance management necessitates conducting due diligence on local expertise for different jurisdictions. This includes internal policies and practices and federal and state laws, such as donations, corporate sponsorships, healthcare, employee safety, taxes, and licencing.
Local standards frequently vary between jurisdictions and must be effectively incorporated into your organisation's standard operating procedures.
Perform periodic risk analysis
Identifying the areas that pose the most significant risk to your organisation is a critical component of a successful global compliance programme. Risk management is at the forefront of international compliance.
This permits you to allocate the appropriate resources to address these potential issues. A yearly evaluation should be conducted to remain updated with the changes in industry standards, especially for multinational corporations.
Employee claims, audit findings, compliance guidelines for each risk area and complaints about compliance may all be included in a formal assessment profile.
Administer global compliance using dependable third-party solutions
Even the most meticulous compliance efforts are susceptible to risks. This is amplified for multinational corporations that operate in multiple regions.
Working with a company that offers global compliance solutions, like Soundlines, will help to reduce this risk and provide you with the assurance you need. Our human resource compliance solutions can be customised to your organisation's needs to ensure that compliance across all regions and locations where you operate is in line with the most current regulatory standards.
To handle the payroll requirements of businesses expanding to new locations but have not yet created their legal entity, Soundlines can serve as the official Employer of Record.
View this post on Instagram
Get in touch with us to learn more about our services and how we can tailor them to your specific needs.