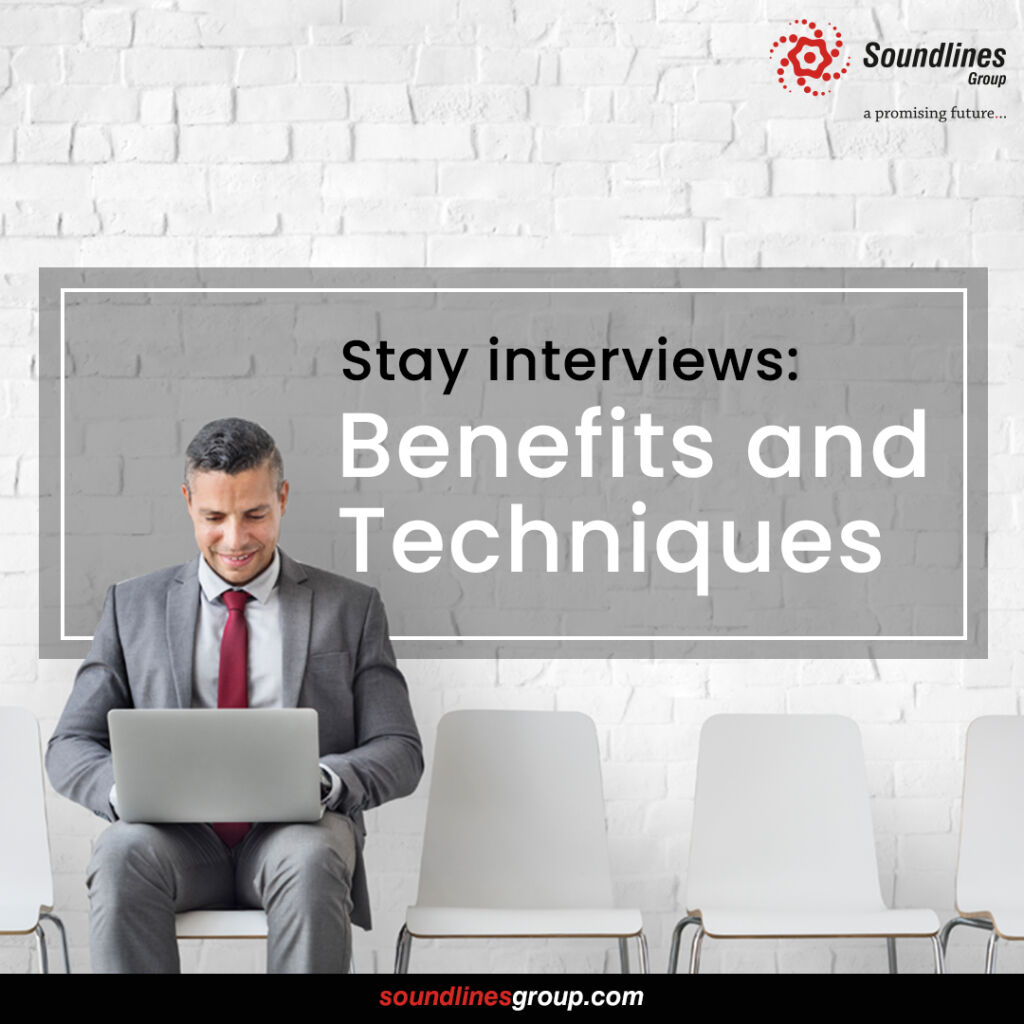 They provide proactive problem detection
Proactively identifying issues is one of the primary benefits of stay interviews for companies. Employers may identify and proactively address problems affecting employee happiness before contributing to staff turnover by conducting stay interviews . For instance, assume an employee is dissatisfied with their work or lacks promotion possibilities. In this situation, an employer may address these issues before the employee's job search. Employers may prevent workers from disengaging and perhaps leaving the organization if they detect and solve problems early on.
Additionally, stay interviews may assist companies in identifying trends or similar themes among workers. If numerous workers have the same worries or problems, it may indicate a more serious organizational issue that must be addressed. By recognizing these trends, employers can address the underlying causes of dissatisfied and disengaged workers, improve employee engagement efforts, and increase retention rates. 
They contribute to staff retention and engagement.
By performing stay interviews, employers may gather information about what works well and what needs change inside the organization.
Consider, for instance, a situation where an employee expresses discontent with their workload or growth chances. In this situation, the employer has numerous options for addressing these issues. One strategy may be to give them extra development or training opportunities to assist them in expanding their skill set and increasing their value to the organization. In addition, the company might change the employee's task to make it more manageable and equitable. By actively addressing these concerns, the business may boost employee happiness and decrease the probability that they would seek work elsewhere.
Additionally, stay interviews may assist employers in identifying and recognizing high-performing workers who are mostly engaged and pleased and take measures to keep them by demonstrating gratitude and recognizing their efforts. Employers may encourage pleased workers to remain with the firm for longer by demonstrating appreciation for their efforts.
They provide companies with access to employee input.
Stay interviews allow workers to submit feedback and suggestions to their bosses. This may be particularly beneficial for workers afraid to speak out or express their ideas within a more formal environment.
Throughout a stay interview, workers can discuss their views about the company's culture, their position inside the organization, and any areas for improvement. This constructive criticism may be useful for implementing beneficial organizational changes, including alleviating workload difficulties, enhancing communication, and fostering a more positive and welcoming workplace culture.
By using employee feedback, businesses get insight into the elements that lead to employee engagement and happiness and can make further efforts to enhance these characteristics.
Additionally, stay interviews give workers a feeling of being respected and heard, which may boost their sense of identity and engagement. Employers may promote a culture of honesty and transparency by allowing workers to voice their opinions openly and honestly, leading to increased employee satisfaction and engagement.
They assist businesses in implementing beneficial workplace improvements.
Employers may discover areas for improvement in order to build a healthier and more productive workplace by collecting employee input.
For instance, if an employee expresses worry that the corporate culture is not sufficiently inclusive, the employer may create a culture that encourages optimism and belonging by adopting diversity and inclusion activities. They also offer chances for workers to provide and receive feedback on a regular basis.
Suppose workers have worries regarding the organization's internal communication. In such a situation, an employer may increase communication by instituting frequent team meetings, an open attitude, or encouraging workers to express their views and ideas.
Moreover, if workers desire additional learning and development opportunities, employers might supply them with workshops, seminars, and online courses.
They facilitate employer recognition of valuable personnel.
By conducting stay interviews, businesses may discover employees who are highly engaged and pleased at work, then try to retain and reward these important workers.
Employees may express their perspectives on work happiness and engagement through stay interviews. This information may assist employers in identifying high performers who are essential to the organization's success.
Employers may offer benefits such as promotions, rewards, or professional development options such as training or mentoring programs to keep this excellent personnel. Retaining high performers and setting a good example for the rest of the staff by expressing gratitude for their contributions increases general engagement and productivity.
Recognizing excellent individuals is also advantageous for the general corporate culture since it serves as an example, enhancing employee performance by motivating them to work much harder and become more involved.
Expense
Stay interviews are a cost-effective way for businesses to get information on employee engagement and happiness. They need no extra equipment or resources and may be done in various methods, including in-person, over the phone, and even online.
Other means of employee input collection, including employee engagement surveys, might be more expensive. These approaches may need the use of special software or the assistance of a consulting agency, substantially increasing the company's expenditures, mainly if they are used regularly. Moreover, these techniques may not be as helpful as stay interviews in determining and resolving particular organizational challenges.
Employers may do stay interviews as frequently as required without incurring extra expenditures since they can be completed routinely, such as annually or as needed.
They are adaptable
Flexibility is an additional benefit of stay interviews. Depending on the organization and the interests of the employer and workers, they may be done in various ways.
Some businesses conduct in-person interviews, allowing for a more intimate and in-depth interaction. Other businesses may do their interviews through phone or online surveys, which provides more privacy and may be more comfortable for workers. They may also be tailored to various employee types, such as face-to-face interviews for supervisors and online surveys for the front workers.
Another significant benefit of stay interviews is that they may be arranged on a frequent basis, such as yearly or as required. This gives companies the flexibility to do them at a frequency most suited to their requirements and those of their workers.
Procedures for conducting stay interviews
Stay interviews might be tailored to workers' personalities. This enables businesses to place diversity, equality, and inclusion (DEI) at the heart of their employee engagement strategy and to elicit true and honest input from workers. There are several methods for conducting stay interviews, such as:
In-person meetings.
This provides for a more intimate and in-depth chat and the opportunity for the interviewer to examine nonverbal clues and body language.
telephonic interviews.
This might be a useful alternative for workers who cannot meet face-to-face or for businesses with distant personnel.
Online surveys. 
This provides workers with anonymity and might be more convenient.
Group discussions. 
This provides for more effective use of time and the collection of input from a greater number of workers.
Individual interviews. 
This helps the interviewer to get feedback that is more explicit and thorough.
Self-assessment. 
Encourage workers to complete and share self-evaluations of their job happiness and engagement with their supervisors.
Takeaway
One of the highly reputed overseas Manpower recruitment agencies 'Soundlines', provides fully integrated international talent resourcing and outsourcing services to clients. Additionally, Soundlines serves for both blue-collar recruitment and white-collar recruitment in varied industries, searching for the best recruit more defined.
'Soundlines' also ensures a high-quality candidate is hired and demonstrates steady growth. Therefore, it is a good idea to seek out the best international recruitment agency HQ in Mumbai to hire the most qualified overseas candidates for the right position.
'Soundlines' has an office presence across 24+ countries to make the process easier for both employers and candidates. 'Soundlines' provides organizations access to their global experience while maintaining a local presence, ensuring it comprehends your brand, culture, needs, and future objectives.
Soundlines has been a leader in the HR recruitment industry for more than two decades, serving clients in the UAE, KSA, Kuwait, Qatar, Bahrain, Poland, Russia, and Romania.
With a massive database of over 500,000+ candidates, our clients never lose hope in finding the "right fit," With the best in-house specialty centers and qualified technical evaluators for every job trade, finding the "ideal candidate" is a breeze with Soundlines. 
View this post on Instagram

If you are an employer looking to hire a workforce internationally, click here to schedule a callback.