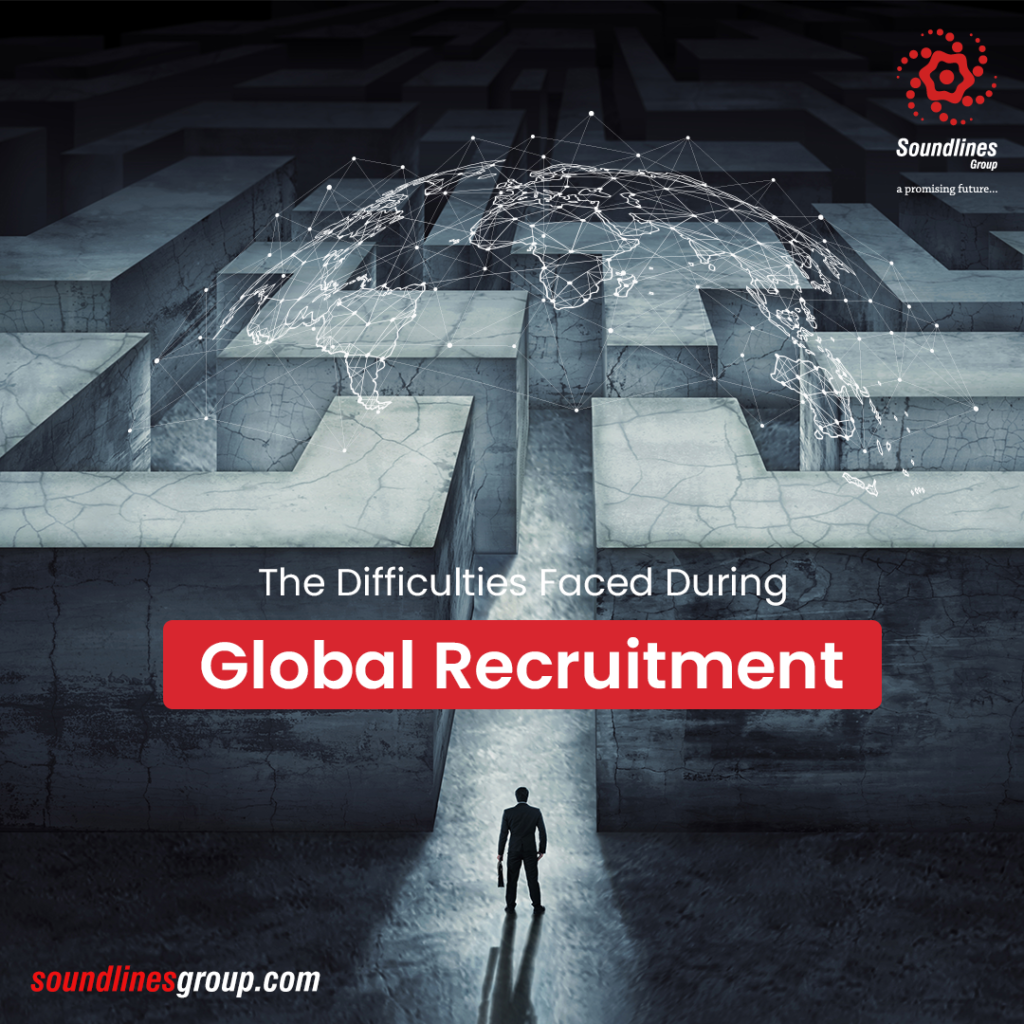 Companies that want to capitalize on the possibilities of today's increasingly globalized market place global recruitment at the center of their strategic and tactical planning.
Managing a recruiting program has its share of problems, but those challenges double significantly for organizations seeking international expansion or expanding their existing presence.
The most important factors for a company's worldwide recruiting success are:
 1) The cultural distinction
 2) The rivalry for talent on a local and global scale
 3) The geographical hurdles to communication
1) Culture: A Uniform Approach Is Ineffective
First and foremost, companies seeking worldwide expansion must be aware of the numerous variations of the recruiting strategy: constructing a single plan around a single geographical database will not result in international success. Factors such as degree of education, style of life, and job circumstances should be considered.
2) Competition for the Best Talent Increases
Local rivalry, which has the benefit of locality, makes it harder for international firms to recruit talent; moreover, other global organisations are also searching for similar local talent, making the search more challenging.
3) Interaction: Geographic Isolation Still Existent
Geographic proximity is one of the greatest obstacles to international recruiting success. It is tempting in the digital era to conduct international recruiting procedures entirely online. However, this will not attract the desired talent.
Face-to-face contact is still crucial, and a video chat provides different effects than a face-to-face meeting. Remote recruiting may reduce the likelihood of outperforming rivals.
What are the advantages of outsourcing global manpower employment?
Enter new markets rapidly
By partnering with an internationally diversified Global Employment Outsourcing (GEO) company, you can enter new markets rapidly without establishing local entities.
Multinational operations can be overwhelming for expanding businesses. Your ability to focus on a long-term talent strategy is hindered by compliance, tax implications, and frequent immigration changes.
Partnering with a global employment company that has a thorough understanding of compliance will allow you to focus on expanding your business in the new market.
Cost-effective and streamlined human resources
International employment and compliance issues are exacerbated when your costs increase as a result of managing multiple suppliers or recruiting HR professionals overseas.
Outsourcing international manpower requirements eliminates the need to maintain an expensive in-house team while allowing you to work with a single entity.
Enhanced efficiency and communication
A global employer organization that is outsourced can provide a single point of contact for all inquiries.
This improves efficiency and expedites the resolution of issues while reducing the need to involve multiple stakeholders.
Maintain compliance and reduce risk
Not only must an international workforce be mobilised quickly, but also legally. It is essential for the success of a global company to remain abreast of new legislation.
A GEO specialist with vast local expertise ensures that your international workforce is managed compliantly no matter where in the world you decide to function.
Reliable and accurate payroll
Maintaining in-house finance and international payroll teams can be expensive and difficult for clients without a permanent presence in the country.
A GEO company can manage local/national income tax and social security payments on behalf of each employee. Additionally, they should ensure that this amount is deducted from their pay and paid directly to the tax authorities.
Can outsourcing your global employment needs benefit your company? 
One of the highly reputed Global Employment companies 'Soundlines', provides fully integrated international talent resourcing and outsourcing services to clients. Additionally, Soundlines serves both blue-collar recruitment and white-collar recruitment in varied industries, doing the search for the best recruit more defined and successful every time.
Soundlines has offices in 24+ countries to facilitate the recruitment process for both employers and candidates. Soundlines offers organisations, access to its global experience while maintaining a local presence, ensuring that it understands your brand, culture, needs, and future goals.
Soundlines has served clients in the UAE, Saudi Arabia, Kuwait, Qatar, Bahrain, Poland, Russia, and Romania as a leader in the international HR recruitment industry for over two decades.