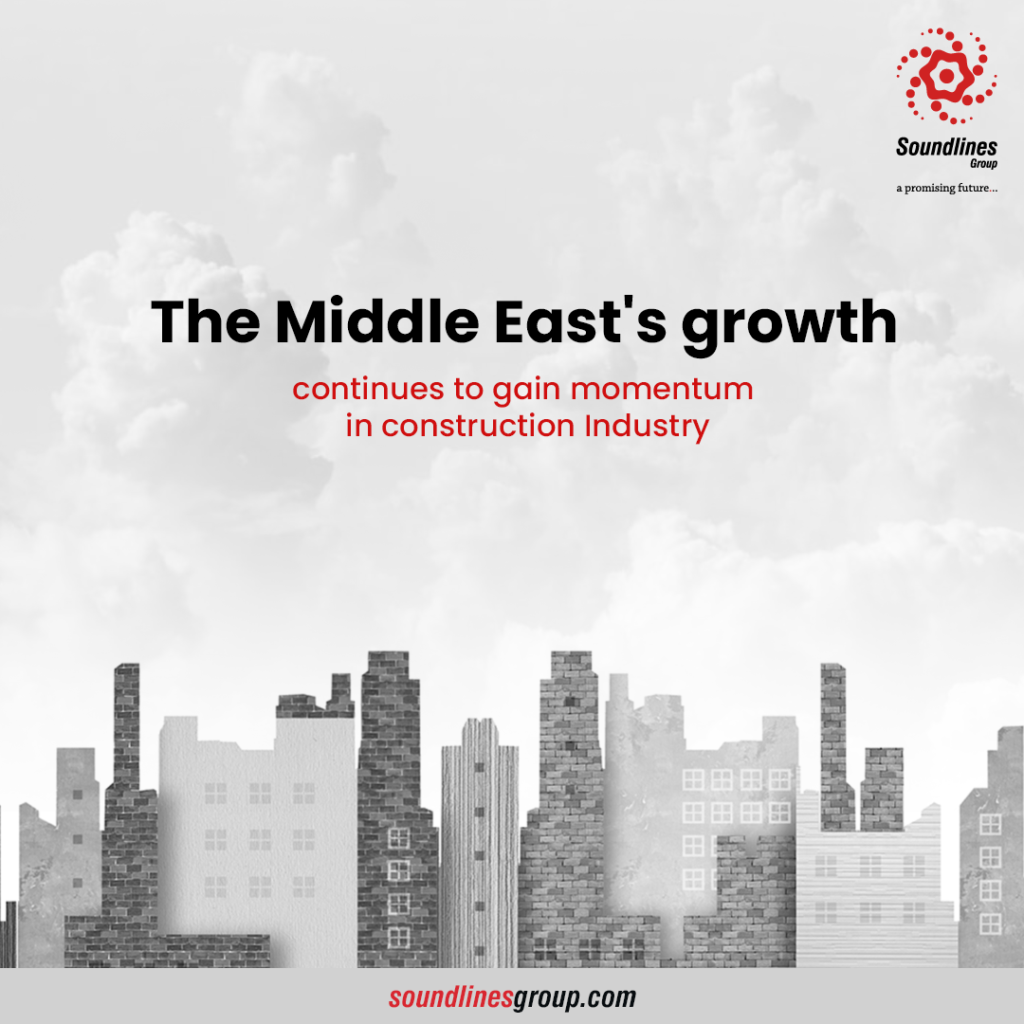 Acceleration in the Middle East
The worldwide demand for oil and natural gas surged dramatically, and widespread air travel resumed, leading to a jump in energy costs in Saudi Arabia in 2021 and 2022. Oil's soaring price has boosted the region's sovereign wealth funds, funding numerous nation-building initiatives.
One of the most pressing concerns of economists, politicians, companies, and the general public is inflation. However, inflation rates have been rather steady across the Middle East. The annual inflation rate in the UAE was 2.5% in May 2022, but in Saudi Arabia, it was just 2.3%.
2022 will see a fresh wave of major construction projects
The construction industry in Saudi Arabia has seen explosive expansion, creating a red-hot market with rapidly rising prices. The area is experiencing a shortage of imported supplies and a rise in its associated expenses, which has put a damper on project completion times. Shipping costs have climbed five-fold and are now unsustainable due to the rising worldwide price of steel. The market will continue to feel the effects of these issues for the time being.
In the UAE, building activity increased in 2022, while prices remained relatively low. Even yet, building costs will continue to rise and fall due to uncertainties in the international supply chain.
Construction in Qatar soared as the country FIFA World Cup 2022 will be held in Qatar from 20 November to 18 December 2022 and the preparations are in full swing.Due to this there is increased demand and supply chain problems, building prices in the Qatar market skyrocketed.
Oman is laying the groundwork for significant pipeline development that will contribute to economic expansion and diversification in 2022- 23.
Intensive Plans – Establishing a Base for Future Expansion
For the foreseeable future, Saudi Arabia will continue to dominate the Middle Eastern building industry. The Red Sea Resort, Neom, the Diriyah Gate, Amaala, King Salman Park, and SEVEN entertainment districts are all game-changing giga-projects that will keep Saudi Arabia at the forefront of the Middle Eastern economy for the foreseeable future.Saudi Arabia is using its investing power to foster a more diversified and sustainable economy.
KSA is using its geographical location to strengthen its position as a key driver of international commerce and as a link between Africa, Asia, and Europe.
The Vision contains three fundamental concepts:
A thriving society is essential for realising the goal and laying a solid basis for economic growth. It emphasises strong roots, satisfying lifestyles, and solid foundations.

A healthy economy creates possibilities for everybody by constructing an education system matched with market demands to equip youngsters with the skills necessary for employment of the future and by establishing economic opportunities for entrepreneurs, small businesses, and major corporations. It emphasises profitable prospects, long-term investments, and business-readiness.

To realise its goal, an ambitious country applies efficiency and accountability at all levels, including the establishment of an efficient, transparent, responsible, high-performing government. It emphasises efficient administration and responsible enabling.
The city's cultural and infrastructural development goals will drive large-scale projects in Abu Dhabi. Dubai's primary sectors of concentration are the residential and hotel industries, but the office fit-out market is also making a solid return.After the FIFA World Cup in Qatar 2022, the country's attention will shift to government investment projects, including Lusail, Qatar Rail, and Free Zones.As a result of the Madinat Al Irfan Development and other port expansions, Oman's building production has been rising.
Modular Construction
Modular construction includes manufacturing and assembling building or development components in a factory under regulated circumstances. It has recently gained popularity among developers and contractors because of its ability to boost efficiency, condense costs, and significantly shorten the time necessary to complete a building project.
By expediting the procurement process, modular construction may permit up to 90 percent of the building activities off-site, cut costs by up to 50 percent, and even half the time necessary to complete the works. The absence of on-site building activities may also increase safety since fewer workers are present, reducing the likelihood of accidents. As a result of fewer people traveling to and from the site, fewer amounts of equipment, plant, and other machinery must be supplied and delivered, resulting in a smaller carbon footprint. Modular Construction may alleviate the time, financial, and environmental impacts of costly, protracted, and fragmented procurement procedures.
Although its application in the UAE has traditionally been confined to the construction of low-rise structures, there are plans to create a new residential and commercial modular skyscraper on Al Maryah Island, Abu Dhabi. A symptom of the changing times, a change in mentality, and the industry's eventual realization and understanding of the potential advantages of using such alternative building methods.
New marketplaces 
Dubai has been the epicenter of building activity in recent years, with a staggering number of large-scale residential and commercial developments. The construction of the Dubai Hills Mall, the Expo Conference and Exhibition Centre (Coex) Campus, and the Deira Waterfront Development are just a few recent and forthcoming developments.
In 2023, however, new centres of activity will develop. Abu Dhabi has set its sights on becoming a cultural centre, focussing on museums, theatres, and other facilities that will stimulate the building sector.
Saudi Arabia, meantime, is interested in a variety of smart city projects involving extensive AEC participation, including utilities, sustainable energy systems, and innovative community designs. Qiddiya, located in Riyadh, will concentrate on entertainment facilities, while the Red Sea project is anticipated to boost tourism along the country's west coast. Moreover, the NEOM initiative is billed as the means to transform the building business. Its contributors want to develop new best practices for residential space planning, design, and construction.
Only certified labors will serve:
Soundlines is a global recruitment agency that specializes in assisting energy companies in gaining access to the certified talent. We can do this thanks to our expertise in establishing strategic recruitment relationships with HR departments.
Soundlines is one of the most reputable worldwide employment agencies, offering clients fully integrated international labour resourcing and outsourcing services. Moreover, Soundlines offers international blue-collar and white-collar recruitment in a variety of industries, making each search for the appropriate individual more precise and fruitful.
Soundlines facilitates the recruitment process for both businesses and candidates in over twenty-four nations. Soundlines gives enterprises access to their global experience while keeping a local presence, assuring familiarity with your brand, culture, needs, and future goals.
Soundlines, a leader in the international HR recruitment industry, has served clients in UAE, Saudi Arabia, Kuwait, Qatar, Bahrain, Poland, Russia, and Romania for over two decades.
The following industries have been served by Soundlines throughout the Middle East, Far East, Europe, and Africa for the past two decades:
Soundlines has served building construction projects in the Middle East and Europe for over two decades by recruiting professional labourers, machine operators, scaffolders, electricians, MEP and equipment repairmen, among many other professions.
We are professionals in staffing initiatives for road construction. We have aided businesses in the international recruitment of professional labourers, drivers, and machine operators for global road-building projects.
We assist Oil & Gas companies in recruiting qualified candidates from all over the world. We have assisted O&G firms in recruiting thousands of entry-level and mid-level employees.
Regardless of the size of the facility management personnel requirements, we are capable of meeting them. On a permanent, temporary, or contractual basis, we assist organizations worldwide in locating the right talent.
Security is currently one of the most pressing concerns, so we assist organizations with international candidate recruitment. Our recruitment portfolio for the security industry includes watchmen, security guards, etc.
Over the past two decades, we have supported businesses in recruiting thousands of qualified candidates for entry-level and supervisory roles in the Mechanical, Electrical, and Plumbing departments.
In the middle east, we have screened and recruited the top candidates for years, including butchers, QSR service staff, multi-cuisine chefs, delivery crew, baristas, and many more industry professionals.
How can human resource outsourcing with Soundlines benefit your company? 
View this post on Instagram
Click here to schedule a call back from one of our overseas manpower experts.