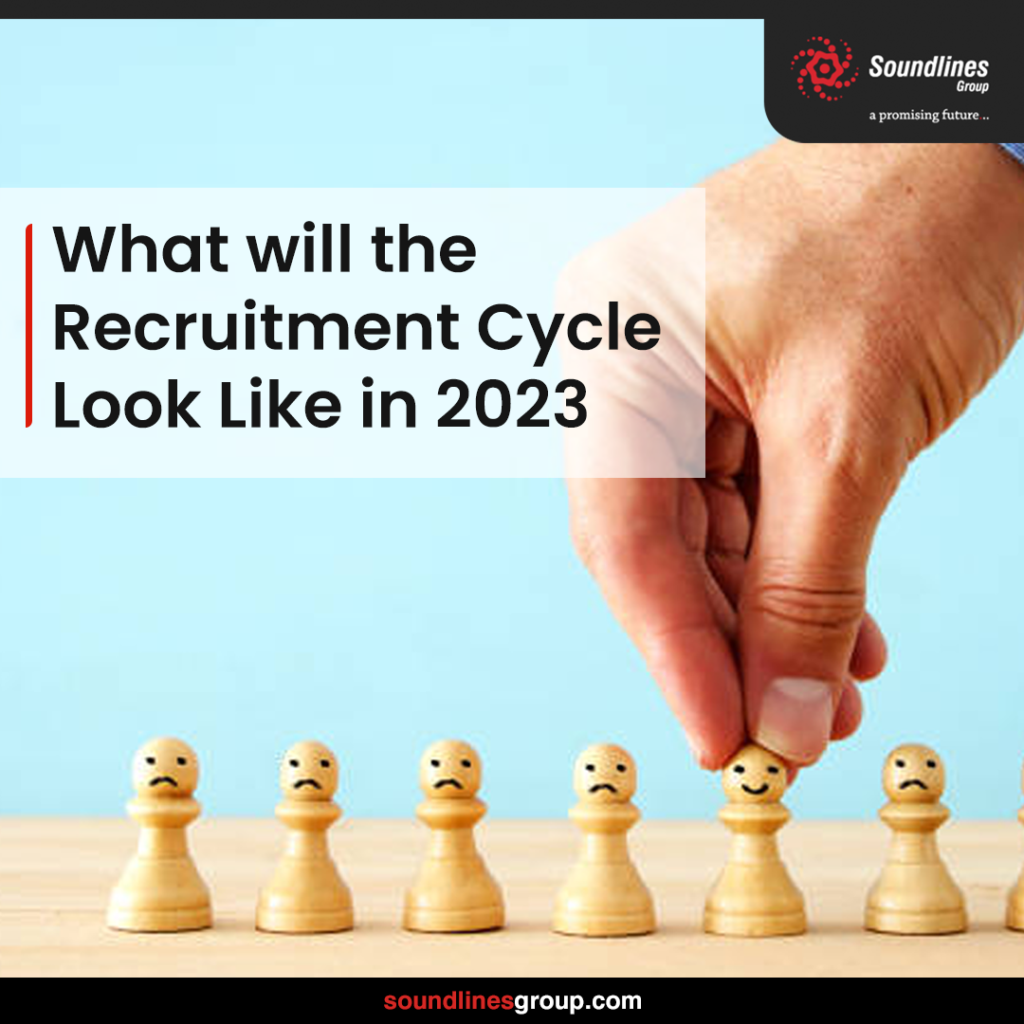 2023 Will Have a Greater Candidate Focus: 
The most successful firms prioritize their applicants in today's candidate-driven marketplace. This tendency will continue to expand in 2023. Candidates anticipate a more tailored, streamlined, and enjoyable experience across the recruitment process. The emphasis has shifted dramatically from company branding to applicant experience. This tendency will continue to expand in 2023, as many businesses discover that pleased applicants result in happy workers. 
More businesses will invest in candidate experience-improving technology to address this need, such as bots and Intelligence job recommenders.
According to LinkedIn's Global Talent Trends, October 2022 study, expect bosses to begin modifying salaries since this is the top priority for today's job searchers.
Recruitment marketing:
According to recent data from the Society for Human Resource Management (SHRM), the average cost of each employee is approximately $4,700, which is expected to keep rising. You need to market your company like you would any other product or service if you want to get top talent. In order to do this, you need to build a brand that candidates can relate to and use targeted marketing strategies to reach them. 
Many companies are adopting tried-and-true brand-name recruiting marketing strategies. This involves using data and analytics to send tailored messaging to potential applicants through various channels (including social media, email, and even TV). Marketing and recruiting are getting more entwined, according to 86% of HR managers in 2020; by 2023, the two disciplines will become even more intertwined. Hybrid work models change the landscape of recruitment.
Hybrid Working:
As more and more individuals work remotely, the distinction between home and the workplace blurs. In 2023, we anticipate an increase in the number of firms that provide hybrid work arrangements that enable workers to combine remote and business work. The COVID-19 epidemic has prompted a reevaluation of remote work rules by several businesses. Consequently, hybrid working arrangements are gaining popularity, with workers regularly dividing their time between homework and the office. As per Forbes, 83% of employees favor hybrid work, so expect to find more organizations providing flexible working options beyond 2023. Employers May Start Shortening Workdays The standard 9-to-5 workweek is no longer possible for many individuals, particularly those with children or other outside obligations. In response, more and more businesses are experimenting with shorter workweeks (such as 4 days per week or 6 hours per day). This trend is expected to continue as companies attempt to achieve a better work-life balance.
Although not a novel concept, many businesses are embracing four-day work weeks, like Microsoft Japan, which claimed a 40% improvement in productivity during their test. With attempts to enhance work/life balance and boost productivity at the forefront of employers' minds in 2023, we anticipate a rise in firms experimenting with shortened working times and even four-day work weeks.
Managing New Compensation Regulations:
With the advent of gig economy employees and the continuous expansion of the independent workforce, handling pay in 2023 will present new issues. As the sharing economy expands, so does the number of compensation-related laws and regulations. Expect more organizations to have difficulty keeping up with these developments and adjusting their pay policies appropriately by 2023. This will be particularly difficult for multinational corporations operating in countries with varying legal codes. Implementing new pay regulations in 2023 will require businesses to adjust their recruitment strategy appropriately. These regulations will affect how organizations may give applicants incentives and bonuses. Thus, you must be current on them. Ensure you're prepared to comply with the new laws when they come into effect since failure to do so might result in significant penalties.
Utilization of Automation
Automation of the recruiting procedure: We anticipate a rise in recruitment process automation (RPA) usage in 2023 to expedite the recruiting process and free up recruiters' time to concentrate on more important duties. To maintain a competitive advantage, your firm must recruit smart, not harder. Implementing recruiting process automation is one method for achieving this goal. Recruiting process automation refers to using software to automate repetitive recruitment operations, such as publishing job advertisements, evaluating resumes, performing first-round interviews, and arranging second-round interviews.
Here's how to initiate:
Determine which

recruiting process

activities are repetitive and time-consuming.

Determine the optimal tool for automating those jobs.

Identify a stakeholder accountable for administering and overseeing the RPA system.

Recruitment automation

may assist you in enhancing the applicant experience by facilitating and expediting job applications and interview scheduling. 
In addition, automating certain recruiting procedures might help you save money by removing the need to engage extra personnel to do repetitive duties. This allows you to reduce your duration by automating time-consuming recruiting procedures.
Crowdsourced Sourcing: 
In 2023, we anticipate an increase in enterprises using crowdsourced sourcing techniques. With the growth of social media and online job boards, sourcing applicants is simpler than ever. However, this also increases competition for elite talent. In 2023, more businesses will use crowdsourced procurement platforms like Visage to remain competitive. 
These platforms enable organizations to access a worldwide network of recruits and sources to swiftly and effectively identify the best applicants for their available positions. Crowdsourced sourcing is a very novel notion that we anticipate exploding in 2023. This may save recruits time and effort, making it an appealing choice for firms with a high turnover rate.
Employability Pays the Bills in Recruiting Selection Based on Qualifications: 
As the talent competition continues to intensify, we anticipate that in 2023 firms will focus more on skill-based recruitment. This entails evaluating individuals based on their talents and competencies instead of their CV or employment experience alone. 
In today's competitive employment market, it is no longer sufficient to acquire a diploma from a reputable institution; businesses want applicants with specialized skill sets that will help them reach their business objectives. Consequently, talent-based recruiting is gaining popularity, particularly in fields such as technology, where certain skill sets are continually in demand.
Data will continue to ascend to the pinnacle
Data-Driven Determination: With access to ever-increasing volumes of data, firms must adopt a more data-driven approach to recruitment to make better hiring choices. Data-driven teams often function more efficiently and at a reduced cost, which increases their productivity and value to the firm.
There are several benefits to employing a data-driven recruiting strategy. Perhaps the most apparent benefit is that it facilitates improved decision-making. When you have evidence to support your decisions, you can be certain you're making the best option.
Recruiters and hiring managers feel more confident in the selection process since they have empirical evidence to support their decision. This may increase retention rates, reduce turnover costs, increase morale, and fewer poor recruits. We believe that this significance will increase over the coming year as fears about a recession deepen.
CX/EX Will Be the Main Focus of Employee Experience:
In the same way that applicants have grown to anticipate a positive consumer experience from businesses, they will also anticipate a positive employment experience from potential employers. TalentLyft reports that a favorable experience encourages 97% of applicants to suggest others and that over 50% of applicants would post pleasant experiences on social media. According to the social recruitment portal CareerArc, a poor hiring experience would deter more than fifty percent of prospects from purchasing a company's goods or services. Poor CX/EX may be costly in many ways. Consider Virgin Media, who discovered that bad applicant experience costs them up to $5.4 million annually.
A negative applicant experience may harm a company's image, making it more difficult to recruit top talent. When applicants have unfavorable experiences, they are prone to tell their family and friends about it, which may swiftly snowball into irreparable reputational harm. We anticipate that by 2023, the applicant and employee experience will be critical for firms vying for top talent.
One of the highly reputed overseas Manpower recruitment agencies, Soundlines, provides fully integrated international talent resourcing and outsourcing services to clients. Additionally, Soundlines serves both blue-collar and white-collar recruitment in varied industries, making the search for the best recruit more defined.
'Soundlines' also ensures a high-quality candidate is hired and demonstrates steady growth. Therefore, it is a good idea to seek out the best international recruitment agency HQ in Mumbai in order to hire the most qualified overseas candidates for the right position.
'Soundlines' has an office presence across 24+ countries to make the process easier for both employers and candidates. Soundlines provides organizations access to its global experience while maintaining a local presence, ensuring that it comprehends your brand, culture, needs, and future objectives.
Soundlines has been a leader in the HR recruitment industry for more than two decades, serving clients in the UAE, KSA, Kuwait, Qatar, Bahrain, Poland, Russia, and Romania.
With a massive database of over 500,000+ candidates, our clients never lose hope in finding the "right fit," With the best in-house specialty centers and qualified technical evaluators for every job trade, finding the "ideal candidate" is a breeze with Soundlines. 
View this post on Instagram
If you are an employer looking to hire a workforce internationally, click here to schedule a callback.