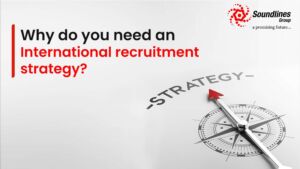 Strategies for global recruitment are currently more important than they have ever been. It is becoming increasingly important for international organisations to develop a strategic plan for recruiting that is applicable in every region of the world. This is because the level of competition for talent is rising. The falling unemployment rate seen all over the world is one factor that is driving this shift. Because of this, it is challenging for economies to discover and entice top-tier talent.
The increasing level of competition for talent is a source of concern for leaders. Eighty per cent of CEOs, as reported in PwC's 21st CEO Survey, are concerned about their ability to find talent with the necessary skills. This information was gathered from leaders all over the world. In addition, 54% of respondents have stated that they intend to increase the number of employees working for their company within the next year, and 57% of respondents believe that global growth will improve within the next year.
Building a comprehensive global recruitment strategy is necessary for organisations if they wish to sustain growth and maintain a competitive edge in the process of sourcing and recruiting the best workers. In every region of the world, a comprehensive global recruitment strategy should address recruitment marketing and employer branding, candidate experience, and onboarding.
In this article, we will discuss the advantages of utilising a global recruitment strategy, as well as the foundational components that are necessary for businesses to achieve success.
The Advantages of Implementing a Worldwide Recruitment Strategy
Increased standard of new hires
Employers are able to make better cultural matches thanks to an effective global sourcing strategy, which also increases the likelihood of finding the right candidate with the right skills.
A deeper understanding of other cultures
Employers, when utilising a consistent global recruitment strategy, are able to communicate with candidates from any country and attract them to their organisation. Some candidates will be overrepresented while others will be underrepresented if the recruitment process is optimised for one country but is weaker in other countries. Employers will have the ability to attract and hire a more diverse pool of candidates if they implement a process that is truly global in scope. A more diverse workforce has been shown to have a number of positive effects, including higher levels of employee engagement and increased levels of productivity. An increase in cultural literacy is another benefit that an organisation can derive from having employees from diverse backgrounds.
A Recruiting Strategy Plan with the Goal of Improving Candidate Sourcing for Skills Needed in the Future
Employers who implement a global recruitment strategy can improve their chances of finding candidates who possess the skills they need in the future. The way we work is being disrupted by automation, and various regions of the world are adjusting to this new reality at varying rates. According to PwC, only 51 per cent of CEOs in Canada are concerned about finding candidates with the appropriate skills, whereas 94 per cent of CEOs in China are concerned about the same issue. HR professionals can adapt candidate personas from around the world using a global recruitment strategy to ensure that they are sourcing talent with the necessary skills and identifying new ways to target candidates who match these personas. This ensures that HR professionals are sourcing talent with the necessary skills.
Employment market position
Building a truly global employment brand is the first thing that needs to be done in order to put into action a strategy for global recruitment. A significant number of companies, particularly those operating in the B2B market, do not have a robust consumer brand. The majority of companies are forced to rely on their employer brand in order to entice prospective employees because they lack a powerful consumer brand. An organisation can strengthen its reputation as an employer in a variety of ways, such as by training current workers to serve as brand ambassadors, leveraging social media, and digitising its brand strategy while placing an emphasis on mobile devices.
Organizations need to construct an employer brand that is successful in all regions of the world in order to be successful when implementing a global recruitment strategy. It is essential for an employer to collaborate with local workers in order to ensure that their employer branding and recruitment marketing campaigns are culturally appropriate in every region in which they conduct recruitment.
In order to achieve this goal successfully, HR should collaborate with marketing to ensure that the strategy is aligned with and implemented in conjunction with more traditional marketing messages.
Candidate experience
It does not matter where candidates come from; what matters is that they have a positive experience throughout the application process. Candidates from all over the world want applications that are compatible with mobile devices and are quick and simple to fill out. They also want well-written job descriptions that interest candidates and persuade them to apply, as well as positive interview experiences and consistent communication.
Employee referral programme
According to the Society for Human Resource Management (SHRM), employee referral programmes account for nearly a third of all hires. Therefore, the process should also include a robust employee referral programme for each country. It is essential to make certain that there is a referral bonus that is comparable in each country. The sum ought to be calculated using a percentage of the typical yearly salary in each area as the basis. Employees in one location may experience a sense of diminished worth if referral bonuses in other countries are significantly different from those in their own country.
Process of onboarding that is consistent
Additionally, the onboarding procedure ought to be as consistent as is humanly possible across all locations. If an employee has a positive onboarding experience, the Society for Human Resource Management (SHRM) reports that they are more likely to remain with their current employer for at least three years. Even though some nations have exceptions to the rule, such as requiring a new employee to come into the office for a signature before their start date, the process as a whole ought to be as consistent as is humanly possible. Standardizing, documenting, and creating global job contract repositories are some of the things we do at Soundlines to help make the onboarding processes for our clients more efficient and compliant.
Technology that is standardised
When developing a strategy for global recruitment, it is essential to standardise technology as much as possible across the world. It is best practice to make use of the same technological systems wherever it is feasible to do so; however, there are some exceptions to this rule, such as in Russia.
You will have better data and a more complete picture of your entire workforce if you use a centralised technology system for all of your global locations. Because of this, you will be better able to recognise trends and make decisions that are strategic.
Analytical data of the global labour market
You will easily be able to see how your workforce compares across the region and in other parts of the world if the market for talent starts to become more competitive in one region of the world. This understanding can be applied to the making of high-level recruitment decisions in the business world. 
You can gain access to a wealth of knowledge and experience by partnering with a global RPO provider in the process of developing a global recruitment strategy. This is because global RPO providers gain this knowledge and experience by working in a variety of business sectors all over the world. When searching for a partner, it is essential to make certain that they have prior experience operating in the regions of the world in which you intend to recruit potential employees.
Any global sourcing programme will come with its fair share of compliance and cultural challenges; your partner should assist you in navigating these obstacles. It is important to keep in mind that even though some local labour laws deal with issues that occur after the hiring process, those laws can still have implications for the hiring process itself. Before you post a job or make an offer, working with a provider of RPO services can help you get ready for many of the challenges you may face. Additionally, a partner with years of experience can help you anticipate any communication and training issues, which enables you to tackle the issues head-on. This is an advantage of working with an experienced partner. Because of this, you will be able to provide superior service to your clients.
If you are thinking about constructing a global recruitment strategy, you should learn more about the global RPO solutions that we offer at Soundlines. Click here to schedule a callback from one of our international recruitment experts.