Why Employ Overseas Manpower in Saudi Arabia?
Why Employ Overseas Manpower in Saudi Arabia?People in Saudi Arabia are particularly drawn to the jobs that the nation provides. However, the country of Saudi Arabia is diverting a lot of resources towards Recruiting Manpower from India. The nation provides more employment options, and the amount paid to the same personnel is sometimes twice or even thrice what the workers earn elsewhere. All of this while requiring the same level of effort and job length.
Reasons to Employ Manpower in Saudi Arabia
There are several factors that entice individuals to work in the Middle East region, most likely in Saudi Arabia. Consequently, there are several factors that also make it a perfect area for experts to outsource labor. Due to its harsh labor rules and limitations on foreign nationals, obtaining work in the country of Saudi Arabia is more difficult than in any other overseas country. 
The job-seekers often want a pay increase and foreign market exposure, and industries such as the Petroleum oil-gas business, Construction, Mining Industry, Agriculture, etc., attract individuals to Saudi Arabia. In light of this, the majority of Saudi corporations use well-respected and experienced personnel consultants in India to identify talent.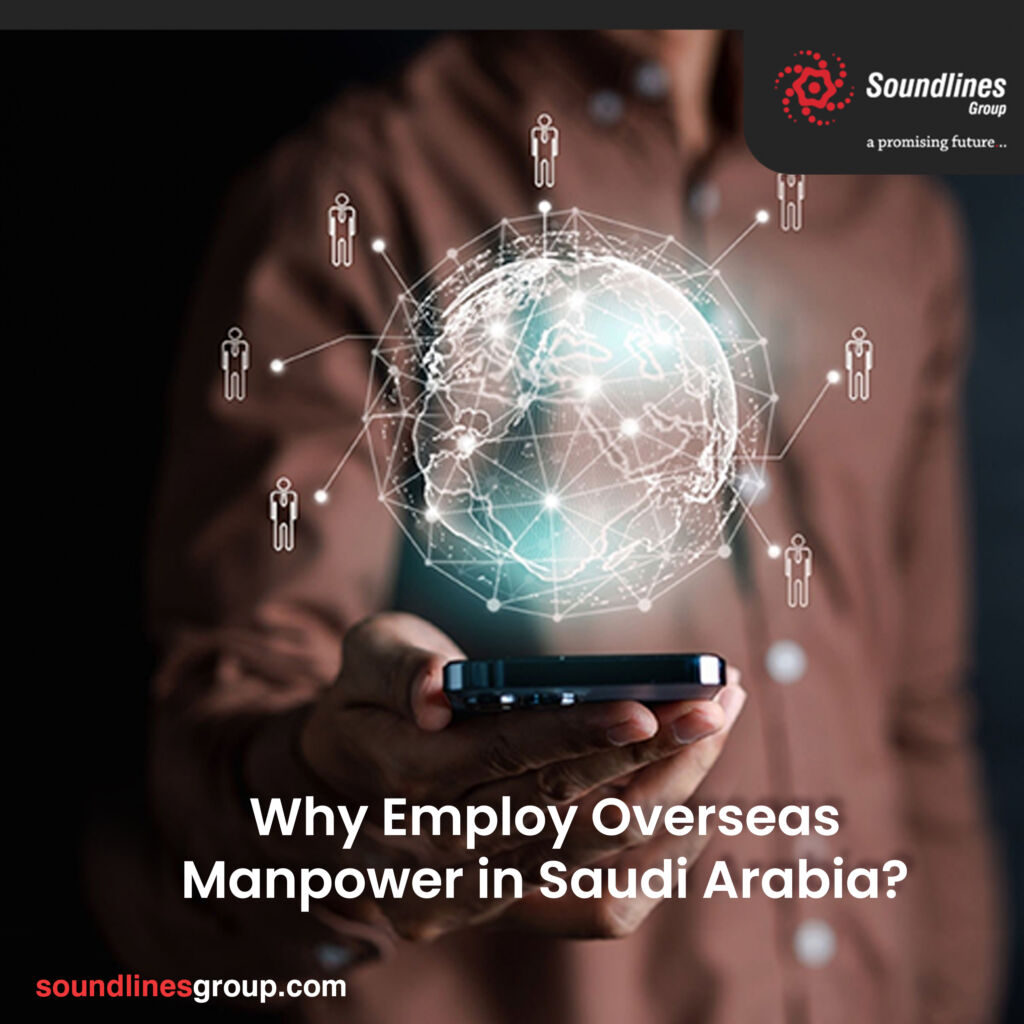 Below is a list of the five well-known factors that make Saudi Arabia a fantastic area to attract personnel:
Best Compensation Package would be a plus for Overseas Manpower Recruitment.
One of the primary advantages of recruiting in Saudi Arabia is the country's extraordinary pay scale. This has generated a wonderful job opportunity since an increasing number of individuals find employment in Saudi Arabia to be an appealing alternative. In addition to the income, there are several more advantages supplied by firms there.
Marginal Tax Policy Adds Attraction
We are aware that Saudi Arabia draws a significant number of troops from India due to the income tax policy in the nation. Even after earning significantly compared to what they make back in their native country, these folks have to pay extremely modest costs when it involves paying taxes. Contributions to social security and non-residential taxation, if applicable, are practically insignificant.
Allowance for lodging and meals supplied by Saudi Arabia Company
In contrast to other nations, all Saudi Arabian enterprises provide housing and meals to their employees. These incentives supplied by the kingdom are special and draw a lot of individuals to take up the employment provided by Saudi Arabia rendering it one of the most sought places for offshore manpower recruiting from India due to tremendous development.
Annual Round-Up Admission
After one year of employment, Saudi Arabian enterprises are required by their government to provide their employees with free round-trip tickets out of the country. This is one of the primary factors that attract foreign workers to Saudi Arabia.
Outstanding Incentives and Bonus
In addition to competitive compensation, firms here frequently provide enticing yearly bonuses and incentives in comparison to companies in other nations. This again creates a greater possibility for Saudi Arabia to attract more people who are interested in employment there.
Despite the fact that Saudi Arabia has a rising market for laborers, it is one of the greatest possibilities for manpower recruiting companies to employ these individuals in the kingdom according to their areas of competence. Agencies concentrate on supplying Manpower from India that benefits both employers and workers in Saudi Arabia.
Conclusion
Undoubtedly, a business cannot function without human capital. The era of intense market competition has necessitated the adoption of effective policies to distinguish oneself from competitors. This has indeed led to an increase in labor demand. Therefore, you must select the best candidate for your organization. 
By employing Soundlines intelligently, you can easily meet your manpower needs. We are the ideal partner for your human resource needs, and we can help you ensure that your company will not experience any personnel shortages in the future. Due to the vast experience and high qualifications of the team of human resource professionals that we employ, we are exceptionally good at what we do and have been able to sustain long-term relationships with our clientele.