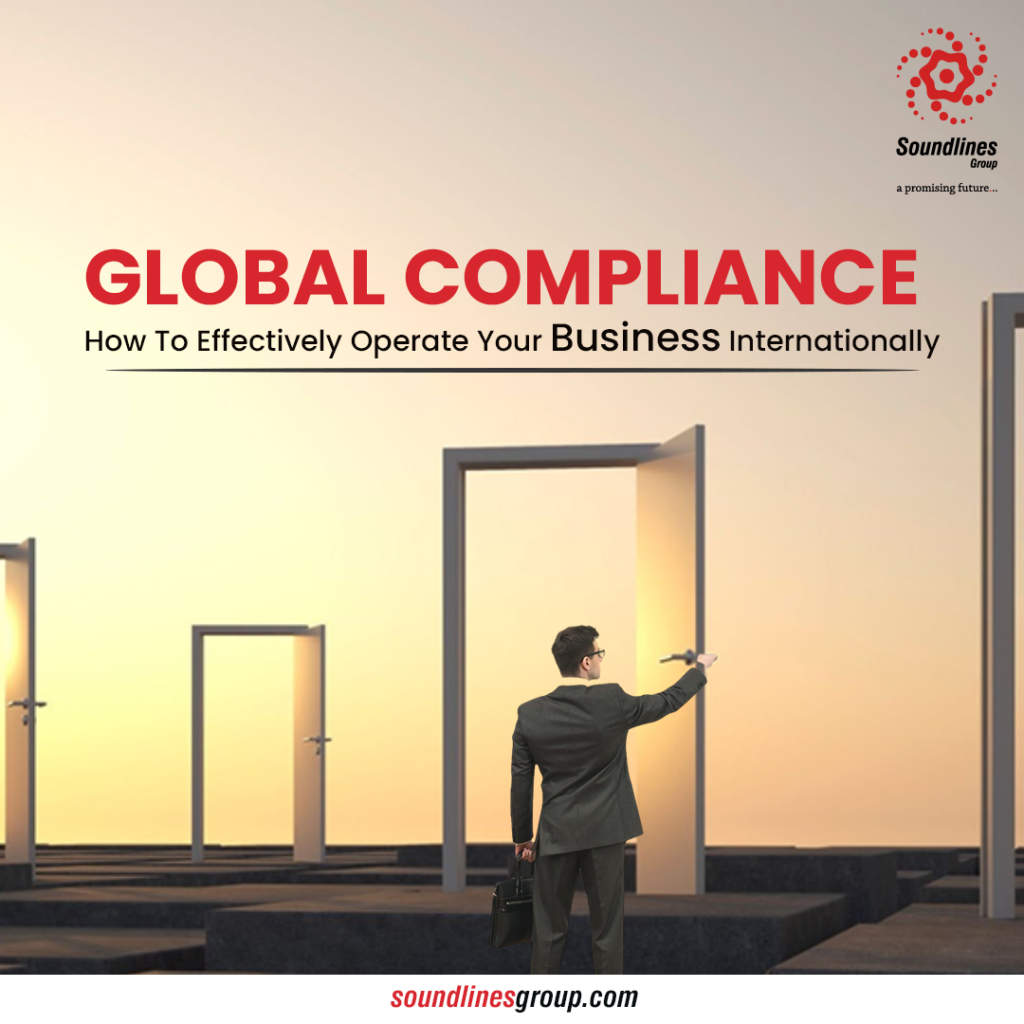 When a company conducts business globally, it complies with both general international labour standards and the laws and regulations of each country in which it operates. Many companies make compliance errors while expanding globally, which can result in legal issues and disruptions to productivity.We've developed a manual for handling global rules and regulations to keep you compliant.
Key conclusions:
Global compliance refers to abiding by the laws and regulations of every nation where you conduct business.

Equal and fair laws, tax laws, fundamental employee rights, and financial statement requirements are among the most prevalent global compliance regulations.

Ignoring international compliance rules may result in penalties or reputational damage.

Review foreign company regulations, make plans, communicate with people abroad, be ready for changes, and earn a globally recognised credential to become globally compliant.
How Does Global Compliance Work?
Following all international laws, norms, guidelines, and regulations that are relevant to a corporation is known as global compliance. Being internationally compliant requires both local compliance and adherence to international laws and regulations, which are two separate components.
Businesses that grow internationally must keep in mind that they must continue to abide by the laws of the countries they enter. Local compliance is what is meant by this. When it comes to issues like compensation and equal employment opportunities, businesses must abide by the laws and regulations in that region.
Some international regulations governing worldwide compliance are applicable. These are referred to as international laws, rules, and regulations. Among these are guidelines for data protection, product standards, and standards for financial transactions.
Norms for Common Global Compliance
Even though each nation has its laws governing business, there are some universal principles. Here are four universal guidelines for worldwide compliance that are necessary and significant in all nations.
Laws promoting equality
There are rules against discrimination in hiring in many nations. Equal opportunity laws are what these rules are known as. 
         i) International Tax Compliance
The requirement for a company to pay taxes in the nations where they conduct business is known as global tax compliance. Taxes are owed by every company with a permanent establishment in a nation, regardless of the tax rates that may apply. Although the methods for paying these taxes differ, businesses must understand that they must pay taxes in every nation where they conduct business.
         ii) Norms for Financial Reporting
How a company's financial statements must be prepared varies by country. Thankfully, a uniform set of guidelines and standards for the creation of financial documentation has now been approved by many nations.
Make sure to research the country's financial reporting standards if you are conducting business there. Financial statements, such as taxes, that are not made correctly for reporting purposes may result in fines and penalties levied against the company. For this reason, a lot of organisations use an international accountant.
         iii) Employee Entitlements at a Minimum
There are minimum employee entitlements that are mandated by legislation in many nations. These essential rights include the minimum salary, breaks, paid time off, and sick leave. Some nations have less common international rights, like insurance and paid parental leave.
         iv) Rules against Money Laundering
Most nations now have an anti-money laundering and anti-terrorism legislation that apply to companies setting up permanent operations there. A programme for observing significant transactions, informing authorities, and educating staff about money laundering prevention is one of these regulations.
Why Do You Need Global Compliance?
Businesses must comply with lower fines and keep their operations from failing due to the stress of liability. Businesses will operate more efficiently if they abide by international laws and regulations as they grow worldwide.
What Will Happen If You Don't Comply?
 Here are a few typical repercussions non-compliant businesses will experience.
Penalties and Fines
Businesses that violate a nation's business regulations frequently face crippling fines and penalties. This usually prevents companies from expanding further internationally or even causes a company to close down.
Negative Reputation
A company's reputation might be ruined by failing to abide by international laws and regulations. Finding future business prospects, including investors or even countries, will be extremely difficult as a result. Nations do not want a company operating on their soil that has a reputation for being non-compliant.
Contract Violations
Business compliance is often mandated by B2B contracts. Businesses are in breach of their contracts when they violate laws and regulations. Contract violations may result in contract termination, court appearances, and further costs.
Licensing Losses
Failure to comply may result in the revocation of licences required by regulators, such as those for financial services. Since governments frequently issue these licences, they can be quickly cancelled if you break their rules.
How to Comply with Global Standards
There is no one-size-fits-all approach to achieving global compliance, but there are several steps you can take to support your company in avoiding critical compliance blunders. Here are a few things to take when expanding internationally to make sure your company is compliant everywhere.
i) Examine Present Business Procedures
When going global, reviewing the big picture is the best place to begin. Review the laws of the country where you are establishing a permanent establishment as well as the laws that your company already has in place. This will guarantee that your company complies with all laws and standards that must be observed when growing.
ii) A Strategy to Ensure Compliance
Make a plan for how your company will handle the rules and restrictions that go along with the new location. To ensure compliance, assigning tasks to individual staff and making a calendar of due dates will help.
iii) Promote New Techniques
The key to any business is communication. Employees in these new facilities abroad should be informed about the implementation of new procedures and plans. Many companies will even train personnel on worldwide compliance.
iv) Global Compliance Management
Preparing for modifications to the laws and regulations of the nation in which you have a permanent base is the main focus of global compliance management. Global business laws and regulations are constantly evolving. You may manage worldwide compliance by keeping an eye on market trends and preparing for new regulations.
v) Employ a Partner
Utilizing your resources, including a global compliance partner, is probably one of the best strategies to make sure you maintain worldwide compliance. Employers of record have received specialised training in all aspects of foreign business and may assist you in maintaining compliance if you create a branch office abroad.
Can outsourcing your global employment needs benefit your company? 
One of the highly reputed Global Employment companies 'Soundlines', provides fully integrated international talent resourcing and outsourcing services to clients. Additionally, Soundlines serves both blue-collar recruitment and white-collar recruitment in varied industries, searching for the best recruit more defined and successful every time.
Soundlines has offices in 24+ countries to facilitate the recruitment process for both employers and candidates. Soundlines offers organisations, access to its global experience while maintaining a local presence, ensuring that it understands your brand, culture, needs, and future goals.
Soundlines has served clients in the UAE, Saudi Arabia, Kuwait, Qatar, Bahrain, Poland, Russia, and Romania as a leader in the international HR recruitment industry for over two decades. 
If you are an employer looking to outsource your global employment, click here to schedule a callback from one of our experts.