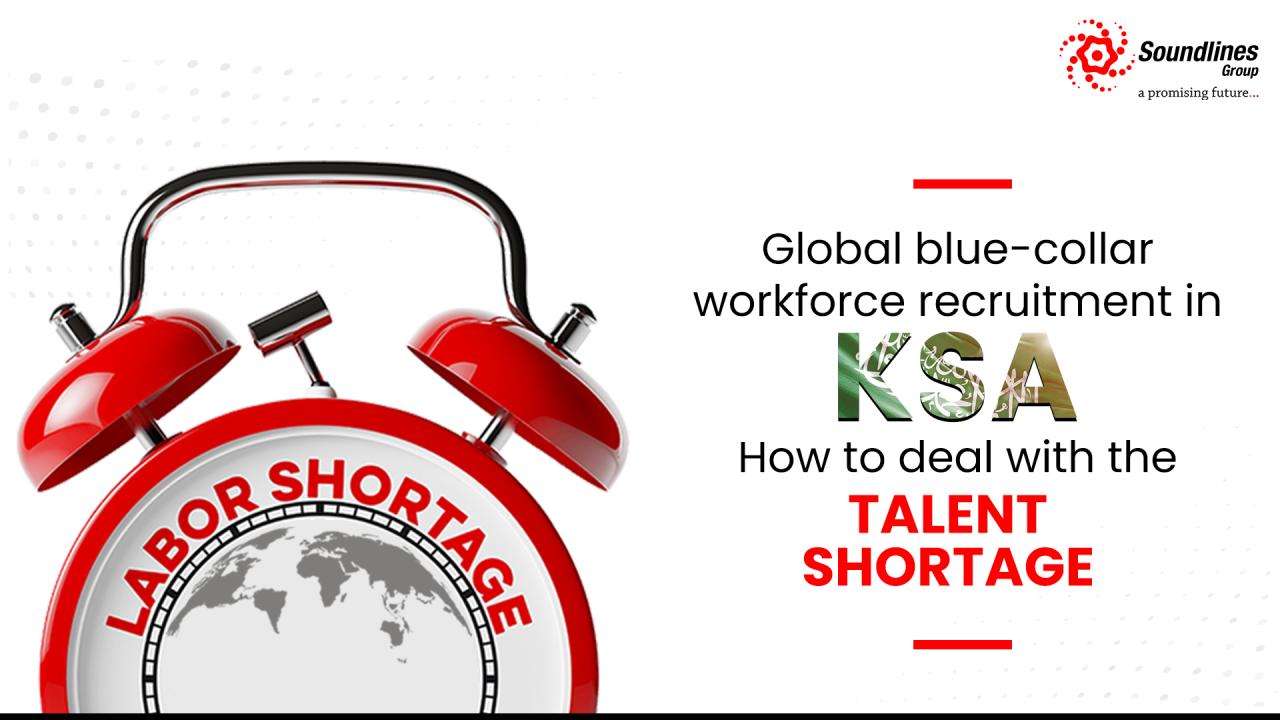 With its windswept deserts and intriguing history and culture, Saudi Arabia is emerging into a popular travel destination. In addition to a large labour force, a massive economy is being driven by petroleum, and low employer taxes in turn making the country an attractive location for international business expansions.

You have your work cut out for you if you're hiring blue-collar workers internationally. The labour market for these professions is tightening: there are numerous job openings, but not enough qualified candidates to fill them.
80% of construction companies struggle to fill these positions. In addition, they anticipate that the trend will continue. This global blue-collar talent shortage is not solely attributable to the 50-year low in the unemployment rate; hiring for blue-collar professions presents an additional difficulty. Older skilled workers are beginning to retire, and younger individuals are encouraged to pursue four-year degrees instead of learning a trade, which may reduce the availability of blue-collar jobs soon.
In light of these obstacles, how can one successfully recruit blue-collar workers? How do you find and evaluate blue-collar candidates to quickly fill open positions with qualified individuals?
Here are seven tips for recruiting blue-collar workers in a competitive market:
1. Post to specific job communities
Niche job sites assist in targeting the appropriate audience by reducing irrelevant applications. If you are not receiving the number of applicants you desire by posting jobs on general job boards, you should also try targeted job sites operating in the blue-collar niche.
2.Use Referrals
Referrals from current employees are one of the most efficient hiring methods; referred employees tend to remain with the company longer and are better cultural fits. Ask your employees if they know other qualified international candidates who could fill your open positions.
3. Recruit Veterans
If only there was a large pool of highly trained and skilled job seekers who are frequently unemployed or seeking new employment. There are! Veterans are frequently trained in the supply chain, construction, and driving, among other fields, and these skills are easily transferable to non-military endeavours.
4.Modify your training program
  Blue-collar jobs are often overlooked by millennials. However, youngsters have started to realize the benefits of choosing a blue-collar career globally. Hiring blue-collar workers serve as a great opportunity to encourage these young, talented graduates to transition to blue-collar           careers.
5.Communicate the benefits of blue-collar jobs
Granted, some blue-collar jobs are arduous and hazardous, and they frequently lack the glamour of other fields, such as medicine, law, or STEM-focused functions. However, blue-collar jobs offer unique benefits that you can highlight to potential candidates.
6.Tailor evaluation methods
 Exceptions exist, but the majority of blue-collar jobs do not require a college or university degree. This means that traditional cognitive ability and personality tests – with their intricate exercises and lengthy explanations – may present challenges for some candidates, particularly those from older generations. This means that you may lose some excellent applicants during the initial stages of the overseas hiring process.
7.Be mobile-friendly
 According to a recent Glassdoor survey, blue-collar job seekers are more likely than other workers to use their smartphones to search for employment. Therefore, if you haven't optimised your mobile careers page or application forms, you risk losing qualified applicants.
Too much to do? Leave it to the international manpower recruitment company.
If hiring blue-collar workers in KSA seems like a daunting task, you can make the process much simpler by outsourcing your international manpower needs. 
Why do companies outsource human resources in KSA?
When a company's growth exceeds the capacity of its current infrastructure, it will typically seek to outsource its human resources (HR) operations. Or they may be preparing to enter a market in which they have never before participated.
Many businesses find that outsourcing human resources is more cost-effective than developing an in-house unit.
What are the advantages of outsourcing human resources in Saudi?
HR outsourcing helps businesses reduce expenses.
By outsourcing HR functions in KSA, a business can realise substantial savings in terms of both overheads and time.SHRM reports that companies with internal HR departments spend an average of $3000 per employee per year. According to research, companies that outsource some or all of their human resources tasks can save up to $450.00 per employee.
Managing things such as employee leave dates, expense claims, and benefits administration can be difficult and time-consuming for businesses unfamiliar with the standard procedure. Outsourcing these tasks to HR service providers in Saudi can not only expedite the process but also free up your time and energy for business expansion.
It assists in mitigating risks.
Processing payroll, administering benefits, and other employee relations-related tasks can be laborious. In addition, a high level of attention to detail is required. In the hands of an inexperienced human resources department, this can result in numerous processing errors. Placing these responsibilities in the hands of seasoned overseas HR payroll experts can help to reduce errors and ensure that all processes run smoothly and on schedule.
It provides businesses with enhanced data security.
Data protection is crucial when dealing with sensitive information belonging to business partners and employees. A reputable HR outsourcing firm in KSA will have the sophisticated systems and software encryption required to protect sensitive data.
It guarantees regulatory conformity.
Expansion into a new international market or territory necessitates compliance with location-specific federal, state, and local laws. They also undergo frequent evolution. For businesses that are expanding in a foreign country, navigating this in addition to potential language barriers can be particularly challenging.
Outsourcing these responsibilities to a team of dedicated global recruitment experts who will monitor changes in various regulations and update your company's policies and procedures can assist businesses in maintaining overseas HR compliance and avoiding potential lawsuits and reputational harm.
It provides businesses with access to superior HR technology.
Not all businesses have the necessary infrastructure and resources to manage their HR functions internally. Multiple processes, including the management of sensitive payroll data, the processing of employee PTO requests, and the oversight of training information, require a great deal of cutting-edge technology to be centralised and accessible.
The vast majority of reputable third-party HR firms are outfitted with these technologies, granting you access to their advanced and secure technology stacks.
Soundlines, one of the most reputable overseas manpower recruitment agencies, provides clients with fully integrated international talent resourcing and HR outsourcing services. Moreover, Soundlines serves both white-collar and blue-collar recruitment in a variety of industries in KSA while having a localized presence and reach. 
Soundlines specializes in international workforce recruitment in the Kingdom of Saudi Arabia, across numerous industries:
For more than two decades, Soundlines has assisted its clients in the Middle East and Europe in the recruitment of qualified candidates for permanent, temporary, and contract positions in major industries, such as Construction, Oil & Gas, Hospitality, Retail, FMCG, MEP, Healthcare, Security etc. 
Some of the industries that Soundlines has served for two decades are: 
Building Construction


For 20+ years Soundlines has assisted building construction companies in the Middle East and Europe in

recruiting skilled workers

, machine operators, scaffolders, electricians and equipment repairmen, among many others.

Road Construction Projects


We are experts in staffing road construction projects. We have assisted companies in

hiring skilled labourers internationally

, drivers, and machine operators for global road construction projects.

Oil and Gas


We assist Oil & Gas companies to hire the right talent from various parts of the world. We have helped O&G companies recruit thousands of entry-level and mid-level workers.

Facility Management


Whether the facility management

staffing requirements

are large or small, we are adept at meeting them. On a permanent, temporary, or contractual basis, we help businesses find the ideal candidate globally.

Security


As security is currently one of the greatest concerns, we assist businesses in

recruiting the ideal candidate internationally

. Our security industry recruitment portfolio includes watchmen, security guards, etc.

MEP (MECHANICAL, ELECTRICAL, AND PLUMBING)


We have assisted companies in recruiting thousands of skilled workers for entry-level and supervisory positions in the Mechanical, Electrical, and Plumbing departments over the past two decades.

Hospitality
 We have been screening and recruiting the best talents including butchers, multi-cuisine chefs, delivery crew, baristas and many more positions in the middle east for years. 
Over 870,000 skilled, semi-skilled, and trained blue-collar workers have been hired with the assistance of Soundlines. By providing comprehensive and individualised hiring services, Soundlines can aid in the sourcing, screening, and recruitment of candidates who are a good fit for the company's available positions.
At Soundlines, we aid in recruiting blue-collar candidates for industries such as construction, security, and manufacturing, among others. Our team follows a line-by-line procedure in which they interview candidates, train them in pertinent skills, and prepare them for their respective positions. We ensure that each employee has the skills and training necessary to fulfil the offered job responsibilities.
Additionally, "Soundlines" ensures that a high-quality candidate is hired and exhibits consistent growth. It is advisable to seek out the best international recruitment agency with a localised presence across borders to employ the most qualified international candidates for the appropriate position.
Soundlines has offices in 24+ countries to facilitate the recruitment process for both employers and candidates. Soundlines offers organisations access to its global experience while maintaining a local presence, ensuring that it understands your brand, culture, needs, and future goals.
Soundlines has served clients in the UAE, Saudi Arabia, Kuwait, Qatar, Bahrain, Oman, Poland, Russia, and Romania as a leader in the HR recruitment industry for over two decades.
With a vast database of more than 500,000 individuals, our clients succeed in finding the "perfect match" every time. Soundlines streamlines the search for the appropriate applicant by employing the most significant in-house specialised centres and skilled technical evaluators for each occupation.
Looking for an overseas manpower recruitment agency in KSA?
Click here to schedule a callback from our overseas recruitment experts.