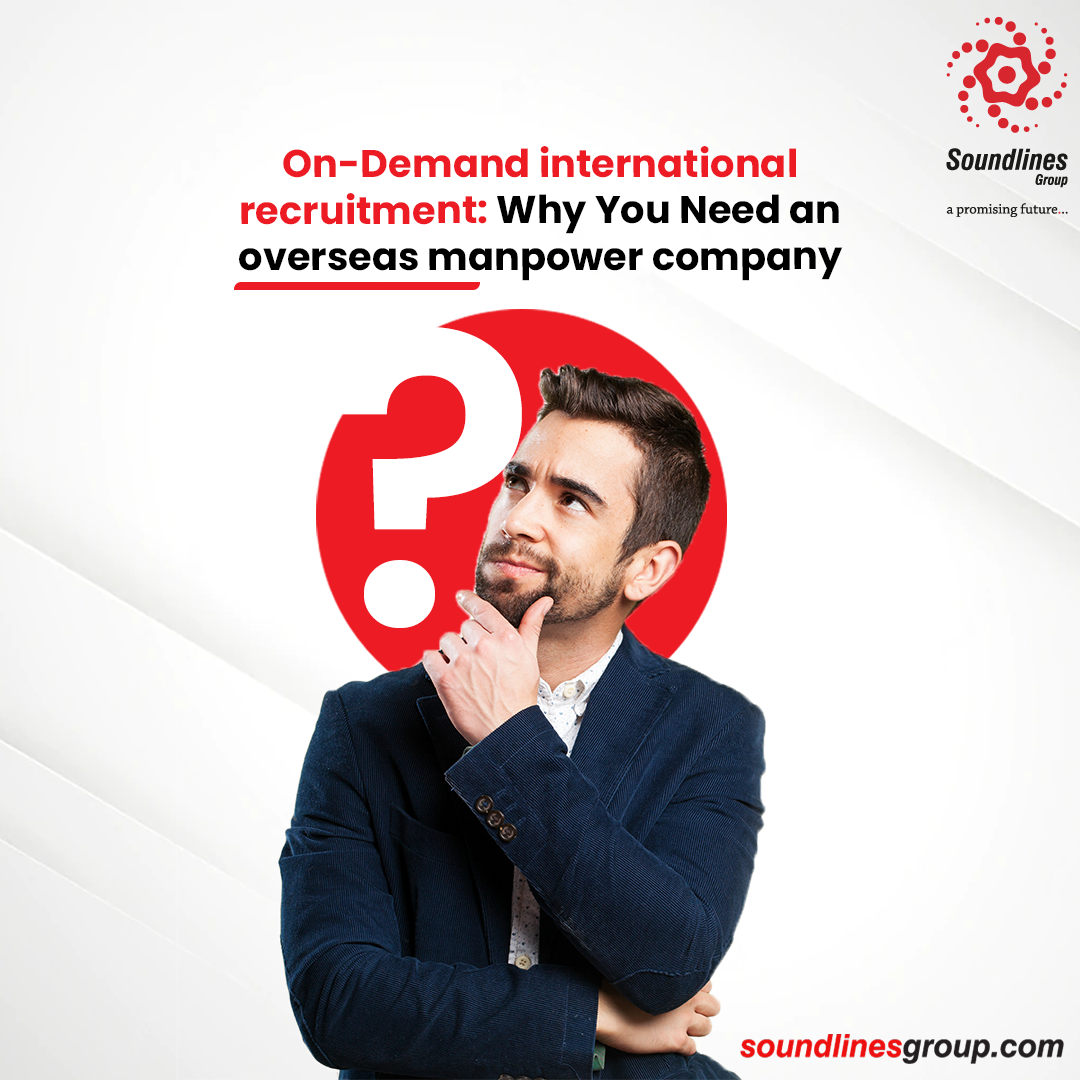 international recruitment agency In a competitive market, businesses with limited resources must face the difficulty of addressing labour shortages. The demand for specialised abilities is growing. In addition, the pandemic has exacerbated this concern further. With all of these issues, it has become more difficult for an organisation to continue to exist. For new businesses and startups, the situation is even direr. The perspective of employees regarding their work-life balance has also evolved. Skilled professionals have begun to favour flexible work schedules over traditional 9-to-5 jobs. In light of this, on-demand staffing provides organisations with some relief. This method offers the capacity to fill the gaps in this environment of constant change.
Contributions made by employment agencies
Hiring has become more difficult due to the growing demand for candidates with particular skills. In practice, an organisation cannot divert its attention away from its actual business operations. Consequently, finding the appropriate workforce is considered a crucial task. Such as Soundlines, manpower supply companies provide a pool of qualified manpower. This complex task is performed for the organisation. Historically, when organisations lacked a qualified existing employee to fill a vacant position, they would advertise it to the general public. Later, interviews were scheduled for those who had met the criteria. Employers were responsible for following this laborious procedure on their own. Nonetheless, the situation has now improved. The staffing agency can now handle all of these complexities, allowing organisations to focus on their core operations. As a result, the demand for on-demand staffing has increased as agencies have simplified the process.
How can staffing on demand meet your needs?
Access to resources and a sufficient talent pool are essential to discovering and recruiting individuals on demand. Because not all organisations have the same skill requirements, hiring practices must be adapted to meet these differences. For instance, a situation arises in which one of your permanent employees must take maternity leave. She is an integral part of your workforce, and her absence will significantly impact your business operations.
Solution – Choose on-demand staffing. Organisations can temporarily hire the employee to fill the vacancy. Your permanent employees will not feel overworked, and you will be able to complete the work until she returns from her break. You will be in a position of mutual benefit.
In what ways are marketplaces evolving?
Organisations desiring to hire workers on an as-needed basis have begun utilising workforce supply agencies for this purpose. Instead of going through the lengthy process of hiring employees, it is more convenient to outsource the work. Soundlines has a network of diversely-skilled individuals in various regions. We manage the process on your behalf based on your specific requirements. In addition to comprehending your needs, we evaluate employees' approaches and select the most qualified. These service-providing organisations have revolutionised the marketplaces. Now, employees prefer to be connected to a manpower supply agency, such as Soundlines, rather than searching for jobs independently. We can say with pride that we have witnessed and participated in the transformation over the years. Our mission is to provide the highest quality services to our customers by mediating interactions between their companies and their staff members.
On-demand staffing is now widely accepted by organisations. Modern perspectives indicate that organisations have begun to favour on-demand staffing for certain positions. As circumstances evolve, so must the corresponding solutions.
The advantages of On-demand international staffing are as follows:
Hiring on an as-needed basis is more adaptable than employing a permanent workforce. Although it is important to have a substantial number of permanent employees, organisations have more flexibility when they hire temporary workers on an as-needed basis. This type of staffing enables them to assess requirements and recruit personnel as needed.
In contrast to permanent hiring, the procedure for on-demand staffing is quite brief and straightforward. Due to the temporary nature of the employment relationship, many formalities can be disregarded when hiring on an as-needed basis. Similarly, the need to comply with stringent laws that apply to contract staffing can be disregarded in on-demand staffing.
It is a very weighty responsibility to hire permanent employees because these individuals will be associated with the organisation for longer durations of time. If a less-than-suitable employee is hired, the organisation may face long-term consequences. However, the likelihood of making a mistaken decision is extremely low in the case of on-demand staffing. Due to the temporary nature of the workforce, the organisation can reap the benefits of having more workers while avoiding the associated risks. Make your reservations for manpower with Soundlines, the foremost provider of manpower in the United Arab Emirates.
Permanent employees can become an organization's long-term financial burden. In addition to permanent salaries, they are entitled to several other monetary benefits that can burden the organisation over time. Too many permanent employees can hurt the financial stability of an organisation. In contrast, temporary workers are only required to be compensated for the specific task for which they are hired, resulting in a significantly lighter burden. In comparison to permanent or contractual workers, they do not impose a burden on the organisation.
Conclusion
An organisation must make sound decisions after considering all relevant factors. Considering the current state of affairs, it would not be incorrect to say that on-demand staffing is becoming the future of staff hiring. As a result of the shift in fashion, it is evident that both employers and employees now prefer more flexible methods. This also applies to the hiring process. Given the current situation, it is straightforward to conclude that on-demand hiring will soon supplant all other techniques. 
Soundlines is one of the most reputable global employment companies, which provides clients with a fully integrated international talent resourcing and outsourcing services. In addition, Soundlines serves international blue-collar and white-collar recruitment in various industries, doing the search for the ideal candidate more precise and fruitful each time.
Soundlines has offices in more than twenty-four countries to facilitate the recruitment process for both employers and candidates. Soundlines provides organisations with access to their global experience while maintaining a local presence, ensuring that it is familiar with your brand, culture, needs, and future objectives.
Soundlines, a leader in the international HR recruitment industry, has served clients in UAE, Saudi Arabia, Kuwait, Qatar, Bahrain, Poland, Russia, and Romania for over two decades.
The following industries have been served by Soundlines throughout the Middle East, Far East, Europe and Africa for the past two decades:
Manpower for construction projects
Soundlines has served building construction projects in the Middle East and Europe for over two decades by recruiting professional labourers, machine operators, scaffolders, electricians, and equipment repairmen, among many other professions.
Construction of Highways
We are professionals in staffing initiatives for road construction. We have aided businesses in the international recruitment of professional labourers, drivers, and machine operators for global road-building projects.
Oil & Gas
We assist Oil & Gas companies in recruiting qualified candidates from all over the world. We have assisted O&G firms in recruiting thousands of entry-level and mid-level employees.
Facility Administration
Regardless of the size of the facility management personnel requirements, we are capable of meeting them. On a permanent, temporary, or contractual basis, we assist organisations worldwide in locating the right talent.
Security
Security is currently one of the most pressing concerns, so we assist organisations with international candidate recruitment. Our recruitment portfolio for the security industry includes watchmen, security guards, etc.
MEP (MECHANICAL, ELECTRICAL, AND PLUMBING)
Over the past two decades, we have supported businesses in recruiting thousands of qualified candidates for entry-level and supervisory roles in the Mechanical, Electrical, and Plumbing departments.
Hospitality
In the middle east, we have screened and recruited the top candidates for years, including butchers,  QSR service staff, multi-cuisine chefs, delivery crew, baristas, and many more industry professionals.
View this post on Instagram

Wish to know how human resource outsourcing with Soundlines can benefit your company? Click here to schedule a call back from one of our overseas manpower experts.