Server Crew Recruitment Agency in Dammam
In the bustling restaurant industry, having a skilled and efficient service crew is crucial for delivering excellent customer service and ensuring a seamless dining experience. At Soundlines, a leading recruitment agency in Dammam, we specialize in sourcing and training top-notch service crew members for our clients in the F&B sector.
Our recruitment process is meticulous and thorough, focusing on identifying candidates with the right skills, experience, and personality traits to excel in customer-facing roles. We prioritize individuals who possess strong communication skills, a positive attitude, and a passion for providing exceptional service.
Soundlines offers comprehensive training programs to our recruited service crew members, equipping them with the knowledge and expertise required to handle various tasks, such as taking orders, serving food and beverages, and addressing customer inquiries and concerns. Our training covers essential aspects like customer service techniques, menu knowledge, and proper etiquette.
By partnering with Soundlines as your trusted service crew recruitment agency in Dammam, you can be confident in finding highly skilled professionals who are dedicated to creating memorable dining experiences for your customers. We understand the importance of building a strong service-oriented team that represents your brand and exceeds customer expectations.
Choose Soundlines to ensure that your restaurant has a reliable and efficient service crew that contributes to the success of your establishment. Contact us today for all your service crew recruitment needs and let us help you find the best talent in the industry.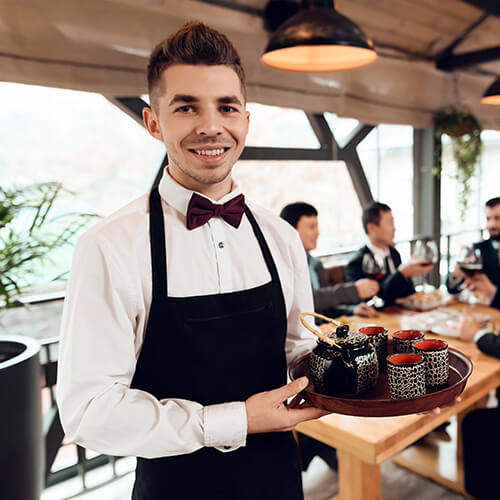 Best Restaurant Manpower Supply Service Provider in Dammam - Soundlines
Soundlines acknowledges the significance of hiring and training tactics to our client's success. To ensure the successful implementation of our recruitment and development strategies, we perpetually evaluate and modify them. We conduct routine evaluations of performance to identify areas for improvement and begin new programmes to address any identified gaps.
The duties of a Service Crew member include greeting customers, taking orders, serving food and beverages, and keeping the restaurant neat and organised. Our examined Service Crew members are efficient in providing superior customer service and to collaborate effectively as a team.