Chef De Partie Recruitment Agency in Dubai
As the leading Chef De Partie Recruitment Agency in Dubai, Soundlines Recruitment Agency is your trusted partner in finding the perfect talent for your hospitality business. Our dedicated team of recruitment experts is committed to identifying and selecting the most qualified candidates who possess the necessary skills and expertise to excel in this role.
We understand the significance of a Chef De Partie in the culinary world. They play a vital role in managing a specific section of the kitchen, overseeing the preparation and presentation of dishes with precision and creativity. At Soundlines, we prioritize finding candidates who possess a deep understanding of culinary techniques, a passion for gastronomy, and the ability to lead a team.
Our recruitment process is meticulous and thorough, focusing on assessing each candidate's culinary experience, knowledge, and culinary qualifications. We then provide comprehensive training programs to ensure that our selected Chef De Partie are equipped with the latest industry trends, techniques, and culinary skills.
At Soundlines, we take pride in our extensive network of talented individuals in the culinary field. Our goal is to match your specific requirements with the most suitable candidates who can contribute to the success of your business. Whether you need a Chef De Partie for a fine dining restaurant or a bustling kitchen, we have the expertise to fulfill your staffing needs.
Partner with Soundlines Recruitment Agency and let us help you find the exceptional Chef De Partie who will elevate your culinary offerings and contribute to the growth and reputation of your establishment. Contact us today to discuss your recruitment requirements and let us bring top talent to your kitchen.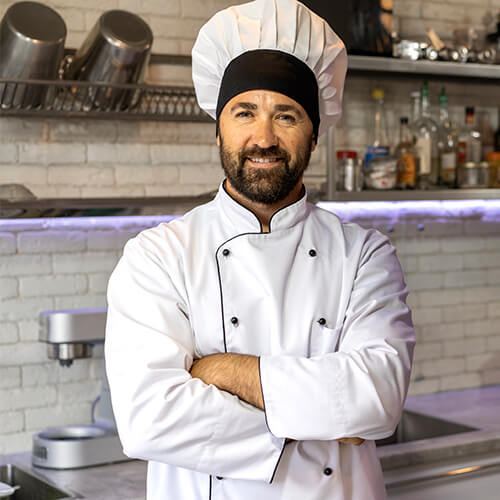 Best Hospitality Manpower Supply Service Provider in Dubai - Soundlines
A Chef De Partie will be responsible for managing a specific section of the kitchen, such as the pastry section, grill section, or sauce section. They will be responsible for preparing and cooking dishes to the highest standards, as well as supervising and training other kitchen staff and will also be responsible for ensuring that all food safety and hygiene standards are met and that all equipment is in good working order.
At Soundlines Recruitment Agency, we understand the importance of finding the right Chef De Partie for your business. That's why we take the time to get to know each candidate on a personal level, ensuring that they have the necessary skills and experience to excel in their role. We are committed to providing you with the best possible service and will work closely with you to ensure that your business is staffed with the most qualified and skilled individuals.
Our recruitment agency is dedicated to providing our clients with the highest level of service and support. We take pride in our ability to find the best candidates for your business needs, and we are committed to building long-lasting relationships with our clients.
If you're looking for a reliable and trustworthy recruitment agency to help you find the right Chef De Partie for your hospitality business, look no further than Soundlines Recruitment Agency. Our experienced team of recruiters and trainers are equipped to provide you with the best possible service, ensuring that your business is staffed with the most talented and qualified individuals in the industry. Contact us today to learn more about our recruitment services and how we can help you build a strong and reliable workforce.