F&B Service Recruitment Agency in Jeddah
Welcome to Soundlines, the premier F&B Service Recruitment Agency in Jeddah. We understand the significance of having the right manpower to excel in the dynamic and competitive food and beverage industry. With our expertise in recruitment and talent placement, we can help you find the best candidates to meet your staffing needs.
At Soundlines, we take pride in our thorough and meticulous recruitment process. We assess each candidate's skills, experience, and qualifications to ensure they are a perfect fit for your F&B service business. We believe in finding individuals who not only possess the necessary technical skills but also share your values and commitment to providing exceptional customer service.
Our team of recruitment experts have extensive knowledge and experience in the hospitality industry. We understand the unique demands and challenges of the F&B service sector, and we use this expertise to identify and select the most qualified candidates.
Whether you're looking for servers, bartenders, hostesses, or any other F&B service role, Soundlines can connect you with the top talent in Jeddah. We provide comprehensive support throughout the recruitment process, ensuring a seamless experience for both employers and candidates.
Partnering with Soundlines means gaining access to a diverse pool of skilled professionals who are passionate about delivering exceptional F&B service. We are committed to finding the right candidates who will contribute to the success of your business.
Contact Soundlines, the leading F&B Service Recruitment Agency in Jeddah, today to discuss your staffing requirements and let us help you build a team that will elevate your F&B service operations to new heights.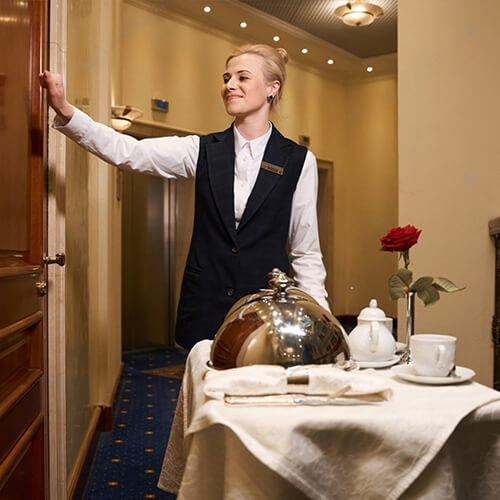 Best Hospitality Manpower Supply Service Provider in Jeddah - Soundlines
The job of an F and B service professional is multifaceted. They are able to communicate effectively with customers, take orders accurately, prepare food and drinks to the highest standards, and ensure that the dining area is clean and well-maintained. They are knowledgeable about the menu items, including ingredients, preparation methods, and allergens

F and B service professionals possess excellent interpersonal skills. They are friendly, approachable, and can handle customer complaints or issues with tact and diplomacy. They are able to work well under pressure and in a fast-paced environment.
Once we have found the perfect candidate for you, we provide them with extensive training to ensure that they are ready to hit the ground running. Our training program covers everything from customer service to food safety regulations. We believe that investing in our candidates' training is essential to ensure that they provide exceptional service to your customers.
At Soundlines, we understand that having the right workforce is crucial to your success in the F and B service industry. Let us help you find the perfect candidate for your business today!