Aircraft Cleaner Recruitment Agency in Malta
As a leading Aircraft Cleaner Recruitment Agency in Malta, we specialize in attracting passionate candidates dedicated to service excellence. Aircraft cleaners play a vital role in shaping air travel experiences, emphasizing quality, professionalism, and value.
Our recruitment process extensively searches for qualified candidates, evaluating qualifications, work ethic, adaptability, physical ability, and customer service orientation. Only the most promising candidates progress to our assessment phase, where we evaluate strengths, weaknesses, key drivers, and role fit.
Selected cleaners undergo comprehensive training that covers regulations, procedures, safety standards, equipment handling, best practices, and hands-on practice. This training transforms them into experts who deliver impeccable and efficient cleaning services. They achieve the quality, speed, accuracy, and professionalism necessary to meet fleet, turnaround, and cost goals while ensuring outstanding experiences for passengers.
As your aviation partner, we provide access to highly skilled, productive, and career-driven talent for various roles, including entry-level positions like aircraft cleaners. Our dedication to finding the right fit, developing specialized competence, and empowering growth ensures operational excellence, efficient onboarding, cost management, regulatory compliance, and exceptional service. Trust us as your preferred Aircraft Cleaner Recruitment Agency in Malta.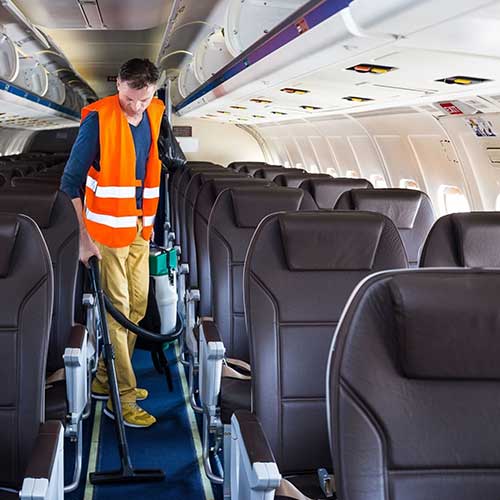 Best Aviation Manpower Supply Service Provider in Malta - Soundlines
Whether recruiting aircraft cleaners or other frontline roles, Soundlines delivers a competitive advantage through excellence, expertise and impact. Our focused aircraft cleaning staff approaches and aims to access and develop talent turning crews into experts and bringing lustre to each interaction and flight.