Electricians are essential personnel in the construction industry. Their expertise in electrical systems installation, maintenance, and repair ensures the safety and functionality of buildings' electrical systems. Their role is essential in ensuring the safety of worksites and the smooth operation of construction activities. 
At Soundlines Recruitment Agency, we understand the importance of selecting qualified candidates for the role of an electrician. Our selection process is rigorous, ensuring that our electricians possess the necessary skills and qualifications to perform their duties effectively.  When it comes to selecting candidates for electrician positions, we prioritize those with excellent technical skills, the ability to work well under pressure, and a strong commitment to safety. These qualities are crucial for ensuring that electrical systems are installed, maintained, and repaired properly in a safe and efficient manner. 
The work of electricians in the construction industry is varied and demanding. Electricians recruited by us are able to read and interpret blueprints and schematics, install and maintain electrical systems, troubleshoot and repair electrical problems, and ensure that all work is done in compliance with safety regulations and are also able to work effectively as part of a team, communicate clearly and concisely with other workers on the site, and make quick decisions in high-stress situations.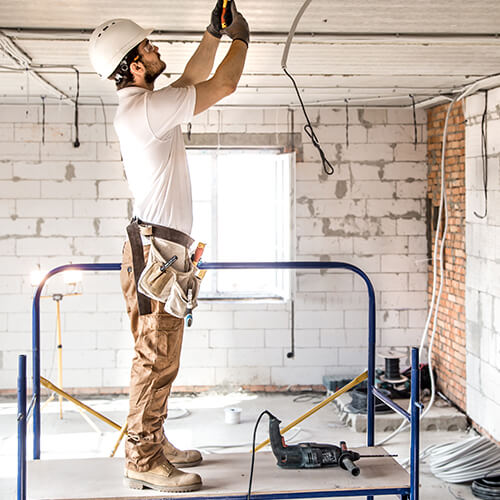 Best Construction Manpower Supply Service Provider - Soundlines
At Soundlines, we offer a comprehensive training program that prepares our electricians for the demands of the job. We are committed to the professional growth and development of our electricians. Our comprehensive training program encompasses classroom learning, hands-on training, and invaluable on-the-job experience. Through a well-rounded approach, we ensure that our electricians acquire the necessary skills and knowledge to perform their duties with safety and efficiency. 
Classroom instruction equips them with theoretical knowledge and industry regulations, while hands-on training allows them to apply what they've learned in practical scenarios. Additionally, on-the-job experience provides real-world exposure and valuable mentorship. By investing in our electricians' skill development, we aim to empower them for success in their roles.
We also provide ongoing support and supervision to ensure that our electricians are performing at the highest level of safety and efficiency.
At Soundlines Recruitment Agency, we are dedicated to supplying top-notch personnel for the construction industry. Our electricians are highly experienced and skilled, and we take pride in their ability to maintain a safe and productive worksite.