Gypsum Board Fixing is a critical aspect of the construction industry, playing a vital role in the successful completion of residential and commercial projects. Soundlines Recruitment Agency recognizes the importance of this specialized job position and is committed to sourcing and training highly skilled professionals to meet the growing demand for Gypsum Board Fixing experts. 
These professionals are responsible for installing and finishing gypsum boards, also known as plasterboards, which serve as the primary material for interior walls and ceilings. Their expertise ensures lightweight, easy-to-install, and fire-resistant solutions for modern construction projects.
The recruitment process at Soundlines Recruitment Agency is designed to identify candidates with the right skills and qualifications for Gypsum Board Fixing roles. These include proficiency in applying or mounting acoustical tiles or blocks, strips, or sheets of shock-absorbing materials to ceilings and walls of buildings to reduce or reflect sound. 
Additionally, candidates must possess a keen eye for detail, strong problem-solving abilities, and excellent teamwork and communication skills to collaborate effectively with other construction professionals.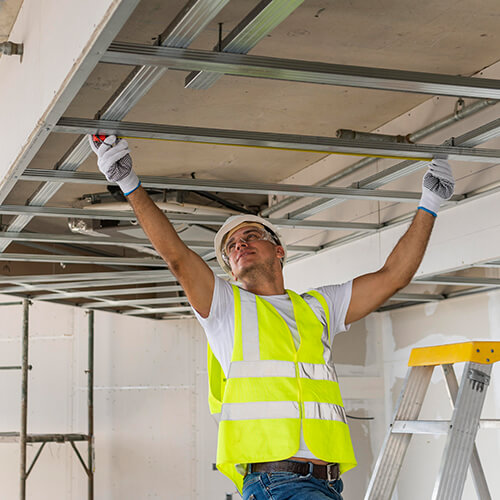 Best Construction Manpower Supply Service Provider - Soundlines
Soundlines Recruitment Agency offers comprehensive training programs tailored to the specific demands of Gypsum Board Fixing positions. These programs cover essential topics such as proper installation techniques, finishing methods, and adherence to safety regulations and industry standards. By equipping candidates with the necessary knowledge and hands-on experience, Soundlines ensures that they are well-prepared to excel in their respective roles and contribute to the overall success of construction projects.
Gypsum Board Fixing is a crucial component of the construction industry, and Soundlines Recruitment Agency is dedicated to providing top-notch professionals for this vital job position. Through rigorous recruitment processes and specialized training programs, Soundlines guarantees that their Gypsum Board Fixing experts possess the skills, qualifications, and expertise required to deliver outstanding results in every project they undertake.