Food and Beverage Supervisors
At Soundlines, our meticulous approach to recruiting and training Food and Beverage Supervisors sets us apart as a leading agency in the entertainment industry. We recognize the paramount importance of this role and spare no effort in selecting the most exceptional candidates who possess a remarkable combination of leadership acumen, advanced technical skills, and unwavering dedication to guest satisfaction.
Our comprehensive training program is designed to equip Food and Beverage Supervisors with the expertise to excel in their positions. Candidates undergo extensive instruction in a diverse array of areas, including operational efficiency, service excellence, quality control, and team management. 
Our industry experts impart their knowledge gained from years of experience in fast-paced, high-volume environments, ensuring that our supervisors are equipped to handle any challenge that comes their way.
Food and Beverage Supervisors play a crucial role in overseeing the seamless execution of hundreds of orders, ensuring the delivery of delectable dishes that meet our exacting standards. 
They possess a remarkable ability to thrive under immense pressure while maintaining the utmost attention to detail. It is their commitment to creating a remarkable guest experience that fosters loyalty and sets the stage for cherished memories.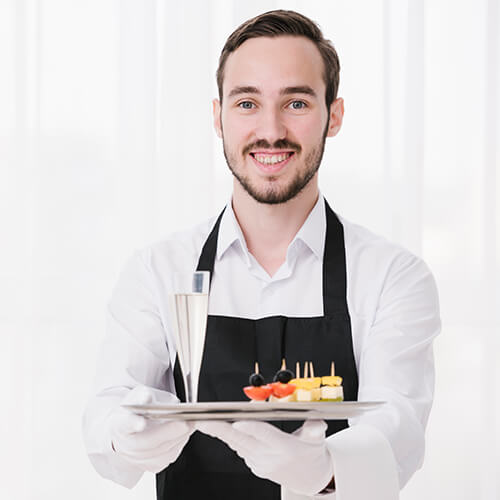 Best Entertainment Manpower Supply Service Provider - Soundlines
We take great pride in the significant contributions of our Food and Beverage Supervisors to the success and reputation of Soundlines. Their unwavering dedication, tireless work ethic, and passion for excellence make them the driving force behind our promise of delivering an unparalleled entertainment experience. They are the embodiment of our commitment to creating memorable moments for our valued guests.
Through our selective recruitment process and world-class training, we empower our Food and Beverage Supervisors with the skills and confidence to excel in this demanding role. Their role in shaping our success and reputation cannot be overstated, and their commitment to delivering outstanding service is the cornerstone of our organization.
At Soundlines, we continually strive for excellence, and our Food and Beverage Supervisors are the embodiment of this pursuit. Their technical expertise, exceptional leadership, and unwavering dedication to delivering exceptional guest experiences make them an invaluable asset to our agency. By selecting and developing the best talent, we continue to set new standards of service and quality in the entertainment industry.