Baker Recruitment Agency in Riyadh
Soundlines is a premier recruitment agency in Riyadh, specializing in the recruitment of talented Bakers for the culinary industry. Our dedicated team has a keen eye for identifying skilled Bakers and connecting them with exciting opportunities in Riyadh.
Using a wide range of channels, including online job portals, social media platforms, and professional networks, we actively search for the best Bakers in the industry. Our thorough screening process ensures that we select candidates who possess the necessary skills and expertise to excel in their roles.
At Soundlines, we understand that being a successful Baker requires more than just natural talent. It demands a deep understanding of baking techniques, food safety protocols, and ingredient handling. That's why we provide our Bakers with comprehensive training programs that cover the latest baking trends, hygiene practices, and quality control measures. We aim to equip our Bakers with the knowledge and skills they need to stay ahead of the curve and deliver exceptional baked goods.
By partnering with Soundlines as your Baker Recruitment Agency in Riyadh, you gain access to a pool of talented and trained Bakers who are passionate about their craft. Let us help you find the perfect Baker who can bring the aroma of freshly baked delights to your establishment and leave a lasting impression on your customers.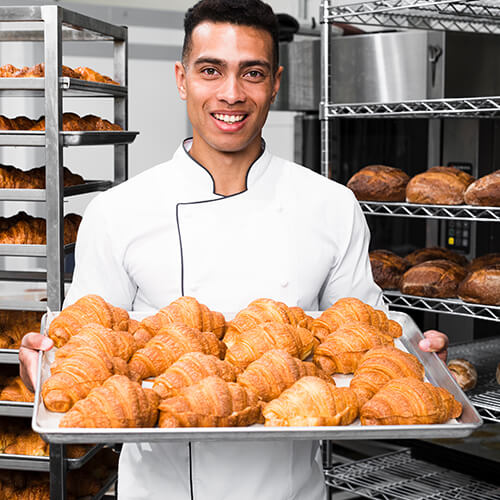 Best Restaurant Manpower Supply Service Provider in Riyadh - Soundlines
At Soundlines, we're constantly on the lookout for ways to improve our recruitment and development strategies. Regular performance reviews and feedback from our clients help us identify areas for improvement and implement new programs to address any gaps. Our Bakers are the cream of the crop, and we're proud to help them hone their skills and reach their full potential.
As for the job itself, being a Baker is no easy feat. It demands a keen eye for details, a steady hand, and a strong desire to get it right every time. From crafting the perfect dough to putting the finishing touches on a cake, our Bakers are truly artists in their own right. It's no wonder they're in such high demand in the restaurant industry, and we're honoured to help connect them with the best opportunities.