Sous Chef Recruitment Agency in Riyadh
Welcome to Soundlines, the leading Sous Chef Recruitment Agency in Riyadh. We understand the crucial role that Sous Chefs play in the food and beverage industry, and we are committed to finding the most talented individuals to meet your culinary needs.
Our recruitment process is meticulous and thorough, ensuring that we select Sous Chefs who possess the necessary skills, experience, and creativity to excel in their roles. We carefully evaluate each candidate's culinary expertise, menu planning abilities, leadership skills, and passion for the culinary arts.
As a Sous Chef Recruitment Agency, we recognize that Sous Chefs are instrumental in the smooth operation of a kitchen. They work closely with the Head Chef to oversee food preparation, maintain quality standards, and ensure timely delivery of exceptional dishes. Their expertise in various cuisines and innovative approach to cooking contribute to an unforgettable dining experience for your customers.
At Soundlines, we provide comprehensive training and support to our Sous Chefs to enhance their culinary skills and stay updated with industry trends. We understand the importance of continuous development and encourage our recruits to expand their knowledge and explore new culinary techniques.
Our Sous Chefs are known for their attention to detail, organizational skills, and ability to work under pressure. They are adept at managing kitchen operations, supervising kitchen staff, and ensuring adherence to food safety and hygiene standards.
With Soundlines as your Sous Chef Recruitment Agency in Riyadh, you can be confident in finding top-tier talent who will elevate your culinary offerings and contribute to the success of your establishment.
Contact us today to discuss your Sous Chef staffing needs, and let us connect you with skilled and passionate culinary professionals who will enhance your kitchen operations and delight your customers with their culinary creations.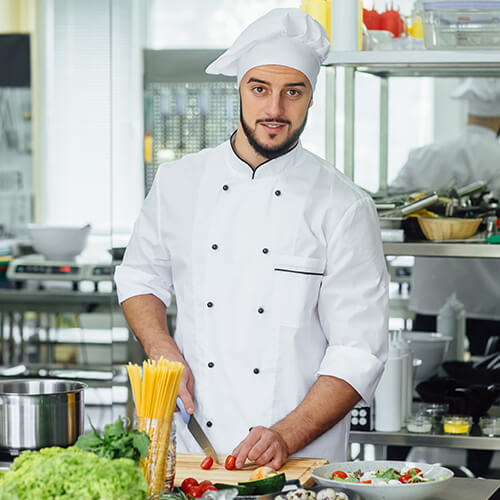 Best Hospitality Manpower Supply Service Provider in Riyadh - Soundlines
Our hiring procedure here at Soundlines is meticulous. To find the best employee for your company, we take a close look at their background, education, and character. We think it's just as important to discover someone who shares your values and vision as it is to find someone who has the correct set of talents for the job.
Soundlines is your go-to recruitment agency for finding the perfect Sous Chef for your hospitality business. Our team of experts is well-equipped to find the most qualified candidates for your business needs and provide them with the necessary training to excel in their roles. Contact us today to learn more about our recruitment services and how we can help you build a strong and reliable workforce.