Waiters Recruitment Agency in Riyadh
As a premier Waiters Recruitment Agency in Riyadh, Soundlines understands the critical role that waiters play in the success of your hospitality business. We are dedicated to sourcing and selecting top-notch waitstaff who will provide exceptional service to your customers.
At Soundlines, we specialize in connecting businesses with the finest waiters in Riyadh. Our extensive network and expertise in the industry allow us to identify and recruit talented individuals who are passionate about delivering outstanding customer experiences.
When you partner with Soundlines, you can rely on our comprehensive recruitment process tailored specifically for waitstaff positions. We meticulously screen and interview candidates to assess their communication skills, professional demeanor, and ability to thrive in a fast-paced environment. Our goal is to match your requirements with the best-suited candidates from our pool of talented waiters.
As a leading Waiters Recruitment Agency in Riyadh, our commitment goes beyond simply providing waitstaff. We understand that a successful team is built on the right cultural fit and alignment with your establishment's values. That's why we take the time to understand your unique needs and preferences, ensuring that the waiters we recommend seamlessly integrate into your team and contribute to your business's success.
Soundlines also recognizes the importance of continuous development and training for waitstaff. We provide ongoing support and guidance to our recruits, equipping them with the knowledge and skills to excel in their roles. Our focus on professionalism, attention to detail, and creating memorable experiences ensures that the waiters we provide are well-prepared to deliver exceptional service to your valued customers.
Whether you run a fine dining restaurant, a trendy café, or a bustling bar, Soundlines is your trusted partner in finding the perfect waiters for your establishment. Our dedication to excellence and our extensive network in the industry enable us to connect you with exceptional waitstaff who will elevate your customers' dining experiences.
Contact Soundlines, the leading Waiters Recruitment Agency in Riyadh, today to discuss your staffing needs and let us provide you with the finest waiters who will exceed your expectations and contribute to the success of your business.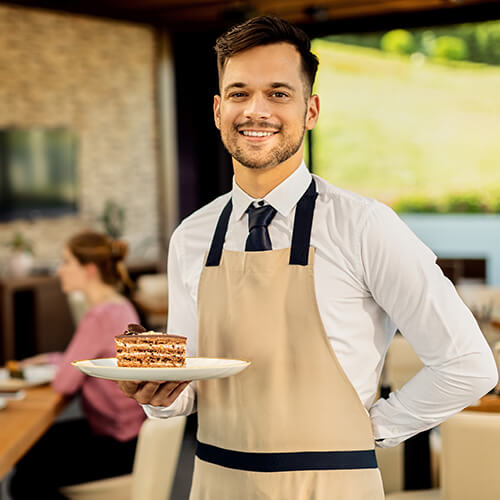 Best Hospitality Manpower Supply Service Provider in Riyadh - Soundlines
Our comprehensive training programme ensures that the ideal candidate we find for you is fully prepared to hit the ground running. We cover a wide range of topics, including customer service and food safety regulations, to ensure that our employees are equipped with the knowledge and skills they need to provide exceptional service and maintain a safe environment. Investing in our candidates' training is essential to ensure that they provide exceptional service to your customers.
Soundlines recognises the importance of a skilled workforce in the hospitality industry. Find the perfect waiter for your business today with our help!
Our waiters play a critical role in ensuring that our customers receive exceptional service. Soundlines is your go-to source for finding and training top-notch candidates for hospitality industry positions. Trust us to help you find the perfect fit for your team.