Safety Inspector Recruitment Agency in Saudi Arabia
At Soundlines Recruitment Agency, we understand the critical importance of hiring competent and qualified Safety Inspectors for your oil and gas operations. Our agency specializes in providing personnel solutions for the industry, ensuring that you have the right professionals to maintain a safe and secure work environment.
When it comes to recruiting Safety Inspectors, our team of specialists thoroughly evaluates each candidate's technical abilities and experience. We prioritize selecting individuals who possess the necessary knowledge and expertise to ensure compliance with safety regulations and protocols. Through in-depth interviews, we also assess candidates' communication and problem-solving skills, ensuring they are well-equipped to handle safety-related challenges in the workplace.
But our commitment doesn't end with recruitment. We believe in continuous development and training to ensure that our Safety Inspectors stay up-to-date with the latest industry standards and practices. Our comprehensive training programs cover various aspects, including equipment handling, safety protocols, emergency response, and incident management. This ensures that our candidates are fully prepared to contribute effectively to your team's safety efforts.
At Soundlines, we are dedicated to regularly reviewing and refining our recruitment and development strategies. Our experienced recruiters understand the unique demands and requirements of each client. We work closely with you to gain a deep understanding of your specific workforce needs, allowing us to provide tailored and individualized solutions.
Contact Soundlines Recruitment Agency in Saudi Arabia today to discuss your Safety Inspector staffing needs. Let us help you find skilled professionals who will prioritize safety in your operations. With Soundlines Recruitment Agency, you can trust that your safety objectives are in capable hands.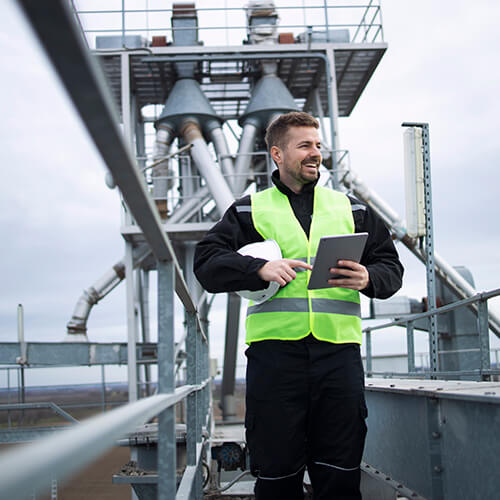 Best Oil & Gas Manpower Supply Service Provider in
Saudi Arabia

- Soundlines
Safety Inspectors are responsible for conducting safety inspections, identifying potential hazards, and implementing corrective measures. They also provide employees with safety protocol and procedure training and guidance.
At Soundlines Recruitment Agency, we recognise the significance of locating a qualified Safety Inspector for the oil and gas industry. Our objective is to provide you with a dependable and productive workforce that can assist you in achieving your business objectives.
If you're searching for a recruitment agency that can help you find the ideal Safety Inspector for your oil and gas industry, contact Soundlines Recruitment Agency today to learn more about our recruitment services and how we can assist you in building a strong and skilled workforce.