Butchers Recruitment Agency in Turkey
At Soundlines, the leading Butchers Recruitment Agency in Turkey, we understand the importance of having skilled and knowledgeable butchers in the F&B industry. Our expertise lies in identifying and recruiting top talent to meet the diverse needs of our clients.
Our recruitment process is thorough and meticulous, ensuring that we select only the most qualified and experienced butchers for your business. We assess candidates based on their expertise in meat preparation and cutting techniques, knowledge of industry regulations, and commitment to maintaining hygiene and safety standards.
As a reputable recruitment agency, we strive to deliver exceptional service to our clients. We provide comprehensive training programs to our recruited butchers, equipping them with the necessary skills and knowledge to excel in their roles. Our training covers everything from meat selection and quality assessment to precise cutting and proper handling techniques.
At Soundlines, we understand that the success of your F&B business relies on the quality of your ingredients and the expertise of your butchers. That's why we focus on sourcing the best talent in the industry and providing ongoing support to ensure their continuous professional development.
With Soundlines as your Butchers Recruitment Agency in Turkey, you can be confident in finding skilled and dedicated butchers who will deliver outstanding meat products and contribute to the success of your business. Contact us today to discuss your recruitment needs and let us help you build a highly talented butcher team.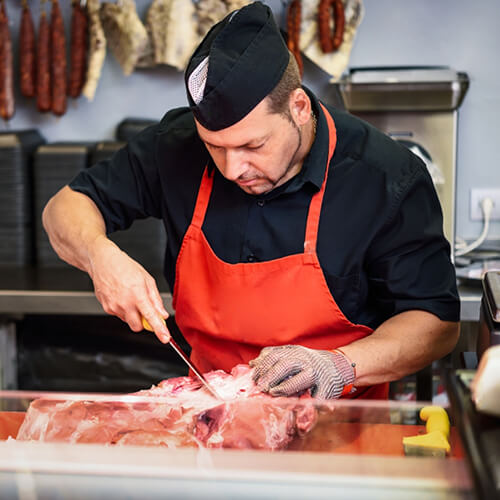 Best Hospitality Manpower Supply Service Provider in Turkey - Soundlines
Soundlines offers a rigorous and all-encompassing recruitment process to ensure the best possible candidates are selected. Our thorough candidate evaluation process analyses each individual's skills, experience, and personality to guarantee that they are an ideal match for your company. At our company, we understand that selecting the ideal candidate goes beyond simply aligning their skills with your needs. It's also about discovering an individual who shares your values and vision.
Our comprehensive training programme ensures that the ideal candidate we find for you is fully equipped to hit the ground running. Our comprehensive training programme covers all aspects of meat-cutting techniques and food safety regulations. Investing in our candidates' training is essential to ensure that they provide exceptional service to your customers.
Soundlines recognises the significance of a competent workforce in the hospitality industry, which is vital to your success. Discover the ideal butcher for your business with our expert assistance today!
Our butchers play a critical role in ensuring that our customers receive only the highest quality meat products. Soundlines specialises in identifying and preparing qualified candidates for hospitality industry positions. Discover our rigorous recruitment process that ensures we hire only the best candidates.