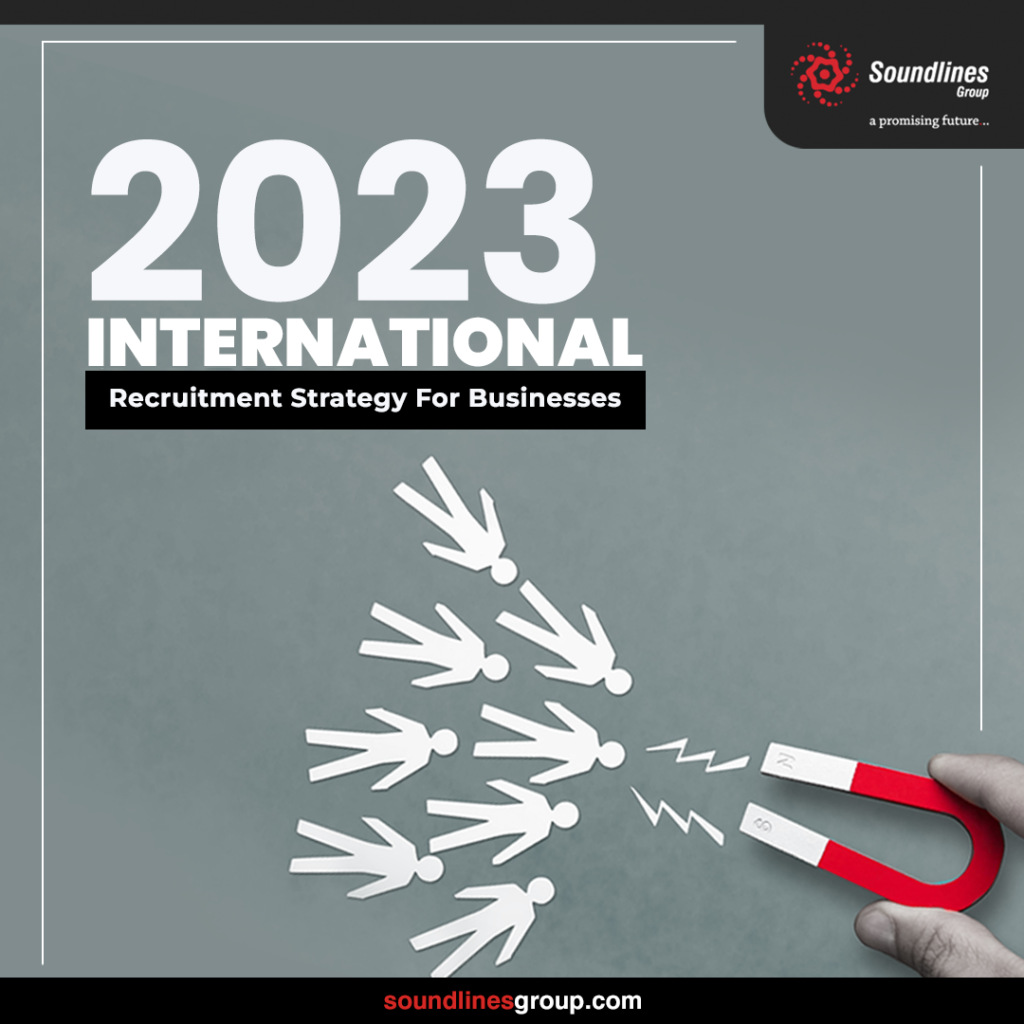 Emergence into a new nation is an exciting concept with its own set of challenges and possibilities. International recruitment is one of these challenges. When contemplating how to acquire international personnel, you will need to develop trustworthy methods for attracting qualified workers. You must also know how to navigate the procedure while complying with the laws of the new country.
Why develop a fresh global recruitment strategy?
Developing a global talent acquisition strategy is very advantageous. As this is uncharted territory for your company, the procedure may first look challenging. Developing a clever, well-informed plan, on the other hand, is an excellent investment in the future success of your business. It grants you access to the following benefits:
As your firm expands, you may discover that there are not enough domestic workers to keep up, particularly if the additional job requires immigration to a foreign country. Having a robust international recruiting strategy in place for your new destination enables you to acquire qualified local workers and grow more swiftly.
If your rivals are also growing internationally, you will need to devise a plan to stay up with them and inhibit them from snatching market share that might be yours. Developing a global recruiting strategy enables you to hire some of the most potential local talents, helping you to remain ahead of the competition or perhaps surpass it.
Maintaining adaptability
Different nations demand distinct methods of recruiting and employment. A well-considered global recruiting strategy may help you anticipate cultural variations and provide your firm with the flexibility to meet a range of employment requirements.
If your company optimizes its whole recruiting process for its home nation, the quality of your overseas hires will be uneven, and employee diversity may suffer. 
Global recruiting procedure steps
As you examine these worldwide recruitment methods, bear in mind that dealing with a qualified global recruiting firm that can manage the logistical burden of recruiting may provide various advantages. 
Understand the nation
Learn the local laws, currency rates, taxes, and labor rules that will directly affect your company as the first step.
Since each nation has its legislation regulating the recruitment and employment of individuals, your firm will need to familiarise itself with and adhere to these policies. Some nations, for instance, require enterprises to recruit a certain proportion of handicapped individuals. Major corporations in Romania must have at least 4% of their staff comprised of individuals with disabilities.
As a means of preventing discrimination, several nations have enacted legislation dictating which factors may and may not be included in the employment process. After hiring qualified personnel, you must adhere to all relevant labor requirements. You must offer the appropriate benefits and time off, adhere to the minimum wage standards, and guarantee that you can pay the proper notice periods and severance if you chose to terminate employees in the future.
Engage in research 
The more preparation and study you can do before beginning active recruiting, the more beneficial your hiring practices will be. For instance, you will need to prepare ahead to ensure that your overseas recruiting strategy aligns with the needs and goals of your organization. To increase alignment, develop a single vocabulary for recruiting, get feedback from all important stakeholders, and ensure senior sponsorship across many departments.
For instance, your firm may want to engage additional workers from your home country and transfer them abroad to do the essential tasks. Local recruitment managers, on the other hand, may be devoted to their tactics and choose to maintain them rather than adopt a global strategy. In this circumstance, a focused global recruiting strategy may not be your first option. A global recruiting approach, on the other hand, might be an excellent choice if your company needs local help for its operations and appreciates the cultural awareness and variety that local employees can bring.
Recognize your perfect applicant
After you've conducted your research and devised a strategy to accomplish your overall recruiting goals, you may find it helpful to divide your desired applicant characteristics into a few key areas: skills, mentality, and experience
Identify a place
Determine if your foreign workers will work on-site or remotely, as well as the form of this partnership. If your firm has offices in your new nation, you may be required to register your business or seek a license to do business there.
Collect documents
When you're ready to begin the more specific aspects of recruitment, you'll need to prepare and gather the necessary documentation so you can easily refer to it. For instance, if your country's laws require you to meet particular quotas, such as employing a set number of domestic employees, you should have easy access to such restrictions. You should also acquire copies of any rules that restrict your activities during the recruitment process, such as limitations on the sorts of interview questions you may ask.
Create a job profile
As you prepare a catalog for international recruitment and hiring, you should develop a job profile that outlines the duties of the role. Include information on the position's responsibilities and prerequisite qualifications. If you want to attract a competitive application pool, you must provide applicants with the opportunity to evaluate how well the job matches their skills and interests. Additionally, you must define which skills and abilities are non-negotiable.
Screen applicants
Additionally, candidate screenings must comply with any applicable local regulations. Consider any relevant anti-discrimination regulations and employment quotas when evaluating applications.
You may opt to use sites like LinkedIn for application screening. This is particularly crucial if you are doing remote interviews of applicants and wish to leverage features such as screening for required knowledge and abilities. Otherwise, you may do preliminary phone interviews with prospects before bringing them in for in-person interviews.
Interview
In general, interviews should be held in your new country or remotely. Bringing prospective candidates to your home country for first interviews is almost definitely difficult. If you must fly candidates overseas, you must either cover their travel expenses or reward them.
If you want to do a remote interview, pay close attention to the interview schedule. Because it might be challenging to schedule interviews across many time zones, you should provide your prospects with the choice to choose interview times that are convenient for both you and them.
Determine compensation
Keep in mind that your new employees will get compensation that exceeds their basic wage. You must also determine the benefits, paid time off, and incentives for each new employee.
Each nation has its own set of labor laws that mandate:
Statutory holidays

Leave for parental responsibilities

Different types of leave

Health coverage

Pension plans

Minimum wages

Paid holiday

Sick day

Give the task
Once you've selected a candidate and obtained your employer's permission, you'll be able to offer the position to that individual. Ensure that you have determined the compensation and working hours you will provide. Consider your willingness to be flexible with these parameters if the applicant wants to negotiate.
Induct new personnel
Onboarding is the last element of the global recruitment process. Once you've made a formal offer and received acceptance from your top applicants, you'll need to onboard your new hires in a way that is easy, educational, and professional. You must set up payroll services for your new employees and provide them access to the relevant technology.
Ensure that your contract complies with all legal standards by carefully drafting it in this circumstance.
Working with an Employer of Record (EOR) during this time may be incredibly advantageous. A credible EOR can expedite your organization's recruiting and onboarding procedures while assuring compliance with local requirements.
 Too much to do? Outsource your global employment needs to Soundlines 
One of the highly reputed Global Employment companies 'Soundlines', provides fully integrated international talent resourcing and outsourcing services to clients. Additionally, Soundlines serves both blue-collar recruitment and white-collar recruitment in varied industries, searching for the best recruit more defined and successful every time.
Soundlines has offices in 24+ countries to facilitate the recruitment process for both employers and candidates. Soundlines offers organizations, access to its global experience while maintaining a local presence, ensuring that it understands your brand, culture, needs, and future goals.
View this post on Instagram
Soundlines has served clients in the UAE, Saudi Arabia, Kuwait, Qatar, Bahrain, Poland, Russia, and Romania as a global HR recruitment industry leader for over two decades.